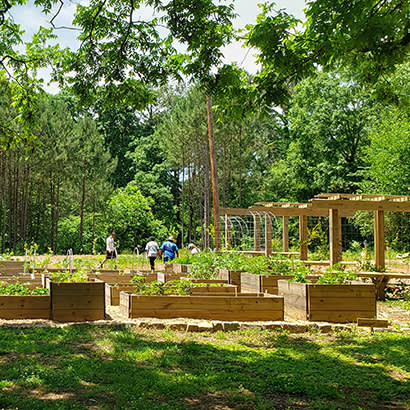 Parks represent fairness, access, inclusion and social equity — no matter race, color, creed, age, ability or disability — and that is an enormously noble venture. They are not only destinations; they're also a metaphor for healthy, happy and prosperous communities.
— "Make No Little Plans…" Perspectives column, October 1, 2018, by Jack Kardys in Parks & Recreation magazine
By focusing on equitable development strategies that are responsive to community needs, parks can provide innovative solutions that use natural spaces to address environmental challenges. They can also provide a range of other social justice and economic benefits. In Atlanta, two recent park development projects are examples of community-driven design processes that have resulted in more equitable outcomes for those who live, work and play near these new green spaces.
Community-Driven Visioning
Active Playing Fields
Currently under construction, the Kathryn Johnston Memorial Park, part of NRPA's Great Urban Parks Campaign, is located on Atlanta's Westside in an area of the city impacted by poverty, vacancy, unemployment and heavy urban flooding. The park design was developed through a community-driven visioning process led by Park Pride and The Conservation Fund to ensure that local voices were leading the decision-making process.
A typical project of this kind, with an overall goal to capture 3.5 million gallons of stormwater, might use a large detention pond. For the Johnston Park project, residents made it clear that they didn't want another pond (several large ponds are already in the works as part of a nearby project) because of maintenance concerns — no one has a boat and residents are worried about litter and upkeep. Instead, the final design emphasizes active playing fields to meet local priorities around health and exercise, with stormwater storage underground and in rain gardens to add natural beauty, while also implementing green infrastructure solutions. Residents have also been employed in the construction of the park through a workforce training program and are leading its activation through a Friends of the Park group that is in development. The park will officially open fall 2019 and has strong community support and buy-in.
Food Forest
In South Atlanta, the city's goal to protect tree canopy and increase access to healthy food created an opportunity for a new kind of park on a wooded 7.1-acre site — a park where the community could harvest food! Through the 1990s, it was a small farm, owned by the Morgan family, which was known for sharing extra produce with its neighbors. It also provided local access to fresh produce in a community that lacked nearby grocery stores. When the Morgan family passed, the property remained vacant for more than a decade and then was slated to be cleared and transformed into a townhome community. Fortunately, The Conservation Fund, in partnership with the city of Atlanta and the U.S. Forest Service, was able to purchase the land and save the forest.
Atlanta is known as the "City in a Forest," and, normally, this type of conservation project would have only been focused on protecting the city's critically important tree canopy. However, working with residents, the partners developed a community vision plan that also included hundreds of fruit and nut trees, edible vines and shrubs, community garden beds, medicinal herbs, pollinator plants, a restored stream, community gathering spaces and walking trails. Residents were employed in phase one construction, including building the community garden beds, through a workforce training program. And, two residents have been employed at the Food Forest through partnerships with Trees Atlanta and Greening Youth Foundation. The site is already producing food from the garden beds, and, in time, the trees will produce an abundance of persimmons, pecans, apples, plums, nectarines, papaws and more — all of which will be open and available to the public.
Integrating Equity
In both Atlanta examples, the park design process was intentionally structured to empower residents to participate in the development, construction, maintenance and activation of these new community green spaces. As a result, residents have a true sense of ownership, and the parks are meeting their needs and priorities, and have become treasured community assets that are activated and cared for by a broad range of users.
Thinking about equity as a process that can and should be integrated into each step of the project resulted in more equitable outcomes, including improved green spaces, increased access to fresh foods, reductions in urban flooding and expanded opportunities for those who live, work and play near these new park projects.
Tony Torrence, an Atlanta Westside resident who has participated in this process and is a champion for parks and green infrastructure solutions, says it best: "Community residents are the ones that live with these challenges. We must be at the table, as full participants, to address these issues head on and find sustainable solutions that provide new parks, but that also build up our community and make this a better neighborhood for all."
Emy Brawley is the Midwest Associate Director for The Conservation Fund Conservation Services Midwest. Shannon Lee is the Urban Conservation Manager for The Conservation Fund.