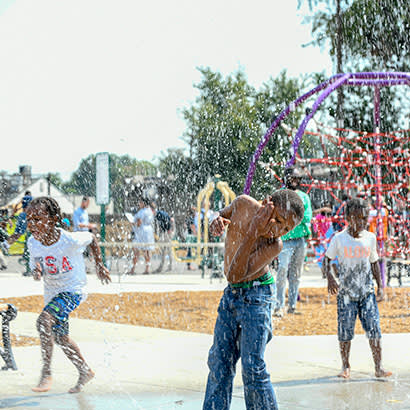 The 2019 Parks Build Community dedication and celebration
Each year, the National Recreation and Park Association (NRPA) conducts a complete park makeover in partnership with park equipment manufacturers, service providers and community organizations within the city hosting the NRPA Annual Conference. On Sunday, September 22, NRPA and the Baltimore City of Recreation and Parks (BCRP) reopened Catherine Street Park with a dedication and celebration.
Hundreds gathered to try the new swings, slides and other playground equipment, a new basketball court and new fitness equipment. As the temperature reached into the 90s, the new splash pad was a big hit with families, as were the bubbles blown to celebrate the reopening.
Speakers at the dedication included Baltimore Mayor Jack Young; Harry Spikes, representative from the office of Congressman Elijah Cummings; Meshelle' Johnson, representative from the office of Senator Chris Van Hollen; Council President Brandon Scott; Councilman John T. Bullock; BCRP Executive Director Reginald Moore; NRPA President and CEO Kristine Stratton and Derwin Hannah, community leader and president of the friends group advocating for Catherine Street Park. The event was capped off with energized dance routines by a local cheer team to music performed by a high school band.
"The Parks Build Community dedication was the perfect way to begin our 2019 NRPA Annual Conference in Baltimore," says Stratton. "NRPA was honored to work with BCRP and the community to organize the renovation of such a beloved park. Thanks to our industry and nonprofit partners, BCRP and community leaders, like Derwin Hannah, this park renovation was made possible."
Hannah is a community leader and volunteer who has been directing the programming for and care of Catherine Street Park for more than 17 years, along with his wife, Denetria, and sister, Drucilla Williams. He drives a truck at night for a living and visits the park every day to provide the constant care and leadership it needs. His commitment and work with BCRP led to the development of a park renovation plan.
"Parks are so important to our kids and our community. This renovation will help show we are here to stay," says Hannah. "On behalf of the community, we're grateful."
In 2018, when Catherine Street Park was selected for the Parks Build project, BCRP expedited the park renovation plan. BCRP is funding portions of the renovation, like the newly constructed building, with the help of a grant from Target Corporation, but plans were updated to include donations, such as site amenities, playground equipment, a play fountain, basketball posts/backboard/goals, basketball court sealcoat surfacing, baseball field bleachers, basketball player benches, picnic tables, a drinking fountain and outdoor fitness equipment. In addition, local businesses have provided generous donations that include funding for park and recreational services and equipment for programs.
The 2019 Parks Build Community project also includes something new and exciting that no other Parks Build project has had before — research. Thanks to funding from BCI Burke Playgrounds and ACTIVE Network, NRPA is working with North Carolina State University College of Natural Resources and Baltimore's Johns Hopkins University to measure the impact the renovated Catherine Street Park has on the community. The research will explore three potential impacts: health (physical activity), social (socialization and public safety) and economic (any change in local business activity).
The data will be collected over a five-year period. Research began in December 2018 to establish a baseline using System for Observing Play and Recreation in Communities (SOPARC). The SOPARC data collection takes place for approximately two weeks and will be done annually to quantify the community's activity difference in Catherine Street Park over time. Concurrently, SOPARC data collection is taking place at another Baltimore park, which will be used as the control park, where no renovation is taking place. NRPA will receive raw data each year and, at the end of the five years, will produce a final report.
Parks Build Community is a national initiative demonstrating the transformative value of parks on the health and vitality of communities across the United States. These projects represent the transformative power of parks in communities and how they address NRPA's Three Pillars — Health and Wellness, Conservation and Social Equity. The vision to build and revitalize parks as thriving gathering places for youth, families and adults is one shared by PBC partners and park and recreation professionals.
Watch the video to learn more about the Baltimore Parks Build Community project.
Next year, NRPA will host a Parks Build Community project in Orlando, Florida, as the 2020 NRPA Annual Conference will be held there October 27–29. The PBC location has been selected and preparations are underway. To learn more about participating in the 2020 Parks Build Community project, contact Gina Mullins-Cohen, NRPA's vice president of marketing, communications and publishing.
Donors and organizations involved in the 2019 PBC project include:
Suzanne Nathan is NRPA's Public Relations Manager.