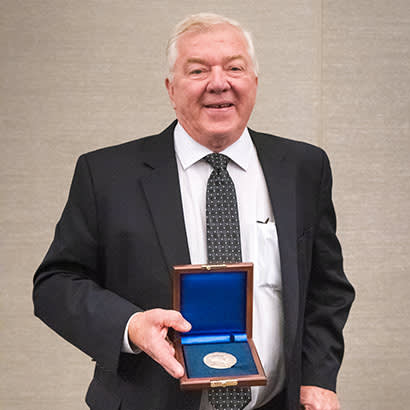 Within minutes of meeting Richard J. Dolesh, NRPA's vice president of strategic initiatives, his unwavering dedication to and passion for parks and recreation and conservation become apparent. His achievements in these areas are numerous — from involvement with the acquisition and management of 54,000 acres of forest, wetlands and swamps in the Chesapeake Forest Lands to being published in the Washington Post and National Geographic, to name a few — spanning nearly five decades, during which time he has been an advocate, educator, mentor, author and leader.
"Through the years, I have seen Rich as a leader at the national level, working to solve challenges in natural resources management and public lands conservation," says Larry Selzer, president and CEO of the Conservation Fund. "He has been a cutting-edge thinker and writer on such topics as the impact of private funds in public parks, restoring landscapes for pollinator conservation and the vital role of parks in fostering partnerships with water utilities and other public- and private-sector institutions in providing solutions for clean water and sustainable landscapes."
It comes as no surprise then, that Dolesh recently was awarded an Honorable Cornelius Amory Pugsley Medal, which he received at the American Academy for Park and Recreation Administration (AAPRA) annual awards reception and banquet held during the 2019 NRPA Annual Conference. The Pugsley Medals are the most prestigious awards that recognize outstanding contributions by an individual to the promotion and development of public parks and conservation in the United States.
"Rich's varied career, his commitment to education of NRPA members through presenting conference sessions, training webinars, podcasts and his published articles have enabled many current and future park leaders to understand the challenges we face in conservation and to value our natural world," says Joe Turner, former director of the Houston Parks and Recreation Department. "From the outset of his career in parks, recreation and conservation, Rich has been a leader, an innovator and a tireless advocate for the importance of parks in protecting the environment and preserving our natural resources and open spaces for future generations."
While Dolesh's contributions and achievements are many, it is his authenticity and passion that set him apart. He is always on the cutting edge of what's happening in the field — his annual prognostications about top trends in the field are never off the mark and his sessions at conference on this topic are always well-attended. He is frequently consulted as a leading authority in the fields of parks and conservation, and never hesitates to share his wisdom with anyone and everyone who is interested to learn. Not only does he share his wealth of knowledge, but encourages and inspires others to be inquisitive and forward-thinking. "Simply put, to me Rich is the soul and conscience of the national urban parks movement," says Adrian Benepe, senior vice president and director of national programs for the Trust for Public Land. "No one knows more than he does about the trends, policies, financing and philosophical issues that surround parks in America."
Dolesh's Pugsley Medal is well-deserved and is an honor that we here at NRPA headquarters are proud to say our admired colleague has undoubtedly earned. "On behalf of the entire NRPA Board of Directors and staff, I want to congratulate Rich on this outstanding achievement," says Kristine Stratton, NRPA president and CEO. "Rich's commitment to parks and recreation, specifically conservation, is unparalleled, and the impact of his contributions will make a difference for generations to come."
Lindsay Collins is the Associate Editor for Parks & Recreation magazine.