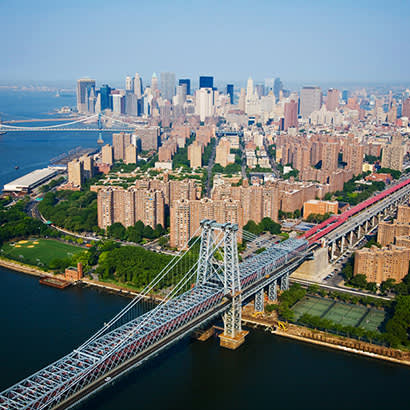 We are still responding to the wake-up call from the October 29, 2012, landfall of Hurricane Sandy. It caused widespread damage and killed 106 people in the United States, including 43 people in New York City, most of whom were on Staten Island. In Manhattan, the economic, infrastructure and social impacts were also dramatic.
Hurricane Sandy whipped the East River into a frenzy and drove a wall of rain, along with river water and the Atlantic Ocean over seawalls, through parks, across highways and into buildings, tunnels and basements. Hospitals were completely flooded, ruining elevator motors, building mechanical systems and medical equipment that had unwisely been stored in basements. Seawater flooded a transformer, causing a massive explosion that knocked out power to Manhattan south of 39th Street. When the lights came back on and the seawater receded, residents and businesses were left with a muddy, ravaged mess — and a new appreciation for just how vulnerable a low-lying urban area on a river bank and a harbor can be.
Within days of Sandy, two things were apparent: New Yorkers are resilient, and they needed new defenses to help them cope with a changing world. The initial plan called for a levee around the island of Manhattan, but later plans called for more contextual responses and, in some neighborhoods, the integration of flood defenses into waterfront parks.
East River Park was one of the waterfront areas affected by Sandy. It remains vulnerable because it is a narrow strip of land and landfill between the FDR Drive, a separated highway, and the tidal estuary that separates Manhattan and Brooklyn. The park is a 45.88-acre green space stretching 1.2 miles southward from East 13th Street at the far edge of the East Village to Montgomery Street, between the Williamsburg and Manhattan bridges. The southern end offers spectacular views of the side-by-side Brooklyn and Manhattan bridges. Along the length of the park are baseball, football and soccer fields; tennis, basketball and handball courts; two ferry stops; a running track and bike paths for commuters and recreation; spots for picnicking and fishing; children's playgrounds and open spaces; and an amphitheater for concerts, plays and performances. Now, the dual purpose of a rebuilt East River Park is not only to buffer The Lower East Side neighborhood and the city surrounding it from superstorm catastrophe, but also to preserve and serve the existing neighborhood and its stakeholders — a tall order and a complex task.
Investment in Innovation
In 2013, the federal government created Rebuild by Design, a competition that awarded nearly $1 billion of the $60 billion allocated by Congress for recovery and rebuilding. On the Lower East Side, designers, community activists and public officeholders began working on plans to rebuild and protect the park and the surrounding neighborhoods, including a berm that would simultaneously protect the community and create new spaces for lounging and interaction, while accommodating existing park landscapes, many that were cared for by the community. Based on the community vision for a high-performance landscape, the "BIG U" (BIG formed from the initials of the lead designer, the Bjarke Ingels Group, and U, the shape of the defense perimeter around southern Manhattan) concept won $335 million from HUD to protect the lower Manhattan from coastal risks and flooding. For four years, the city worked on the first phase of design, based on this vision named the East Side Coastal Resilience (ESCR) project, which would mostly be built within the confines of East River Park.
A project of this size next to a politically active community requires an inclusive management model. Anticipating the need for a stewardship plan for the new East River Park, in September 2018, Rebuild by Design, with Lower East Side neighborhood leaders and activists, formed the ESCR Study Group, a broad working group of stakeholders, including representatives from two community boards, city council members, state assembly and senate members, and a half-dozen local civic advocacy and activist organizations. The Study Group selected The Trust for Public Land (TPL) and James Lima Planning + Development Team to identify a new stewardship model for the East River Park area that would equitably address the design, construction and ongoing stewardship issues and concerns for the park and the surrounding area.
Need for Community-Based Stewardship
Long-term maintenance of parks is a challenge for every major city — funding shortages, refurbishment and innovative additions are part of the normal life of urban parks. New York City employs a variety of models to run its parks. One successful approach is the "Conservancy" model used for several iconic spaces, such as Central Park, Prospect Park, the Highline and the Bronx Zoo.
Conservancy models are nonprofit, park-specific institutions that raise funds and contract with the city's parks department to maintain and operate individual parks. They can be brilliant. They can also, often inadvertently, replace government oversight, promote exclusivity and feature amenities that are unaffordable to adjacent communities or do not feature local businesses. The community adjacent to East River Park did not want a newly renovated resilient park to be unwelcoming to the people who have invested sweat equity for decades in its upkeep. It also did not want to lose control to a new conservancy run by outsiders, even if they were well-meaning. The community's concerns were heightened by the existing competition for park space with sports leagues, mostly from outside the neighborhood, that can afford permit fees.
For the East Village and the Lower East Side neighborhoods, where gentrification, displacement and unaffordable public resources are threats to vibrant existing communities, finding the right stewardship model would be key to the park's success. The neighborhood adjacent to the park covers 617 acres and has about 30,000 affordable housing units, home to more than 130,000 New Yorkers — 62 percent of whom are low-income, elderly or disabled. There is a lively and colorful fusion of immigrant residents and cultures, a historic tradition of activism and a disproportionate vulnerability to both coastal flooding and extreme heat waves.
An Alliance Model Inspired by Other Rivers
The range of stewardship models — friends-of-parks, conservancies, advocacy organizations, alliances and coalitions, community development corporations (CDCs) and business improvement districts (BIDs) — each had something to offer. The group of leaders who advised on the consultant selection morphed into a study group that was consulted throughout our research, set the goals for the report and facilitated a larger community dialogue on implementation. At the end of the Study Group process, the model that promised the best outcome for East River Park was an alliance structure that incorporated best practices in equitable development.
Our research revealed several compelling examples of successful stewardship structure that remained true to community roots. The closest, geographically, is the Bronx River Alliance, which grew from an all-volunteer activist effort to a formal working group of community organizations, public agencies and businesses. Today, it is a well-established nonprofit partnered with NYC Parks Department and led by an Alliance executive director who holds a dual appointment as the city-paid NYC Bronx River administrator. Another leading example is from the Anacostia River, where Building Bridges Across the River is managing stewardship, engagement and programming for the future 11th Street Bridge Park in Washington, D.C. While the design for the new park is cutting edge, the park stands out for its efforts to ensure robust community involvement and equitable outcomes for the traditionally under-invested communities in the area.
There were four takeaways from our research:
Alliances are flexible. The Alliance's organizational structure will serve as the most flexible means for the ESCR stakeholders to organize around a collective framework, leverage existing assets and maximize involvement of community members.
Founding principles matter. A set of founding principles, plans or strategies related to equitable development for the East River Alliance can help to ensure that these goals remain at the forefront of both the group's and the city's agenda. The founding members of the Bronx River Alliance adopted an "Environmental Justice Implementation Strategy" along with the group's founding principles and Building Bridges Across the River created a detailed Equitable Development Plan.
City partnership is critical. Establishing a stable working relationship with the city is of critical importance in each of the models studied. The role of liaison and ally with the city is critical, with an eye toward formalizing a working partnership with the city through an eventual joint alliance director/park administrator position.
Engagement and park activation can happen before construction. Stakeholders have much to gain from organizing and exercising their voice with decision makers on matters of design and construction impact mitigation before the project re-enters design review and environmental impact assessment. For example, Building Bridges Across the River engaged residents in programming and an "Equitable Development Plan" years before construction of the new park.
An East River Alliance
An East River Alliance composed of organizations that already work in the community pulls from the generations of expertise in the neighborhood while giving a collective voice on a new topic. The all-volunteer study group and working group coalitions of engaged advocates can mature into a formal alliance on their own schedule, depending on consensus and on funding and redefining itself as it evolves, reflecting changing conditions and community initiatives. Ultimately, an alliance director, who is also a park administrator, will serve a key leadership and coordinating role among both the alliance and the city.
While all this will take time to develop, however, the community doesn't need to lose its place at the table. An East River Alliance can form immediately and participate in time-critical design decisions as the city rushes to meet project deadlines. Furthermore, the park will be closed during construction for at least 3½ years and, during that time, the Alliance can play a major role. Taking charge of communicating and mitigating partial closures due to construction will keep residents engaged with the park through well-publicized temporary access routes and scheduled activities. A website can provide timely information, notices about "popup" park amenities, ways to volunteer and an online "conversation" for the community. Partnerships — among members of the Alliance, local business owners, city agencies and other city parks — will generate support, innovative solutions, funding opportunities and best use of resources.
Through those construction mitigation activities, an East River Alliance can set the foundation for community-based, year-round programming. This might include such revenue-generating and free activities as local-vendor food and beverage concessions, art installations, health-and-wellness workshops and events, celebrations and parades, marches, political "town square" gatherings, free and ticketed performances and other entertainment, and seasonal access to team field and river sports.
The alliance model ensures accountability, relevancy, representation of all stakeholders and holding the parks department accountable to community needs. East River Park protects the Lower East Side, the East Village and the rest of the city from climate change catastrophe — and the East River Alliance protects the park. That's the win the community needs.
Stewardship for Community Resilience
Stewardship is more than keeping the grass green and the coffers full to support maintenance of the physical aspects of parks. It is also about keeping a newly imagined East River Park open and alive to the people who rely on that park for health, relaxation, entertainment, education and relation to each other. The park is a real presence in the lives of the New Yorkers who live and work near it and, when built, an essential bulwark against the extremities of storm surge that can harm the entire city. Creating a community-based stewardship model to sustain a truly resilient park is a responsibility with immediate and long-term consequences.
Borrowing from the best ideas of contemporary park projects, East River Park can serve as an enduring model for urban green spaces and waterfront buffers that enhance, rather than eradicate, the multifaceted communities flanking them. Legendary American songwriter Irving Berlin, an immigrant who grew up on Cherry Street in a tenement just steps from the rough and tumble along the East River, once said, "Everybody ought to have a Lower East Side in their life."
And, we would add, "a well-designed, welcoming East River Park to enliven it."
Carter Strickland is the New York State Director for The Trust for Public Land. James Lima is the Founder of James Lima Planning + Development (@jameslimapd). Amy Chester is the Managing Director for Rebuild by Design (@rebuildbydesign).