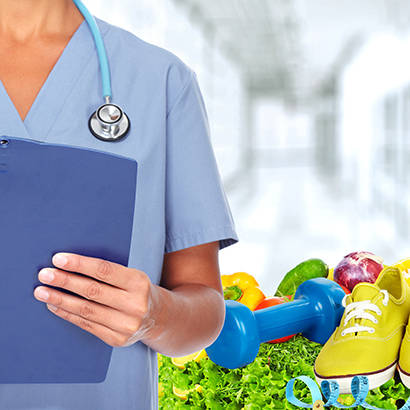 Healthcare entities and community-based organizations (CBOs), such as parks and recreation, share the common goal of improving the health of the communities they serve. So, it should come as no surprise that community-integrated health strategies — efforts to strengthen coordination and alignment between traditional healthcare and CBOs to improve access to programs and services that help individuals improve their health and quality of life — are on the rise.
In many communities, parks and recreation is leading this work by formally (and informally) partnering with healthcare entities to improve community health. These partnerships build on the complementary skills and expertise that already exist within the community to fill the gaps in needed programs and services and improve access to community-based preventive and chronic-care services, particularly for vulnerable populations. According to the 2017 Healthy Aging in Parks Survey Report, 43 percent of local park and recreation agencies are partnering with hospitals and independent medical practices, 42 percent are partnering with local health departments, 41 percent are partnering with health insurance companies and 39 percent are partnering with health plan-affiliated fitness membership programs, such as SilverSneakers® and Silver&Fit®. Among the 43 percent of agencies partnering with hospitals and independent medical practices, some are being used as "community wellness hubs," while others are working to establish effective referral pathways through which individuals are connected to programs and services in the community.
Community Wellness Hubs
In June 2010, Baylor Scott & White Health, the largest not-for-profit health system in Texas, in partnership with Dallas Parks and Recreation, opened the Baylor Scott & White Health and Wellness Center (BSW HWC) at the Juanita J. Craft Recreation Center in South Dallas. This public-private partnership was established to proactively address the health and wellness needs of Dallas County residents, particularly those with high rates of chronic diseases, as well as with frequent emergency department (ED) utilization and inpatient hospitalizations.
The BSW HWC bridges the gap between community wellness and medical care by providing convenient access to medical care, as well as a variety of nutrition and physical activity programs and services. The center boasts a primary-care clinic served by two full-time healthcare providers, social workers, medical aides, nutritionists and community health workers who are assigned as "peers" to residents. These "peers" provide residents with culturally relevant health education, help them navigate the community resources and serve as liaisons to 31 churches in Dallas County. BSW HWC also offers recreational facilities, including tennis and basketball courts, fitness and evidence-based interventions programs, such as diabetes prevention and Tai Chi, as well as a farm stand to provide residents with access to high-quality, affordable fresh fruits and vegetables. Throughout the process of creating this wellness hub, Dallas Parks and Recreation and Baylor Scott & White engaged with and incorporated the input of multiple stakeholders, including community residents and organizations, in order to determine the types of programs and services that are needed and would be used.
Since the opening of the BSW HWC, the number of residents using the center has significantly increased. Overall community health has also improve with a notable 21 percent reduction in ED utilization, and a 37 percent reduction in inpatient hospitalizations. "Deployment of services has shifted and impacted how recreation is done," says Crystal Ross, assistant director for the Dallas Park and Recreation Department. "We are more intentional about improving the health of our residents." The president of the BSW HWC, Dr. Donald Wesson, also agrees: "We recognize that healthcare is more than just medical care. Physical activity and nutrition are important components, and with this partnership, we are rendering true healthcare." Both organizations intend to continue the partnership by replicating this model in the city's other 43 recreation centers, thereby making them additional community wellness hubs.
Referral Pathways
The implementation of effective referral pathways is another way in which park and recreation agencies are partnering with health systems. In 2018, with support from the Centers for Disease Control and Prevention, NRPA collaborated with the following organizations to pilot the effectiveness and scalability of a referral process through the use of an electronic health record (EHR): Shreveport Public Assembly and Recreation and Ochsner LSU Health Shreveport (previously University Health) in Shreveport, Louisiana; the City of Westminster Parks and Recreation; Westminster Medical Clinic; St. Anthony North Family Medicine; and Arbor Family Medicine in Westminster, Colorado.
This referral process aimed to identify patients with arthritis and refer them to arthritis-appropriate, evidence-based interventions (AAEBIs) offered by park and recreation agencies. Within this process, the healthcare partners used their EHRs to identify patients in two ways: retrospectively and at the point of care. The retrospective referral process involved patient identification based on:
Age (45 years and older, since the majority of people with arthritis are older than 45)
Time frame (patients seen within the past 18 months)
ZIP code (patients living within a ZIP code served by parks and recreation)
Arthritis diagnosis (primarily osteoarthritis, gout and rheumatoid arthritis)
Once identified, patients were sent communication packages, including a personalized letter from the referring healthcare partner, detailing the purpose of the letter and encouraging them to enroll in one or more of the AAEBIs. They also received a phone call from the healthcare partner's staff within one to two weeks of the mailings. During the point-of-care referrals, the same criteria were used with the exception of the time frame, which was updated to include patients with an appointment the following week. These patients' EHR charts were then flagged for the healthcare provider to discuss the AAEBIs with them and provide them with a prescription card detailing the AAEBI program offering. Individuals who were referred would then be enrolled in a program once they initiated contact with the park and recreation agency.
Over the course of nine months, a total of 2,635 referrals were made, resulting in nearly 700 referred participants engaging in the AAEBIs, and a referral engagement rate of 26 percent. This referral pathway was particularly beneficial for all parties involved, including the residents. "It made me feel awesome to know they [healthcare provider] cared enough about my health to recommend an activity that could benefit my health issue," says a referred participant. In addition, park and recreation agencies were able to engage residents who had never participated in their programs and services. According to one park and recreation staff member, certified to teach the AAEBIs: "I think it has taken the Walk With Ease and all the programs to another level. It opened up an opportunity to reach out to more residents who we previously did not have. It's overwhelming in a good way. The people are responding. They're calling. They're participating. They're excited. It's just been unbelievable to see how it just kind of played out."
New and existing public health threats, including the increasing prevalence of obesity, heart disease and diabetes, cannot and should not be combatted in silos. At the very core of community health is the community, and only when the entire community comes together and works collaboratively will there be noticeable and sustainable improvements in its health status.
Lesha Spencer-Brown, MPH, CPH, is an NRPA Senior Program Manager.