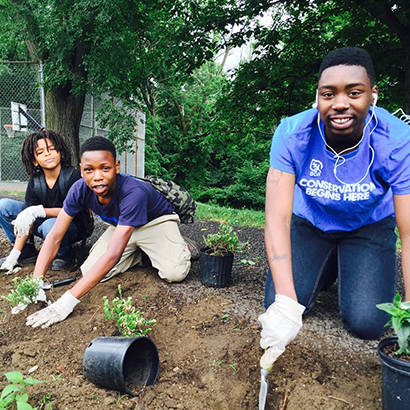 On long walks with my grandfather in the Western Ghats of India, he taught me to identify, respect and care for the flora and fauna around me. I have fond memories of the aroma of crushed lemon grass in his gnarled hands as he held it up to my nose, of him waving his walking stick at a valuable medicinal flower aloft in the treetops and his instructions to his grandchildren as we carefully lowered saplings into the ground. He took on the most terrible task of checking for leeches between our toes after our excursions. There, as a child, I first considered biodiversity, the relationship between people and wildlife, and the stressors of agriculture and unplanned development. I developed a sense of belonging outdoors, both in wild places and in the manicured front yard. Like most of my cousins, I didn't follow in my grandfather's agricultural footsteps or become an environmental scientist. But, I did become a professional, a voter and a mother with strong conservation values.
Nature in Cities
My children are growing up in a city. Where my grandfather blanketed hillsides with tea, coffee, spice plants and shade trees, we have a few potted herbs and vegetables. Where he replanted forest, we wedged some native trees into small, unpaved patches of dirt. How will my urban children — and their peers — find nature and their own beginnings as the young conservationists so desperately needed today?
Although expansive natural spaces in the city may be few, children can engage daily with the nature that abounds in parks, schoolyards and vacant lots. Even at the scale of acorns scattered by an oak on the sidewalk, children can develop an understanding for the larger environment. Experiences in these places can kindle the same relationship to nature that grew on rural walks beside my grandfather.
City leaders, recognizing the multiple benefits of connecting children to nature, are working to ensure that these experiences aren't limited only to people who own land, can travel easily to nature destinations or whose neighborhoods abound with nature-rich parks. Mayors and other city leaders are driving their local efforts to create equitable nature connection through initiatives, such as Cities Connecting Children to Nature (CCCN), the 10-Minute Walk Campaign and Mayors for Parks, to ensure that a robust relationship with nature can be enjoyed by all.
Conservation Corps
One of the strategies cities can employ to connect young people to nature provides unique opportunities for extended time in nature, outdoor mentorship and conservation skill-building. Cities are following in the footsteps of counties and states to partner with youth corps and engage teens in nature experiences and hands-on service that promote personal and environmental health.
In the city of Pittsburgh, leaders partnered with the Student Conservation Association (SCA) and the city/county workforce investment board, Partner4Work, to offer local teenagers six weeks of paid work on local conservation projects. In some cases, young corps members entered their neighborhood and city parks — like Frick, Riverview and South Side — for the very first time. Participants enter the corps program with little prior exposure to conservation, environmental education or outdoor recreation and leave the program gaining all three, demonstrating stronger conservation values and increasing their self-identification as conservation leaders. AmaRece Davis served as an SCA Community Crew corps member for two summers and one school year in high school, and the experiences compelled him to pursue community college, internships and return home "to be a beacon for young people…I'm living the dream now as one of the first African-American park rangers for the city of Pittsburgh."
Thinking "Outside the Park"
To expand the benefits to young people and the environment, city-corps partners can look past the park boundaries. Even nature at the scale of native tree boxes along streets can produce positive health benefits for people, better social outcomes for communities, a critical habitat for birds and insects and reduction of heat islands. The LA Conservation Corps Clean & Green program engages roughly 500 middle and high school students annually. Without even stepping foot in a park, these young people attend to their immediate surroundings — the sidewalks and transit corridors they use daily — to plant trees and establish a canopy. Green City Force in New York City works within Housing Authority properties to build and operate six urban farms in its outdoor spaces, engaging corps members in the most intimate relationship we share with nature, nourishing crops that, in turn, nourish their own bodies and communities.
Park agencies in cities, like Grand Rapids, Michigan, and Austin, Texas, partner with school districts to implement green schoolyards — multifunctional school grounds designed for and by the school community that offer places for play, learning, exploration and growth. A natural and unrealized symbiosis between green schoolyards and corps might exist if, over the summer, cities enlist young corps members to install and maintain the green infrastructure and stormwater management features, native plantings, pollinator gardens, young trees and urban agriculture beds that benefit children and neighborhoods throughout the school year. The CCCN City-Corps Partnership Guide assists cities in building partnerships that reflect value for both the human and environmental transformations that occur through engaging young people in conservation.
Emergence of Future Stewards
Cities exist within and on land and water systems whose health and vitality are intertwined with that of their residents. Protecting those systems, and the associated health and social benefits on which thriving societies depend, can only be sustained through the ability and commitment of future generations. Children and teens need not stray far from their urban neighborhoods to develop awareness, wonder and care for nature or to find outdoor mentors and guides. Equitable, citywide strategies to advance nature connection sow a seed in the heart of each young person impacted.
Through the recognition and taste of a first serviceberry, the thrill and importance of wielding a weighty hand tool, the sight of pollinators returning to restored habitat, and/or the feeling of agency and interdependence that results from diversifying and promoting life in a neighborhood, budding conservationists will emerge in our cities.
Priya Cook (@priya_cook) is Program Manager of the Cities Connecting Children to Nature initiative at the National League of Cities. #CityKids2Nature