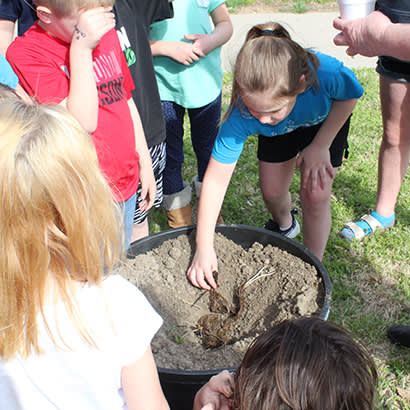 Chanute, a small town with a population of 9,200, is located in Neosho County in the rural southeast corner of Kansas, two hours from many of the state's larger cities, like Kansas City, Wichita and Tulsa. The Chanute Recreation Commission (CRC) has just added four full-time employees, but four years ago, a small but very significant grant started a chain reaction that has impacted the agency and the town in exciting ways!
Getting the Grants
In 2014, the CRC began focusing its efforts on addressing several growing health concerns facing the community, among them adult obesity, diabetes and limited access to recreational opportunities for its children. We saw a need to develop new programs for a wider audience, including more multigenerational programming and additional programs for families, adults and seniors. These programs also needed a wide variety of multiuse equipment to bring this vision to life. So, we applied for and got that initial grant for $9,200 from the Kansas Health Foundation, $7,800 of which was used to purchase the equipment and the remaining funds helped in providing family events and promoting new programs. Almost immediately, we discovered additional possibilities for program expansion.
With permission from city government officials, we repurposed a former public golf course on city-owned land into Lakeview Recreational Area, a multiuse, outdoor facility with 2 miles of planned trekking trails and 18 holes for both disc and foot golf. Two matching grants — one from the Kansas Recreation and Parks Association and another from Cunningham Recreation — totaling $100,000 allowed us to install equipment for an outdoor adult fitness circuit surrounded by five nature-themed children's play pods, designed so parents could work out while their children play nearby.
Lakeview is bordered on the north by Santa Fe Park and Lake, and on the east by the city ball complex. Grants from the Kansas Department of Wildlife and Parks allowed us to restore much of the land with natural prairie grasses to establish an Outdoor Wildlife Learning Site (OWLS), outdoor education area for pollinators, wetland wildlife, and woods and prairie life.
Our efforts to offer more active opportunities for residents resulted in award recognition from the Governor's Council on Fitness, as well as a $2,500 BlueCHIP Community Health Award from the Kansas Recreation and Parks Association and Blue Cross and Blue Shield of Kansas.
Reevaluating Our Vision
Two years ago, our vision quickly changed when the Robert Wood Johnson Foundation annual county-by-county report ranked Neosho County a dismal and unsatisfactory 98th out of 102 reporting Kansas counties for Health Factors. We refined our vision to become the southeast Kansas leader in promoting community health, which required strong leadership with a shared vision and a collaborative problem-solving approach. A grant from the Kansas Leadership Center allowed us to provide leadership training to 20 community members, at no cost, and start our community health initiative.
CRC's partnerships with city officials, civic organizations, economic development and health administrators offered multiple perspectives and provided many possible options for tackling our community's health issues. Our efforts took a huge leap forward with a three-year, $500,000 Blue Cross and Blue Shield of Kansas Pathways to a Healthy Kansas grant, which promotes three focus areas (active living, healthy eating and tobacco cessation) and functions through seven different community pathways. Each pathway works on an individual aspect of community health, while all work simultaneously toward the goal of improved health. The Pathways grant has allowed us to establish a complete bike route around town; promote healthy eating through a community garden, farmers market and grocery store; implement a community bike share program; and develop worksite wellness programs at 10 local businesses and industries that employ more than 1,000 people.
A missing piece in our community health initiative was a kitchen facility at the Chanute Recreation Center to provide education in food planting, production, preparation and preservation. What's more, a grant helped us achieve our goal! Last year, we received a $35,000 Commit to Health grant from NRPA to establish a kitchen facility and to implement nutrition education with children in our afterschool and summer day camp programs.
Successes and Lessons Learned
Our grant successes are changing the culture of our community. Establishing Lakeview Recreational Area has provided the community with a place for multiple outdoor activities, from disc golf to hiking to fitness to fishing. There is now an active community bike-share program at Lakeview, along with a Monday night Move It Bike Club with 30–40 riders — the oldest of whom is 93 — consistently participating. Last year, the Move It Bike Club participants rode a total of 3,800 miles from April to October. The NRPA Commit to Health grant has allowed us to successfully implement nutrition education with Rec Center afterschool and summer day camp participants and to also expand the program through partnerships with the county health department, the local Head Start program and a local faith-based supplemental food program. We reach almost 200 people monthly with nutrition education and information.
Our experience has also provided some great lessons for grant writing. One of the first lessons learned was from our school district's former grant writer, who consistently told us: "Follow directions carefully. Use their language and back it up with factual data." This turned out to be great advice. Another great lesson is to reapply if the grant repeats annually and if the grant requirements are applicable to your project. Applying a second time almost always provides valuable information. Researching the grantee awards provides insight into worthy projects. Sometimes, there are elements and factors in awarded projects that can be applied or adapted to your current project, and a second application is nearly always more well-written than the first.
Communicating Your Vision
Grant opportunities can come from local and state private foundations, government organizations like the Department of Health and Environment and USDA, and state and national organizations like NRPA. No matter which grant you are applying for, it is important to have a clear understanding of the overall vision so it can be effectively communicated.
We know we want to be the community health leader in our little corner of the world, and we know that focusing on active living, healthy eating and tobacco cessation can get us there, so that's the story I am always trying to articulate in our grant applications. However, what community health looks like for us is totally unique. We are always asking ourselves, "What can we do that will benefit the most people that no community within 100 miles is doing? What areas are trending that we can implement?"
There will always be the grants you apply for and don't get. For example, I didn't get an arts grant for a pottery kiln, or one for binoculars for outdoor education, or the Culture of Health prize from the Robert Wood Johnson Foundation. Most recently, I didn't get one that I probably shouldn't have applied for, because we are still clarifying our vision for our newest initiative to promote activity and healthy eating for seniors.
Grant writing is a process. It's a journey that pays off in small and big ways, but all of them are important. Each grant leads to another in an exciting snowball effect that brings positive change. I believe that when the right people work together for the right reasons, good things happen. That is true for Chanute, and we are grateful for every grant dollar that keeps our momentum moving forward.
Julie Aikins is a Grant Writer for Chanute Recreation Commission (@ChanuteRec).