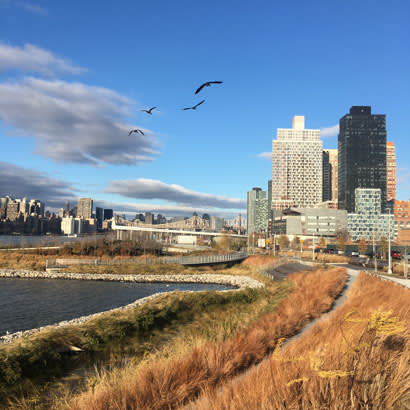 New York City Parks performs a superb juggling act
About 1 in every 38 people living in the United States resides in New York City. Because the city's population is so dense, residents rely heavily on public spaces, especially parks, for their open space needs. And, meeting the varied and sometimes conflicting needs of 8.6 million people is a particularly challenging job for NYC Parks planners who — much like strategically coordinated stage performers — successfully manage to keep all the plates spinning atop precariously balanced poles.
NRPA staff recently visited NYC Parks to learn how it is dealing with climate change impacts and to gather ideas for building climate resilient parks. NYC Parks staff are not only juggling a regular workload of required maintenance and capital improvements on 30,000 acres of parklands and 160 miles of park coastlines, but are also proactively working to buffer unforeseeable climate hazards through an innovative, community-centered approach to creating climate-resilient parks in an incredibly large urban city. Alda Chan, project administrator for planning at NYC Parks, explains its people-centered approach: "Parks are uniquely positioned to address resiliency because these are the places where infrastructure, social connectivity and engagement meet. Resilient spaces are not defined by hard infrastructure alone: robust ecologies and healthy and engaged community members are equally important. By creating inclusive, accessible, high-performing and well-connected spaces, we can help support resilient neighborhoods."
Post-Hurricane Sandy Projects
NYC Parks' down-to-business, do-something mentality toward climate resilience is directly tied to the fallout of Hurricane Sandy, which struck New York City in 2012. Unprecedented storm surge and flooding caused severe property damage, major transportation and communications disruptions, and dozens of fatalities.
Hurricane Sandy also devastated New York City parklands: Trees, trails, athletic fields and critical park infrastructure were submerged and demolished by the salty floodwaters and storm surge. The rebuilding and resiliency planning that followed the disaster provides unique insight for park and recreation professionals, planners and community leaders seeking guidance on building resilience in their own communities.
NYC Parks has been working in collaboration with the U.S. Army Corps of Engineers for more than a decade on studies and shoreline resilience concepts to help protect vulnerable coastal communities. But Sandy spurred NYC Parks into action. Using FEMA Disaster & Recovery Funds from Hurricane Sandy, NYC Parks successfully rebuilt 5.5 miles of boardwalk in just three years along the Rockaways, a narrow peninsula between Jamaica Bay and the New York Harbor in Queens. Based on predictive storm-surge data, the reconstructed boardwalk was elevated and designed to minimize future storm surge and flood risk, while fully integrating updated recreation elements and elevated facilities.
As part of the restoration, NYC Parks led a community planning effort to survey area residents about other park amenities and improvements, which resulted in a comprehensive vision and wish list of future park projects. When the boardwalk restoration project was completed under budget, NYC Parks was able to redirect the "underrun dollars" toward this wish list to further build community resilience through seven additional park projects. The Army Corps is planning to supplement the protective new boardwalk by building a series of groins along the 5-mile stretch. These engineered groins are long, narrow structures built out into the water from a beach to prevent beach erosion.
The Shape of Resiliency and Flood Protection
NRPA staff toured two projects, on opposite sides of the East River: Hunters Point South Park and the East River Park. Earlier this summer, Phase II at Hunters Point South Park was completed. Phase I, which features active recreation facilities like basketball courts, a dog run and a playground, had just been constructed when Hurricane Sandy tested it with a 4-foot-high surge of water. It survived, and Phase II was developed as a more passive recreation space, anchored by a modern, nautical-inspired cantilevered overlook and terraced seating with breathtaking views of the Manhattan skyline. The park includes salt-tolerant wetlands at the river's edge, a kayak launch, pathways sloping upward to elevated green space, waterproof seating and a noticeable lack of ground lighting near the waterfront — all elements specifically designed to withstand storm-surge flooding.
On the Manhattan side of the river were several athletic fields, recreation facilities and unique park amenities that make up the long, linear East River Park. Its promenade was completely submerged during Hurricane Sandy, as storm surge pushed water from the waterfront to inland streets in a 10-mile perimeter throughout Lower Manhattan. It devastated the Financial District and impacted nearly 100,000 low-income, elderly and disabled city residents.
The East Side Coastal Resiliency project aims to reduce similar future flood risk in this dense and vulnerable neighborhood. Inspired by the "Big U" concept from a post-Sandy design competition, the project wrestles with how resiliency and flood protection can address dynamic and sometimes divergent community needs along 2.4 miles of urban waterfront and parks.
The design has evolved as a better understanding of site conditions and construction impacts; the project now explores elevating the entire length of park to incorporate a natural sloped berm directly at the river's edge as opposed to building a concrete floodwall adjacent to the FDR Drive, one of the busiest highways in the nation. This shift reduces construction disruption and noise in the neighborhood and reduces the construction timeline. The updated design maintains the same level of flood protection for the neighborhood but also extends resiliency to the park features, ensuring protection for one of the largest outdoor recreational complexes in Manhattan.
"I am resistant to the idea that heavily used, active park space should be sacrificed for flooding as a key resilience strategy," says Mark A. Focht, deputy commissioner and chief operating officer of NYC Parks. "Planning and budgeting for repeated, but unpredictable, damage to park facilities creates a tremendous challenge for park staff. It also leaves New Yorkers without their beloved parklands after a natural disaster, which is a critical time when they desperately want to get back to normal." The new strategy not only reduces costs from future post-event recovery, but also ensures that the park can quickly come back online after extreme flood events.
Moving Forward
In the "City That Never Sleeps," NYC Parks is leading the way in planning, designing and activating public parklands to buffer future climate impacts and holistically support the neighborhoods they serve. These park professionals are experienced at juggling many delicate things because, despite what may come in New York City, the show must go on.
As Americans experience the effects of climate change and extreme weather hazards more frequently and intensely than ever before, the urgency escalates for parks to step up as solution providers in building community resilience. Through its Climate Resilient Parks Initiative, NRPA aims to build the knowledge, skills and leadership capacity of park and recreation professionals to effectively contribute to national and community efforts that protect and prepare residents for the impacts of climate change.
Resource
NYC Parks' Design and Planning for Flood Resiliency: Guidelines for NYC Parks is an interdisciplinary manual that was released in November 2017 to provide guidance for developing and renovating coastally resilient waterfront parks. These guidelines, specifically tailored for NYC Parks with the hope that other planners, designers, consultant firms, agencies, communities and homeowners can use them as a reference for coastally resilient park planning and design:
Define technical terms and explain concepts applicable to coastal resiliency and waterfront park development
Provide checklists that outline special considerations for waterfront park planning and design processes
Examine different waterfront park types and recommend best practices for each
Suggest plants, materials and design details best suited for coastal conditions
Provide additional resources for those who wish to learn more
Wende David is NRPA's Conservation Development Manager.