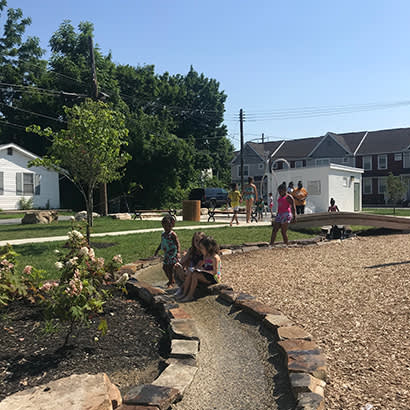 Gaining access to nature and water-inspired play spaces can provide far-reaching benefits for communities. Together, NRPA and the American Water Charitable Foundation are helping to build these spaces through the Building Better Communities program.
A total of $500,000 in grants will be provided to two parks to create community-focused, water-inspired play areas. These 2019 Building Better Communities grantees include:
Greater Huntington Park & Recreation District in Huntington, West Virginia
City of Alton Parks and Recreation in Alton, Illinois
The Greater Huntington Park & Recreation District will create the St. Cloud All-Inclusive Splashpad, which will provide an accessible water experience at a local park to families of all abilities. It will be specially designed to accommodate those with mobility issues and other disabilities, creating equal access to water play. To ensure those in their local community are learning to be future water stewards, educational programing on water quality and environmental conservation will be held at the park. Environmentally friendly design elements, including recirculation systems, bioswales and permeable surfacing, will be incorporated as well.
The City of Alton Parks and Recreation will create the first-ever water play experience for its community. The city sits on the Mississippi River, but due to flood walls, it does not have access to the river and does not have a public pool or splash pad. The city of Alton will create a recirculation splash pad that overlooks the river to allow its residents to enjoy water in a natural setting. This will also provide the opportunity to educate the community on water stewardship. The project will overlook the local Melvin Price Locks and Dams and educate the public about the importance of the Mississippi River and how it impacts the community.
"Ensuring children and families can experience water and have access to water-based education and nature play spaces is key to building the next generation of environmental stewards," says Karl Schrass, NRPA director of conservation. "We are proud to support this important work through our partnership with the American Water Charitable Foundation and to encourage communities everywhere to explore the wonders of nature through their local parks and recreation."
Since 2014, the Foundation has awarded 14 NRPA grants to American Water communities in California, Illinois, Indiana, Iowa, Maryland, Missouri, New Jersey, Pennsylvania, Tennessee, Virginia and West Virginia. Grants continue to help communities create or enhance public park spaces or programs that encourage the community to engage in water and nature-inspired play, connect to the natural world and focus on environmental education and water-based recreation. Read more about the impact one of these projects has had in the article, "Lively Parks, Healthy People" from the June 2018 issue of Parks & Recreation magazine.