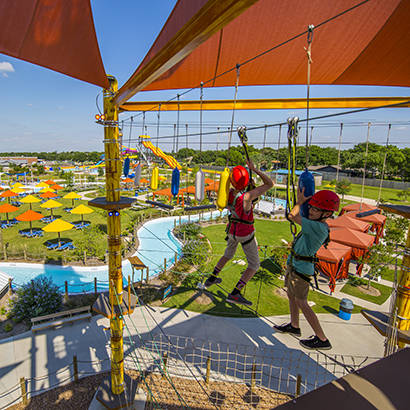 How including adventure into a park's design builds confidence through controlled risk-taking
Ropes courses and rock-climbing gyms have been steadily growing in popularity over the years, but a new wave of adventure parks is sweeping the globe. They offer new experiences for both adults and children, providing them with safe spaces to confront fears and build confidence. This phenomenon has become so pervasive that it is influencing park and recreation trends. In fact, many municipalities have or are considering their own operations or entering the expanding market through public/private partnerships to offer activities, like zip lines, canopy tours and aerial adventure courses. What's more, elevated teambuilding courses are skyrocketing in popularity.
Studies have shown the adventure park trend has been steadily gaining momentum. Adventure Park Insider Magazine (APIM) State of the Industry Report states that traditional adventure play, with a one-time fee to enter a facility with elements, like high ropes courses, climbing walls and canopy tours, are continuing to grow in popularity with visitors ranging in age from 7 to 65 and beyond. As opposed to traditional adventure play, pay-to-play adventures require you to pay a singular fee to participate in a high-thrill activity.
While traditional adventure parks continue to grow in popularity, the largest growth areas are in the pay-to-play offerings. Unsurprisingly, the cornerstone activities of traditional high and low ropes, aerial adventure and zip-line activities are the most popular and continue to rise. However, secondary activities, such as mountain coasters, climbing walls and bungee trampolines, also show high usage.
Adventure playgrounds in parks are emerging as an alternative to more traditional designs, with Australia, Canada and Europe leading the way. Adventure design in parks is a way to introduce risk-taking as a form of play. Essentially, it allows people to push the boundaries of their fears in a controlled environment. These new experiences incorporate play at heights, high speed, dangerous feeling experiences, roughhousing and lost play — where people aren't sure where they are. Both adults and children can benefit from these new experiences, because they build confidence as skills increase. Furthermore, these activities force participants to focus more attention on play because of the complexity of the challenges. These takeaways are then translated into other aspects of their lives.
Developmental Benefits of Risk Play
Studies have shown risk play to be an important aspect of childhood development, because it can improve risk perception and competence over time. Risky play helps kids conquer fears of stressful situations, learn how to follow through, improve social interaction skills, increase creativity, assist in understanding their limitations, recognize areas for improvement and help form positive attitudes. Other benefits include improved motor skills and cognitive understanding of the environment, not to mention the exhilaration they receive after successfully defeating their fears. In fact, it is reported that kids pay more attention while participating in these activities.
The lack of risk in the play environment could lead to children who are "risk-averse," never having learned how to effectively manage everyday situations, or on the flip side, those who seek out dangerous or hazardous locations to experience a thrill. Mental health professionals also agree the lack of risk in play can lead to a lack of resilience.
Safety and Controlled Risk
For many years, there has rightly been a cultural focus on safety, but the popularity of adventure parks suggests there is demand from the public for a safe way to recreate with perceived risks. Along with offering thrilling experiences, designers, owners and managers still consider safety and liability the most critical factor in the development and operation of adventure parks. The goal is to provide a controlled environment in which to experience risk. Parks implement vigorous safety measures, such as harnesses, tethers, safety hooks or carabiners and the belay cable or zip line. Helmets, harnesses and hardware items are consistently checked for each participant before entering any adventure activity. Training of personnel must be taken seriously and can be a complex issue. Personnel can be trained in-house, if the expertise is available. If not, third-party training is available. Reports indicate that both traditional and pay-to-play agencies are split on in-house and third-party training. Regardless of in-house or outsourced training, documentation of that training is increasingly important.
Although reports show an increased interest by both traditional and pay-to-play industries in serving children under the age of 7, currently due to height requirements for managing safety equipment, children need to be at least 7 or 8 years old to participate safely. Low-level activities can be considered for children who don't meet the height requirements.
Incidents and injuries do periodically occur at adventure parks, with the largest being minor scrapes, dislocations and other similar injuries. Since slips and falls were the most common cause of injuries reported in the APIM report, it makes sense that the category of scrapes, minor lacerations and bruises was the most common type of injury followed by sprains. "Other" injuries rounded out the third category, which included items like friction burn, heat injuries and insect bites/stings.
Cost of Implementation and Operations
Costs for development and implementation of adventure parks vary greatly, depending on the purpose and the features included in the park. Using existing trees and wooden poles as structures, the cost of the park might range from $250,000 to $400,000. Steel structures are more expensive and may range between $700,000 and $4 million. Larger adventure facilities can cost upwards of $10 million. Just as costs have a wide range, so do park sizes. The most common size utilizes around 10 acres of land. Larger operations range from 87 to 185 acres.
Operation costs depend on the activities and elements included and the size of the facility. A traditional adventure park with one fee to enter the park can operate with expenses less than $100,000, with larger facilities reaching closer to $250,000 in operational costs each year. In contrast, pay-to-play operations can cost $1 million or more to operate.
When operational costs are compared with revenues, the gross profit margin of each segment of the industry can be calculated. On average in 2017, traditional operations reported a gross profit margin of 13 percent, with pay-to-play operations averaging 34 percent.
College students make up a majority of the employees. They typically are available during the peak season, are attracted to the outdoor experience and activities and due to fewer financial burdens, require less significant salaries.
Landscape Architecture and Adventure Parks
Landworks Studio and OZMOY, LLC, are combining landscape architecture design principles with adventure parks to usher these experiences into more locations. The Landworks Studio and OZMOY teams see each project as an opportunity to bridge the goals of clients with the needs of those who use the spaces. The teams' fundamental goals are to elevate the users' experience and provide opportunities for lasting memories.
The team of OZMOY and Landworks Studio got its start by partnering on a design project for the city of Jefferson City, Missouri. The project is located at the Missouri State Penitentiary that was decommissioned in 2004, and now serves as a great historic landmark in downtown Jefferson City. The existing exercise yard is used as the main outdoor space, taking advantage of the walled and towered grounds to develop the theme of the project. Having this impressive facility as the backdrop for the project is an amazing opportunity. Many prison-themed elements are included in the design, like the zip line that travels the perimeter of the facility, as well as multiple challenge-based features — including the prison break, a special event that starts users in a cell that has multiple decision- and adventure-based escape challenges. This project is still in the planning stages but looks to draw adventure seekers from across the Midwest.
During the design of the Penitentiary project, the team forged a partnership, where each firm offers its own distinct set of services. OZMOY designs and engineers the park equipment, while Landworks Studio creates the master plan for the spaces they inhabit. Together, they are now working on projects around the world, with a shared goal of creating valuable adventure experiences for both municipal and private entities.
Seeing the Big Picture
As these trends continue to gain momentum, municipalities and park agencies nationwide are considering dipping their toes in the pool. The park and recreation industry has seen a massive increase in the introduction of this type of play, with the advent of cable play and child-sized zip lines springing up all over the nation. Recreation play companies have really hit the mark with these offerings. Over the next several years, the world of adventure parks and traditional parks and playgrounds will continue to merge. Television programs, such as "American Ninja Warrior," perpetuate the desire for more challenging recreational experiences, creating an interest for populations ranging from 7 to 65. As play continues to evolve, parks and recreation should consider capitalizing on the demand by adding adventure parks or adventure elements to their systems. These elements have many developmental benefits and meet the increasing demand for more adventure in recreation. The integration of adventure play into parks throughout the United States will likely continue to increase. Adding features, like climbing walls, challenge and ropes courses, as well as expanded ways to capture the moment, like photo services and phone apps, will continue to elevate these experiences. The park and recreation industry should be considering how it can capitalize on these trends and design professionals should keep their fingers on the pulse of these emerging inclinations.
Shannon D. Gordon, ASLA, PLA, is the Director of Business Development of Landworks Studio.