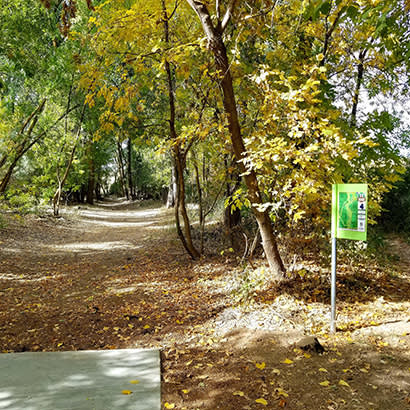 What do you get when you take a park and recreation department, add a convention and visitors bureau (CVB), a local sports organization and a dash of problem solving? A championship-rated disc golf course, of course. At least, that's what the Weber County Parks and Recreation Department achieved in 2018 when it built a disc golf course in Fort Buenaventura Park.
The park, which is located a mile outside Ogden, Utah, is on an 84-acre tract on the Weber River. It showcases the Great Basin's transition from nomadic Indian tribes and trappers to the first permanent settlements. Facilities include picnic areas, camping, a canoeing pond and a replica of the original fort with three cabins.
In true pioneering spirit, the department didn't build the course alone. It teamed up with a local disc golf club, Team Utah Open, and the county's CVB, "Visit Ogden." Together, they held a disc-golf-course raising that benefits and enriches the entire community.
Jade Sewell, owner of Ridgeline Architects, disc golf devotee and president of Team Utah Open, suggested the course to Parks and Recreation Director Todd Ferrario. Sewell explains that disc golf is one of the fastest-growing recreational sports in the world and loads of fun. "One thing that makes disc golf so popular is its affordability," says Joe Chargualaf, executive director of the Professional Disc Golf Association (PDGA), the sport's member organization and governing body. "You can begin with a $15 disc, and most courses have no or very low green fees. Anyone can play, and players walk 2–3 miles on an average 18-hole course."
For these reasons, the number of disc golf courses almost tripled between 2000 and 2018. Many courses are in city and county parks in the United States.
Reclaiming Parkland
Ferrario met with commissioners, the CVB and members of the community; then filtered the advantages and disadvantage of the course. He knew it would be popular with the community, but also thought it might help solve a problem. "The park's 15-acre perimeter was not being used, and transients were camping on parts of the land that bordered a railroad line," Ferrario explains. "While we sympathized with them and referred them to social services, I thought getting players into the area would let us reclaim the land for its intended use."
Ferrario also wanted to dispel the common misconception that disc golfers are slackers. "My experience immediately put that to rest," he says. "Disc golf is a mature sport with players of all ages and walks of life. They have a strong sense of community and are eager to help if you do something for the sport." Chargualaf agrees: "This was not an isolated incident. Local disc golf clubs often support park and recreation departments with their disc golf courses," he adds.
Ferrario applied for and received a Recreation, Arts, Museums and Parks (RAMP) Grant from Weber County in the amount of $19,800, which the agency matched.
A Labor of Love
Local disc golfers shifted into high gear, with members of Team Utah Open donating thousands of hours to help build the course. The team even brought Will Schusterick, a three-time PDGA U.S. Disc Golf Championship winner, to Ogden to give them a pro's perspective. "Will stood in our tee boxes, discussed landing areas and gave us some great suggestions," Ferrario relates. Sewell designed the Buenaventura course pro bono, modifying the plans hole by hole to reduce tree removal and create a visually pleasing and challenging course.
Thanks to old-fashioned teamwork, the department built a PDGA-rated championship course worthy of sponsoring a major PDGA event. Known simply as "The Fort," the course crosses the Weber River several times and weaves its way around creeks and under old shade trees. Multiple tee pads allow everyone, from beginners to pros, to play.
Tips on Building a Disc Golf Course
Allow approximately 1 acre per hole for the course. You may need less land if the site is heavily wooded and you build a shorter course.
Find an experienced course designer.
Team up with your local disc golf club. It can help you decide what kind of course the community needs and work with you through the planning and building process. The club may also promote the park and assist with tournaments, communication and maintenance.
Take advantage of the PDGA's resources. It does not design or build courses but does offer guidelines for building courses that may attract PDGA events.
Bring your convention and visitors bureau in up front. It can identify tournaments on which it can bid and build relationships with the PDGA and other organizations.
Minimum Maintenance
The total cost of the course, $40,000, includes metal baskets and sleeves, concrete tee pads, professional signage, garbage cans, benches, machinery rental from the county and some paid labor. Since disc golf fairways are left cleared, the course requires little maintenance, much of which is done by Team Utah Open through regular cleanup days devoted to maintaining and improving the course. "Several of the members are even cleared to use our small equipment," Ferrario states.
Theft-proof boxes at the 1st and 9th holes let players leave a $2 donation to help with course maintenance. "The course turned out to be one of the smartest investments we've ever made," says Ferrario. Despite long, hard winters, between 50,000 and 60,000 players have a fling on it every year. Two local leagues play the course regularly, and it hosts five or six tournaments every summer.
Economic Impact
Months before the course opened, Ferrario and others attended a PDGA tour stop in Las Vegas, where they learned how the PDGA runs its tournaments. After meeting with the PDGA and investigating sponsorship opportunities, Visit Ogden compiled a bid for the 2020 PDGA Professional Disc Golf World Championships. The tournament will bring 288 of the world's best disc golfers and thousands of fans to the area and ring up as much as $2 million in economic impact.
"About nine months after the course was completed, we were awarded the bid," Ferrario adds. "Team Utah Open are great ambassadors for the park," he continues. "Since the announcement of our winning the 2020 World Championship, disc golfers from all over the country and even Europe have contacted Sewell and visited Ogden to play the course."
"If you have the land, build a disc golf course," Ferrario encourages. "It's a recipe for success."
Betty Sosnin is a Freelance Writer based in Augusta, Georgia.