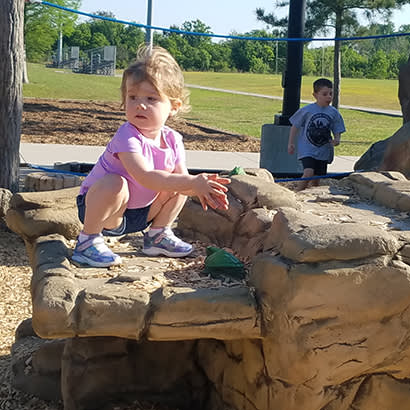 The Connecting Communities Through Outdoor Play grant opportunity, made possible by the Target Corporation, provided eight communities with the chance to enhance local park and recreation sites to encourage community members of all ages to come together to play, socialize, participate in physical activity and connect with nature.
Funds are used to transform local parks to improve access to physical activity, social connection and create more resilient communities for low-income youth and families. Over the course of three years, 24 total park improvement projects will be completed that emphasize the strategic focus areas of connecting all individuals to nature and healthy living opportunities, aligning with Target's priorities and NRPA's pillars of health and wellness, conservation and social equity.
During year one, funds were used to support innovative park improvement projects in eight underserved communities across the country. Those projects prioritized inclusive improvements, creating spaces that all community members, regardless of ability or background, can participate in and easily access. They also included improved infrastructure, such as walking/biking trails, increased connection to the outdoors through nature-play areas, improved access to sports and creative solutions to meet community members where they are through mobile play units.
Projects Overview
At Capitol Park in San Jose, California, grant funds were used to install outdoor, handicap-accessible exercise equipment to engage seniors in the community, as well as those of all abilities. The impact of this space was huge, as having access to free fitness equipment greatly increases their access to physical activity opportunities, improving health outcomes.
The neighborhood surrounding Isabel Gates Website Park in Atlanta, Georgia, is age-diverse, with a large senior housing complex and single-family residences with younger families. The opportunity to provide amenities at the playground for both the younger age groups to engage in outdoor play while still providing multigenerational components at the park was key to the project's success.
In Tampa, Florida, the enhanced space was an old basketball court that was under-utilized by the community. To increase park engagement and provide a safe space for kids in the afterschool program, the agency installed new pickleball courts, which are colorful and cater to the renewed interest of community members in outdoor play.
The Houston, Texas, Parks and Recreation Department's Natural Resources Management Program has an ongoing 47-acre, coastal prairie restoration project at Blackhawk Park. The Connecting Communities Through Outdoor Play project restored historic prairie conditions to the site to help mitigate flooding, increase the biodiversity of plants and wildlife at the site, and create a new nature-play space.
Trenton and Auburn Park in Philadelphia, Pennsylvania, is one of the few outdoor play spaces in the neighborhood. A new, low-income housing project has just opened adjacent to the park, and there are many families that need an outdoor play opportunity. The newly installed nature-play features give the new and longtime residents a way to connect and build community.
The Lawn Games concept in Phoenix, Arizona, began with identifying open space at University Park that was underutilized and had some landscape design challenges. Park staff and patrons worked together to identify interactive outdoor park amenities that people of all ages could participate in, including tether ball, bocce ball, 4-square and corn hole.
The Kilbourn Park Explorers Garden in Chicago, Illinois, represents the realization of a goal long-held by both park staff and patrons. The Explorers Garden provides Kilbourn Park with several new amenities, including a native habitat for pollinators, a human-scale sundial and a shaded seating area. Other elements that have improved the space include a water pump and mud kitchen for play, new fencing, mulch trails with edging and re-establishing native planting beds.
The city of Baltimore, Maryland, is working in conjunction with NRPA's Parks Build Community initiative on this year's project, which will be unveiled during the 2019 NRPA Annual Conference in September. Improvements to Catherine Street Park will make it an attractive meeting place for community members to come together and connect through outdoor play.
Impacts
Across the grantee cities, 46,300 community members have benefited from these projects. With the enhancements the park and recreation agencies were able to install with this grant, these residents have a safe, welcoming place in which to spend time in their neighborhoods. Of the 46,000 people reached, 77 percent were from minority communities and more than 7,500 individuals with a disability were impacted.
In total, more than 35,800 square feet of parkland were improved through this opportunity. As projects underwent construction and implementation, grantees were able to harness the power of volunteers, and attribute 887 volunteer hours to the success of these park enhancement projects.
An added benefit of this grant opportunity was the forming and strengthening of community relationships. Grantees formed relationships with nationwide groups, as well as with local groups, like city council, friends-of groups and local sports organizations. Through community engagement and these strong relationships, grantee agencies were able to identify the needs of and develop projects that uniquely serve their communities.
The selection of 2019 projects is underway, and their construction will begin in the fall of 2019.
Maureen Acquino is an NRPA Program Manager.