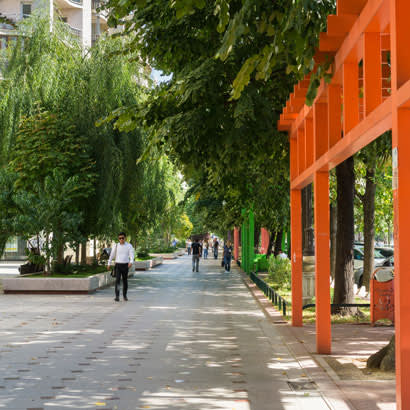 Let's start with 225, which happens to be the number of mayors signed on to the national 10-Minute Walk Campaign. This campaign, a partnership between The Trust for Public Land (TPL), the Urban Land Institute (ULI) and NRPA, is predicated on the bold idea that everyone in America should live within a 10-minute walk to a quality park. It's disarmingly simple, but the repercussions for quality of life in this country are immense.
Currently, 1 in 3 Americans doesn't have access to a park within 10 minutes, and we know from experience that the quality of the parks varies greatly for those who do. Imagine 100 million people who have access to the mind-clearing, exercise-inducing, joy-providing experience of a great nearby park: the isolated senior who can interact with neighbors, the young mother who has a safe outlet for her kids, and the tweens and teens with a place to see and be seen.
I don't need to pontificate on the benefits of parks to this audience: You don't need to drink the Kool-Aid. You made it! But, I do know that our industry can better educate decision makers at all levels on the transformative power of parks. We believe this effort is the start of something special, that the unique focus on parks and the aspirational nature of the campaign give us fodder for engaging with elected officials for years to come.
I urge you to take a moment this October to celebrate how far we've come in one short year, and to lay the groundwork in your community that ensures your elected officials drink the Kool-Aid and sign on to the 10-Minute Walk Campaign. We're one year in, with many more to go, but I'd say that 225 mayors and counting is something we can all be proud of, but we want you to know you're not alone in this campaign. NRPA, along with our partners at ULI and TPL, are here to help!
Best Practices/Knowledge Networks
NRPA, in concert with our network of on-the-ground experts in 12 cities across the country, is developing best practices and practical advice to help you achieve your 10-minute walk goals. As part of that effort, NRPA has developed a 10-Minute Walk Learning Series, where you can brainstorm with your fellow "parkies" on partnerships, community engagement, equity prioritization or sustained funding — a few of the many key components to increasing equitable park access and quality in your city.
NRPA, TPL and the City Parks Alliance have developed Parkology™ where you can further engage with the parks community on tools and strategies to increase access to quality, close-to-home parks. To further empower cities to move the needle on park access and quality, TPL will be making the park locations and their corresponding 10-minute walk service areas from ParkServe® available for public download so cities can use that data to help prioritize parks and open space. ParkServe® is the first, national data platform that's mapping park access in more than 14,000 cities and towns that are home to more than 260 million Americans. In addition, to highlight the critical benefits that parks and public green space provide to people across the country, TPL is establishing October 10 as "National Walk to a Park Day," and NRPA is proud to support that effort. I encourage all of you to walk to your local parks, participate via social media, and do whatever you can to help draw attention to the impotace of having a high-quality park close to home.
Research
Stay tuned for some exciting new research from our friends at ULI. The Open Space Case: Why Real Estate Leaders Should Invest in Parks and Open Spaces report explores the benefits of private-sector involvement in the creation, maintenance, operation and programming of community-accessible parks and open space — ranging from enhanced returns on investment for developers that include parks or open spaces in their projects, to opportunities to increase equitable access to green space. The report explores innovative private- and cross-sector park-development strategies and aims to motivate real estate developers to maximize their project success by further focusing on open space. This joint publication by ULI's Building Healthy Places Initiative and its Sustainable Development Council (SDC) includes key insights gleaned from project stakeholder interviews and case studies, as well as highlights from the latest research on the financial and health benefits of parks and open space.
Regardless of whether your community is near your goal of 100 percent 10-minute walk access or if you have a ways to go, please use this campaign as a beachhead to establish your agency as the solution provider to much of what ails our society and to the critical role that parks play in all of your neighborhoods.
So, on 10/10, take your mayor on a walk to a park, invite your city councilors to take a 10-minute walk in their wards, heck, get your whole city in on the game and clock where they'd end up in 10 minutes. We may not always like the answer, but the conversation must start somewhere! Most of all, enjoy the fresh air and exercise because, on 10/10, the wind generated by hundreds of mayors who've committed to the 10-Minute Walk goal will be strongly at our backs.
Kevin O'Hara is NRPA's Vice President of Urban and Government Affairs.