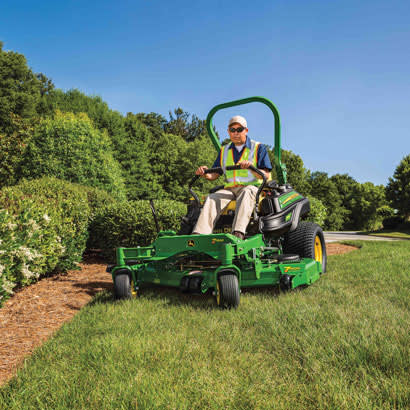 When maintaining park and recreation properties, having the right equipment is key to keeping the grass pristine for visitors to enjoy. However, much like there is a wide array of property types, there are also multiple machines designed to maintain the grounds. To help navigate through all the options, following are some different types of grounds maintenance machines, the benefits of each and best practices for keeping equipment running year-round.
Types of Equipment
Understanding your needs is the first step to help ensure you are selecting the right machine for the job. What work are you trying to complete? For example, do you only want to cut grass, or are you looking to complete multiple tasks? Also, consider horsepower needs and the terrain of the property on which you will be working. All these factors will help identify the best machine.
Zero-turn radius mowers come to mind when most people think about machines designed to cut expansive areas of grass. Powerful cutting machines, zero-turns allow the operator to quickly and efficiently maneuver through broad areas of grass. They are also particularly efficient in areas with lots of objects, to mow around, such as trees and landscaping.
For maintaining large-acreage park and recreational facilities, a popular choice is the wide-area mower. Equipped with three mower decks, wide-area mowers have a larger cutting width than other machine options, which helps to speed up the total cutting time.
Front mowers are another great grounds maintenance option, as they combine maneuverability with the ability to mow lots of grass. One factor that separates front mowers from other mowers is their multi-season capabilities. They can be equipped with attachments to tackle other tasks, such as snow removal, giving owners more bang for their buck.
Compact utility tractors have a reputation for being the "swiss army knife" of equipment, as these machines can be transformed, using a vast array of implements, to tackle just about any task. From mowing and aerating, to blowers, blades, backhoes and loaders, compact utility tractors are ideal because of their versatility.
There are other types of equipment that might be helpful for maintenance on other areas of the property. For example, while compact utility tractors are good for sports field maintenance, specialty equipment should also be considered, so work with a dealer to discuss your needs to determine the right mix of sports turf equipment.
Another important machine to consider adding to your lineup is a utility vehicle. Utility vehicles allow for easy transport of people, handheld equipment and materials across large properties. They can be a good option for any routine cleanup, such as grounds trash collection, and can be transformed with attachments and accessories to tackle other tasks, such as spraying and seeding.
Once you have selected the piece of equipment that best suits your needs, working with the dealer can help you navigate through the purchasing process and ensure you are choosing the best financing method for you.
Maintenance
To minimize downtime from non-functioning equipment, each day before you start work, do a daily walkaround. Check for loose parts or worn belts that may need to be replaced and any leaks that would require immediate attention. Make sure fluids, such as oil, are at the recommended level, are clean and align with the manufacturer's recommendation, information that can be found in your owner's manual. Also keep an eye on the tires — especially on mowers — to ensure they are properly inflated to keep the mower level for best cut quality. Check the tire pressure and tread so you know when you need to just add air or when it's time to replace the tires.
Mower decks and blades also require special care to maintain a quality cut. Remove any dirt or debris that has built up over time to enhance proper air flow before performing maintenance. Inspect for any visible damage that may require the deck to be repaired or the blades to be replaced or sharpened. Whenever replacing or sharpening a blade, make sure it is balanced in order to maintain a high-quality cut while minimizing vibration.
In addition to the recommended types of fluid requirements, your owner's manual also outlines the maintenance schedule for each machine. Consider working with a dealer to help with routine maintenance and keeping parts in stock. Many dealerships offer maintenance and parts packages to help streamline routine work and ensure you have the right parts when you need them. If you are financing a piece of equipment, consider streamlining costs by including parts and service in your monthly payment.
If you are only using the machine seasonally, make sure it is stored properly in the offseason. Keep it in a dry, covered place. Drain the machine of fluids and give it a once over, cleaning the parts and checking for any wear and tear that needs to be addressed, such as missing bolts, loose belts or dull mower blades. By preparing the machine before you store it, it will be ready to go when work starts again.
When maintaining park and recreation facilities, having the right equipment is pivotal to keeping turf healthy. While there are countless options available, it is important to work with a dealer to select the right machine for the property and tasks you would like to handle. A dealer can also be a great resource for maintenance and parts, helping to make routine work easier and more streamlined. With the right machine and a plan, you will be ready to tackle any park, regardless of the size or terrain.
Bill Frank is Government Business Manager for John Deere.