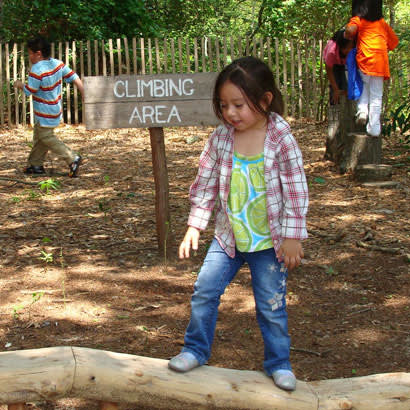 In The Color of Law, author Richard Rothstein describes extensively how federal, state and local government policies and practices aimed at racial segregation set a double standard in the quality of neighborhoods for whites and blacks. For example, he describes how President Franklin D. Roosevelt's Public Works Administration, whose goal was to alleviate a national housing shortage and create jobs, rarely included "plentiful green space" in residential projects for African Americans in contrast to those for whites. At the municipal level, Rothstein notes how park districts condemned and seized land to prevent impending construction of homes by or for African Americans.
So, what can cities do to address the disparities in physical and emotional access to nature that result from these and other barriers systematically imposed on communities of color?
Cities Connecting Children to Nature (CCCN) sites respond to the impact of these inequities with strategies developed through in-depth examination of local policy, infrastructure, programs and lived experiences of residents. Their goal is systemwide change that builds more connection to nature for all children. Following are a few lessons learned:
Cities need youth and resident co-producers
Tidy park surveys and community input meetings advertised on city websites, alone, won't do. Nature isn't limited to parks, and human connection to nature is personal. With the aim of co-producing approaches to increased nature connection, cities use residents' insights to understand desires, hopes and challenges faced by all residents in connecting to nature. Children's crayon renderings of public spaces, discussions facilitated by youth among their peers (like the conversations that took place at a KidSpeak event in the city of Grand Rapids, Michigan) and trusted neighborhood leaders deployed to laundromats, libraries and community gathering spaces, lift up voices usually missing from typical community engagement events and connect cities to what's really going on in their neighborhoods.
City leaders set a vision for equitable nature connection
City leaders know that residents' relationship with nature has implications for their health and well-being, as well as for the city's vibrancy and resilience. Mayors and other leaders convene multi-sector stakeholders to set a vision, such as a Children's Outdoor Bill of Rights in Austin and San Francisco, and use that shared commitment as a launch pad for changes to city policy. As Mayor Fischer of Louisville, Kentucky, noted in his 2018 State of the City Address: "We're connecting kids to nature because we know that spending time outdoors has tremendous benefits for physical and mental health."
System change requires cross-sector champions
No one city agency or community organization alone enables nature connection, so opportunities abound (and success requires) for municipal leaders to blur the boundaries of city and regional government and work across public agencies, such as public health, transportation, education, parks, planning and utilities. Out-of-school time, youth development, environmental organizations, faith-based communities and others similarly have a vital role to play.
Using the principles above, CCCN city teams bring nature connection into focus across local systems, with significant leadership from park departments and technical assistance from CCCN partners, National League of Cities and the Children & Nature Network. The pilot group of CCCN cities applied an asset-based lens to discern the most promising strategies in their cities, and the following strategies emerged:
Green schoolyards
Green schoolyards replace asphalt or lawns with nature-filled places for students, teachers, parents and community members to play, learn, explore and grow. In addition to affording increased nature connection, these spaces also address stormwater capture and other environmental and community benefits, without requiring further land acquisition. The city of Providence received funds from Rhode Island Housing to support its systemwide green schoolyards strategy, and Grand Rapids, Michigan, leveraged city, school and private investments to launch theirs.
Early childhood nature play spaces
Cities like Madison, Wisconsin, and San Francisco looked to family, friend and neighbor providers, as well as to public, private, licensed and unlicensed sites to create nature connection where young children already spend their time. Partners include local and regional accreditation agencies, zoning authorities, site directors, Head Start, and parks and health agencies. Cities like Seattle, Washington, and Austin, Texas, also operate nature preschools through partnerships between early childhood providers and city park departments.
Park activation
Although some cities enjoy an abundance of natural features in city and regional parks, longstanding usage patterns, discriminatory practices, transportation barriers and varying quality may prevent some users from regular connection with nature. Cities like Saint Paul, Minnesota, work to reorient priorities, retrain and support staff and adopt new procedures to address communication barriers. Louisville, Kentucky, launched a green career pathways program, embedding nature connection in workforce development. Houston designs culturally relevant programming, such as geocaching, macro photography, Dutch-oven cooking, Lego/robotics/STEM activities, overnight camping and angler education.
Infuse nature connection in afterschool and summer activities
Many cities, school districts and their partners have out-of-school time networks set up to support children's academic achievement and overall well-being outside of school hours through a wide array of activities. Working with those networks to move their programs outdoors or enhance their activities through exposure to nature can improve programmatic outcomes across the board, as in Saint Paul, where YMCA and park partners launched a free inner city summer camp.
Nature in libraries
Two common city agencies, parks and libraries, have found opportunity to collaborate to create NatureSmart Libraries in Saint Paul. Installation of pollinator prairies and outdoor reading gardens, coupled with programming that promotes literacy and environmental education feature in the collaboration. Library patrons can also check out Nature Backpacks and use the enclosed binoculars and field guides in library gardens and adjacent parks.
Eleven new cities joined the CCCN initiative in 2018, bringing interest in transportation, blight reduction, youth employment, trauma-response and resilience into their planning and assessment work, along with the potential for uncovering new strategies. With growing evidence on the benefits of nature, both children and the natural world stand to gain from thoughtful intervention to close the nature gap.

Priya Cook is Principal Associate, Connecting Children to Nature, for the National League of Cities.