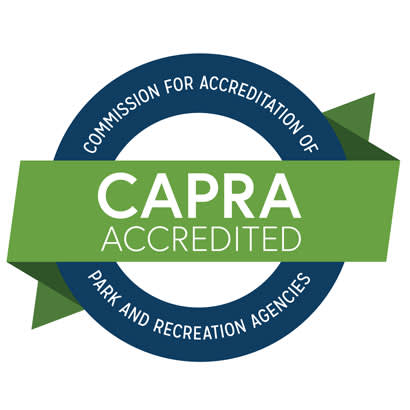 NRPA and the Commission for Accreditation of Park and Recreation Agencies (CAPRA) are proud to announce the accreditation of 11 agencies and reaccreditation of 22 agencies. This distinguished accomplishment was awarded during the 2018 NRPA Annual Conference in Indianapolis, Indiana. CAPRA accreditation is the only national accreditation for park and recreation agencies and is a measure of an agency's overall quality of operation, management and service to the community. This mark of distinction indicates that an agency has met rigorous standards related to the management and administration of lands, facilities, resources, programs, safety and services. Congratulations to the following agencies:
Newly Accredited Agencies
Arizona State Parks & Trails, Arizona
Chesterfield County Parks and Recreation Department, Virginia
El Paso Parks and Recreation, Texas
Fort Sill Family and Morale, Welfare and Recreation, Oklahoma
Sarasota County Parks, Recreation and Natural Resources, Florida
Schaumburg Park District, Illinois
Shawnee County Parks + Recreation, Kansas
Spartanburg County Parks Department, South Carolina
Tennessee State Parks, Tennessee
Town of Parker Parks, Recreation and Open Space, Colorado
Wake Forest Parks, Recreation & Cultural Resources Department, North Carolina
Reaccredited Agencies
Bismarck Parks and Recreation District, North Dakota
Charter Township of Canton Leisure Services Department, Michigan
City of Durham Parks and Recreation Department, North Carolina
City of Eau Claire Parks, Recreation and Forestry, Wisconsin
City of Gainesville Parks, Recreation and Cultural Affairs, Florida
City of Mesa Parks, Recreation and Community Facilities, Arizona
City of Waukesha Parks, Recreation & Forestry Department, Wisconsin
City of Woodstock Parks and Recreation Department, Georgia
Cleveland Metroparks, Ohio
DC Department of Parks and Recreation, Washington, D.C.
Fairfax County Park Authority, Virginia
Hoffman Estates Park District, Illinois
Lee's Summit Parks and Recreation, Missouri
Metroparks Toledo, Ohio
New London Recreation Department, Connecticut
Oak Lawn Park District, Illinois
Pearland Parks & Recreation, Texas
Roanoke Parks and Recreation, Virginia
Saint Paul Parks and Recreation Department, Minnesota
South Bend Venues Parks & Arts, Indiana
The Westchester County Department of Parks, Recreation and Conservation, New York
Town of Cary Parks, Recreation & Cultural Resources Department, North Carolina
Learn more about CAPRA accreditation.