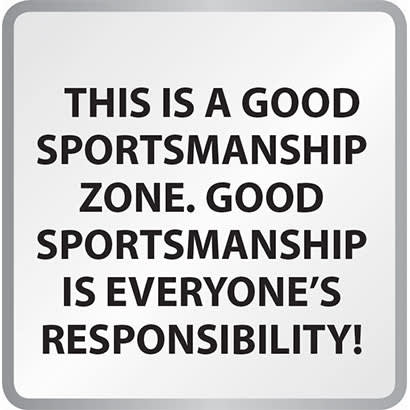 ATTENTION: READ THIS SIGN. THANK YOU.
During our four-year study of 175 neighborhood parks in 25 cities across the United States, we never saw a sign quite as useless as that one, but we came close, and some of the signs we did see left us speechless.
"No Profanity" was a good one. And "THIS IS A GOOD SPORTSMANSHIP ZONE. GOOD SPORTSMANSHIP IS EVERYONE'S RESPONSIBILITY!" And "No Bully Zone."
Parks without any signs are certainly deficient, but parks with useless or annoying signs can be cluttered, alienating or even counter-productively infuriating. On the other hand, parks with great signs can lift spirits, educate users, build solidarity and be downright entertaining.
The purpose of this National Study of Neighborhood Parks, funded by the National Institutes of Health, was two-fold: (a) to discover whether there are disparities in management practices and usership between parks in high- and low-
income areas, and (b) to identify which factors seem to be associated with greater physical activity in parks. The factors ranged from the amount of acreage to the number of facilities, and from the characteristics of the surrounding neighborhood to the level of programming. Although evaluation of signage was not a primary criterion, it turns out that it has an impact.
Most signs are dry, no-nonsense prohibitions: "NO DOGS ALLOWED" and "NO DRINKING, NO GLASS BOTTLES, NO LITTERING. LEASHED DOGS ONLY."
Others try to sound more ominous and punitive; one sign in English and Spanish, reads, "ANTI-DRUG ZONE. ATTENTION: ANY PERSON ARRESTED IN THIS AREA FOR SELLING HEROIN, COCAINE, METHAMPHETAMINE OR PCP WILL BE SUBJECT TO ONE ADDITIONAL YEAR IN PRISON IF FOUND GUILTY."
In contrast are signs with softer, explanatory tones: "DUE TO SHORT FIELD DISTANCE MEN'S SOFTBALL AND TEENAGE BASEBALL IS NOT PERMITTED," "Attention: Our Children Play Here! Please Walk Your Dog Elsewhere or You Will Be Fined," or the cuter "Young Lungs at Play. This is a Tobacco-Free Zone." And, some are hortatory and encouraging, attempting to dispel the "us vs. them" mentality: "If you want to lose it…then move it," declares one sign promoting Zumba classes, while, another says, "Welcome to the Mayor's Mile. 4 TIMES AROUND THE PLAYING FIELD EQUALS 1 MILE."
Employing the Right Tone
An analysis of hundreds of park signs revealed seven basic categories. There are signs that:
give the name of the park
provide wayfinding information (including maps, destinations, restrooms, food)
relay educational information (including historical and environmental facts)
promote programs (including events and courses)
offer general encouragement (including promotion of park activities and fitness tips)
prohibit activities (including general rules and time restrictions)
applaud generosity (including identification of sponsors and donors)
Finding the best tone for an urban park sign is not easy. Too mild and it may be ignored; too tough and it can engender anger and spite. Unfortunately, as the number of park employees declines, and as parks have fewer and fewer paid professionals to uphold rules and etiquette (and answer questions), more and more of those responsibilities fall to inanimate signs. Ironically, this is occurring just as the number of immigrant languages in many communities is proliferating. (Some signs in the Los Angeles Metro system are now in nine languages.)
Even when the reason for the message is evident, there is only so much that a sign can do. Despite the best of intentions — "Surfaces and play surfaces may become HOT and cause burns. Check for hot surfaces prior to playing on playground" — many people will still have to learn life lessons through the school of hard knocks.
Meanwhile, more signs mean more expense, more park clutter and more opportunities for graffiti. A comparison between park and shopping center signs is instructive. Although shopping centers also have stringent rules of conduct, those regulations are rarely posted in the kind of stark lettering and unwelcoming terminology usually found in parks. (Of course, shopping centers, unlike most parks, have uniformed guards to supplement their written rules.)
Dogs are a flashpoint in parks, probably because of the sharp growth in the nation's canine population and people's changing expectations. Most communities don't beat around the bush: from Lincoln, Nebraska's matter-of-fact "Leash and Clean Up After Your Dog. It's the Law"; to Los Angeles' scientific "Dog defecation must be removed immediately by owners under penalty of law."
But not all signs are restrictive or punitive. Many are like positive advertisements: "Healthy Parks, Healthy People. Take a Walk in the Park with SF Rec and Parks." Or, "We're Ready for Supper! We're Serving a Hot Meal to All Children Ages 5 – 18." Lincoln, Nebraska, seems to have a policy that its park signs be respectful and helpful to the populace: "Attention Practice Teams: If field is chalked, you can practice but please keep off the chalk. Thank You." Lincoln also posts signs giving web addresses for four relevant public and private bird organizations in various metro birding areas, and it also rewards park sponsors with their name on an "Adopt-a-Lincoln Landscape" sign.
Lincoln is also part of the growing trend to educate users about the ecological benefits of parks and about some new design elements within them. The city has a detailed "Rain to Recreation" poster-type sign with a textual and artistic explanation of park features that help reduce water pollution (plus the parks department logo). San Francisco does something similar at Jefferson Square Park, first giving park rules in a respectful style, followed by a detailed description of the city's water conservation protocol within its parks. (Even if the signs are too wordy for the average recreationalist, every educational opportunity helps.)
Acknowledging Funding Sources
Finally, there are signs that gently bring up the issue of funding, alerting park users to the source of the amenity they are enjoying. While funding traditionally has been an opaque process that makes parks appear to be the magical largesse of government, the recent tightening of municipal budgets has made many park departments vulnerable to and fearful of cutbacks. Some have become more outspoken, pushing users to think twice about the facilities at their disposal. A sign at Alvey Park in Kansas City has two federal logos and reads: "National Park Service, U.S. Department of Interior, Land and Water Conservation Fund. This park was supported by the Land and Water Conservation Fund, which helps states and communities provide outdoor recreation and open space for all." And, an outstanding (although wordy) sign at San Francisco's Bernal Heights Park provides a description and a map, and then highlights the different school and park bond measures that the public passed to create the park.
Conclusion
Signs do appear to influence people, even if they often seem to be ignored and sometimes scorned. Using regression analysis, the Neighborhood Parks study determined that parks with signs promoting physical activity have a higher usership than parks without those messages (after adjusting for acreage, population density and poverty).
Even parks with signs prohibiting certain types of physical activity, such as skateboarding or bicycling, get a bump in usership! Like the famous experiments that show the healing power of placebos, maybe it isn't so much what a park sign says as the fact that its very existence shows that a park department cares enough to communicate with its park users.
For instance: THANKS FOR READING THIS. HAVE A GREAT DAY
Peter Harnik, former Founding Director of the Trust for Public Land's Center for City Park Excellence, is a member of the National Study of Neighborhood Parks.