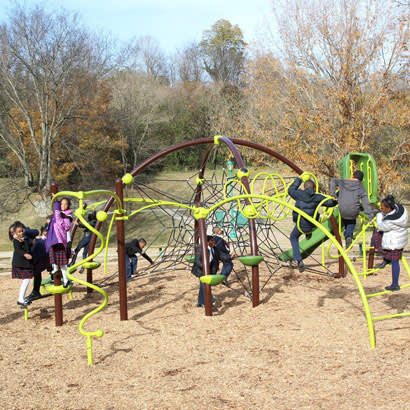 Late last year, I traveled to the historic city of Clarksville, Tennessee, to attend Clarksville Parks and Recreation's ribbon-cutting ceremony for Valleybrook Park. The park, a short distance from downtown Clarksville on the banks of the Cumberland River, underwent a huge revitalization, including new playgrounds, restrooms and a pavilion, thanks to a $477,000 federal Community Development Block Grant (CDBG) Disaster Resilience grant.
Longtime Clarksville residents shared with me that eight years ago, the spot where I was standing had been completely underwater — as was much of the state — during the 2010 Tennessee floods. By reopening this beautiful urban oasis, Clarksville is finally bringing this park back to life. The Director of Clarksville Parks and Recreation, Jennifer Letourneau, using the tools and resources from the NRPA Park Champion initiative, invited federally elected and administration officials to the ribbon cutting to show them the value of investing in this community.
In attendance were the U.S. Department of Housing and Urban Development (HUD) Deputy Assistant Secretary of Economic Development Steven Rawlinson and Field Representative John Clement from Congresswoman Marsha Blackburn's office, along with Clarksville Mayor Kim McMillan, Clarksville city councilmembers, local media and children from the nearby Tabernacle Christian School, who were quite excited to be the first to try out the new playgrounds.
The Valleybrook Park opening was the first time Deputy Assistant Secretary Rawlinson had visited a CDBG site. HUD handles the CDBG program at the executive level, so having the deputy assistant secretary attend the ribbon cutting allowed him to see first-hand how CDBG — a $3.3 billion program that provides more than $100 million in funding to local parks and recreation every year — is investing in a happier, healthier, more economically vibrant Clarksville. CDBG dollars were essential in allowing Clarksville to finally bring the park back to full capacity. The Trump administration, for the second year in a row, has targeted CDBG for elimination in the president's budget request, so it's critical to show members of Congress, administration officials, local officials and community members how important CDBG is to providing quality green space and recreation opportunities for everyone in communities across the country.
The argument behind fully funding CDBG is solid — for every $1 invested in CDBG, more than $3.65 is leveraged. But, as impressive as that return may be, it's not the facts and figures that will prevent CDBG's elimination. Members of Congress are people, too, and while facts and figures play a part in defining their world view, it's experiences and anecdotes that appeal to them and cut through the cacophony of partisan politics that grips Washington, D.C.
This was obvious to me, and I'm sure to many others at the Valleybrook Park ribbon-cutting, as we watched the students from the Tabernacle Christian School gleefully enjoy a playground that simply would not be possible without CDBG funding. It's hard to deny the impact of CDBG — and other federal investments in local parks and recreation — when you see it so clearly on the faces of children and adults alike enjoying a park.
There are more than 500 NRPA members signed up as Park Champions, who are providing their members of Congress with memorable, powerful, in-person experiences that demonstrate the importance of investing in local parks and recreation. Last year, our Park Champions held more than 70 events showcasing their parks, programs and facilities to their federal-elected officials. In return for sharing their stories, they've drawn attention to their work, built long-lasting relationships with their elected officials and helped to amplify the work of the NRPA Public Policy team.
Like Clarksville Parks and Recreation, many of you have incredible stories to tell about your agency's work in your community. You can make a difference by sharing those stories with your members of Congress and administration officials. Sign up as a Park Champion and together, we can work to fight for the future of parks and recreation.
Do you have a story to share? Take a page from Clarksville's book and join the Park Champion initiative by inviting your federal-elected and administration officials to your events. In addition to the tools and resources available to you on the NRPA website, such as our step-by-step event planning guide, the Park Champion Advocacy Toolkit, I'm always available to help.
I'd love to hear from you and help you join the ranks of the Park Champion initiative. Email me or give me a call at 440.522.9162. I can't wait to work with you to share your story.
– Jayni Rasmussen, NRPA's Advocacy and Outreach Manager