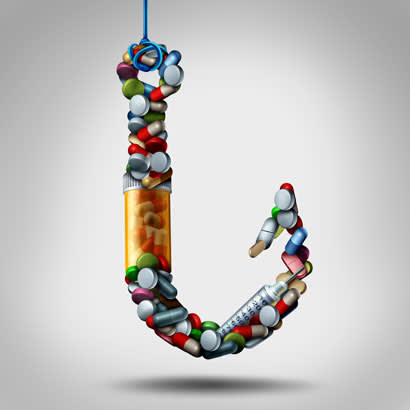 How park and recreation agencies are helping children and families cope with this epidemic
On March 4, 2017, law enforcement was dispatched to a scene in Sharon, Pennsylvania. When police officers arrived outside an apartment located on Connelly Boulevard, they encountered a 5-year-old boy, who led them into the residence where his parents lay unresponsive from a suspected drug overdose. Emergency medical technicians administered Narcan to the father, who regained consciousness, while the mother awoke without the need for the medicine. Although these types of emergencies have become widespread, most startling, in this case, was the fact that the son was the one who called 911.
"I think this one is going to stick with me a little more," Sharon Police officer Andrew O'Shall told a WKBN-NBC4 reporter. "Just the fact that it was a 5-year-old that watched his parents overdose in front of him and could have potentially died had he not called."
Unfortunately, this type of traumatic event is becoming all too common for children living in cities and towns across the United States. Drug endangered children, as defined by the National Alliance for Drug Endangered Children, are those "who are at risk of suffering physical or emotional harm as a result of illegal drug use, possession, manufacturing, cultivation or distribution. They may also be children whose caretaker's substance misuse interferes with the caretaker's ability to parent and provide a safe and nurturing environment." In some instances, these children — in the absence of their parent — take on the role of primary caregiver to their younger siblings.
Because park professionals strive to provide community members with the best possible resources and services to enhance their overall health and well-being, it's not surprising that many park and recreation agencies are working in concert with law enforcement, public health organizations and school districts to meet this pervasive epidemic head-on. Through these partnerships, they can focus not only on those drug-afflicted, but also on the families forced to cope with the traumatic effects caused by this devastating disease.
Should the parent(s) succumb to this disease, for any children left behind, it could mean either being sent to live with other relatives, such as a grandparent, or being placed in foster care. And, even if parents have not succumbed, they risk a different type of loss: their parental rights. The U.S. Department of Health and Human Services reports that among the total 274,000 children who entered the foster care system in 2016, 92,000 (or one-third) of those cases involved parents addicted to drugs — the highest in more than three decades.
Standing on the Front Lines
Park and recreation agencies are not immune to this growing crisis, especially when addicts use drugs in parks and other public spaces. In fact, the Cleveland Metroparks Ranger Department, headquartered in Fairview Park, Ohio, has witnessed it firsthand and began noticing an increase in drug offenses back in 2013. Jacqueline Gerling, director of communications at Cleveland Metroparks, says the Ranger Department, which serves as the law enforcement arm of Cleveland Metroparks, prosecuted 278 drug offenses in 2017 and 274 in 2016.
"No persons or communities (including park districts) are exempt from the effects of the opioid epidemic. Rural communities, suburbs and inner cities all have experienced the crisis," she says.
Shelly Strasser, director of the West Allis-West Milwaukee (WAWM) Recreation & Community Services Department in Wisconsin, says her agency has been made aware of the rise in the number of substance-abuse cases. She explains it's "due to the fact that our fire department has started tracking various drug-overdose calls [using] an interactive map. They're doing this in an effort to help the community understand the growing problem that we have." In the community of West Allis, there were 32 fatal drug overdoses in 2016 and 28 in 2015.
"Beginning in mid-2016," says Gerling, ranger personnel have been equipped with Narcan (Naloxone). As a result, "14 overdosed persons have been successfully revived by rangers and around 30 revivals by area EMS/fire departments have occurred within Cleveland Metroparks in the past two years, while two fatal overdoses occurred in this time — both passing prior to arrival by first responders," she explains.
The West Allis Fire Department administered Narcan to 106 patients (60.4 percent male, 39.6 percent female), in 2015. Strasser says her park and rec staff recently underwent training that included instruction on how to administer Narcan. "Our biggest challenge is just educating and training the staff to be equipped to address the need should it arise," she notes. Strasser adds that other challenges involve having access to Narcan and then maintaining proper storage of it. "We have probably close to 25 different locations where we run programs," she explains.
Discarded drug syringes in community parks pose a serious threat to the public and park agencies, as children on playgrounds and park maintenance staff working on-site may encounter sharp, contaminated needles. "Park districts should be aware of the hazards associated with discarded drug abuse instruments or packaging. Incidental exposure to Fentanyl — which we have found in the majority of packaged heroin — may be life threatening," Gerling warns.
To deter substance abusers from randomly throwing used syringes on park grounds or near play areas, some agencies have elected to install sharps containers in designated areas of the park, like restrooms. However, Nick Pirelli, former deputy director at Canton Parks and Recreation in Norfolk County, Massachusetts, vehemently opposes the idea. He believes openly displaying sharps containers in parks sends the wrong message to drug users, who might interpret it as parks condoning the use of illicit substances in these public spaces.
Instead, Canton Parks and Recreation staff members take a more proactive approach, with personalized intervention kits that are made available to anyone who requests them. These kits include literature about treatment options and instructions on how to acquire Naloxone from the pharmacy. "When I give out those kits, the sharps container is in that bag with all the resource pamphlets," explains Pirelli. He adds that if they're not promoting it and the individual is willing to use the receptacle, then staff can feel confident they are helping.
Prevention, treatment and recovery are top priorities for park agencies, however, many admit those suffering from this disease find it difficult to get past the social stigma, which can discourage them from asking for help or seeking treatment. "As park and rec people, I don't think we should be treating anyone any differently — it's a public health issue," contends Pirelli.
Education and Programming Are Key to Prevention
While parks and rec often serves as a conduit between drug users and public health agencies, park professionals also concentrate on providing an inclusive, healing environment for children who might be traumatized by the impact of addiction. This also includes children suffering from trauma because of poverty, food insecurity, divorce, mental abuse, physical abuse and gang violence. What's more, CDC research suggests that opioid addiction may be linked to socioeconomic disparities.
The Los Angeles County Department of Parks and Recreation has been working to create safer spaces for children living in lower-income communities through its Parks After Dark (PAD) program. Launched in 2010, the PAD program was part of the Gang Violence Reduction Initiative to address the gang violence epidemic taking place in Los Angeles County.
Tina Magakyan, PAD coordinator, says, "Parks After Dark was designed to address some of the service gaps that we've seen in underserved communities. Our target populations are areas with high rates of poverty, violence and obesity — and we know that for a lot of these communities, they have fewer resources to encourage physical activity and social gathering. These parks are typically [community members'] sole resource for recreation and social engagement. But because of the high rates of violence, oftentimes, they are afraid to go back to the parks, and this inhibits active living efforts." This causes social isolation, which can lead to a wide range of mental and physical health problems.
"Our park staff have not seen any significant issues with drug use/drug problems at the parks; however, we do partner with various organizations, such as the County of Los Angeles Department of Mental Health, San Fernando Valley Partnership, Inc., and California Hispanic Commission on Alcohol and Drug Abuse — which offer information regarding drug-abuse resources and services during our Parks After Dark resource fairs — because we understand that these are issues that often impact underserved communities," says Magakyan.
What makes this program so successful is the fact that LA Parks and Rec partners with the Los Angeles County Sheriff's Department to provide patrol services during PAD programming. Sheriff's deputies also partake in activities alongside participants — even offering safety and defense workshops.
"We also offer recreational programming and team sports, like basketball, tennis, volleyball and softball," says Magakyan. PAD collaborated with the Department of Public Health to offer walking clubs, as well as access to the county's pools and gym facilities free of charge.
She adds, "Many of our participants have said this is the first time that they were able to have all of their kids participate in a team sport. So, it really maximizes opportunities for physical activity and healthy living. We also offer entertainment programming, like movies, concerts, talent shows and various cultural shows. These are really effective in increasing attendance and creating family and community cohesion, which we know are protective factors against a lot of the trauma that the children in the communities are facing."
West Allis-West Milwaukee is also working to alleviate childhood trauma. Strasser says West Allis-West Milwaukee Recreation & Community Services Department is very unique because it runs under the auspices of the West Allis-West Milwaukee School District and the Board of Education. "There are about 25 recreation agencies in the state of Wisconsin that local school districts operate, similar to the WAWM RCS Department," she says.
"Our school district actually has a trauma team, and it's our school district personnel who go into our schools and work with administrators, teachers, parents and students," Strasser explains. What's more, the school district has a partnership with mental health service providers. She adds that her agency oversees more than 1,000 youths who participate in daily afterschool programs.
Drug abuse education and awareness are also a primary focus. According to the WAWM School District's 2015 Youth Risk Behavior Survey, 18.2 percent of 10th grade students took painkillers without a prescription, while 32.7 percent of 10th graders tried marijuana at least once. As part of its Knowledge Is Power (KIP) program, the WAWM Heroin/Opiate Task Force, along with its community partners, introduced a "Teen Replica Room" designed to train and teach parents, families, educators and the community at large about the red flags of potential drug and alcohol abuse by middle school and high school teens.
When it comes to substance abuse prevention, Pirelli says, "It's a no-brainer." He contends the problem is that many park and recreation departments offer programs for elementary school children and then "it kind of dies off from there. We should be doing programs from cradle to grave," he adds.
Pirelli explains that during his time as park and rec deputy director, "We started doing programs in Canton for middle and high school students, running summer-long camps and keeping kids busy at the most vulnerable time of the year." From a prevention standpoint, it's about making certain kids and teens aren't doing drugs in the first place.
Banning Together to Find Solutions
Although Pirelli now serves as assistant dean developing recreation leadership graduate programs at Mount Ida College and as a faculty member teaching recreation management classes at Bridgewater State University, he remains on the executive board of the Massachusetts Recreation and Park Association. In 2015, when he was at Canton Parks and Rec, he joined the Canton Alliance Against Substance Abuse Coalition (CAASA), which includes the police chief, fire chief and a couple of community members. Its mission is "to reduce the demand and the abuse of drugs and alcohol in the Canton community, with a special focus on middle and high school-age students, while creating a culture of good decision making." Pirelli served as chair of the coalition, as it moved from a private group to become an operating arm of the community. What's more, CAASA maintains an operation budget of $10,000 a year, in addition to community donations.
Strasser says West Allis-West Milwaukee has several coalitions and her department plays a key role in each of them. With the Community Alliance Against Drugs (CAAD), for instance, she says some of her staff are seated board members, "and their mission is to provide education that is tied through events in the community that are drug and alcohol free, and geared toward a family atmosphere."
Starting a Coalition
For park and recreation agencies looking to spearhead a drug awareness and prevention program in their community, Pirelli recommends doing due diligence beforehand. "The first person to ask is either the police chief or fire chief," he suggests. "Every rec professional needs to start there." Police or fire officials might already serve on an official town committee or coalition that could lead to a partnership opportunity for a park agency. Another option would be to find a nonprofit and dovetail with it.
Strasser also touts the importance of partnerships. She says, "The coalitions have acknowledged verbally the value that we bring to the table by partnering with them. It's been very positive for us." Strasser cautions other park and rec agencies against working in a silo. "Don't be afraid to at least look into teaming with other organizations or coalitions," she says. Pursue it and ask many questions. "The potential opportunities and value that you can bring to them and that they could provide to your agency are immeasurable and extremely important to our work in our communities."
What if a coalition does not exist in your community? The Community Anti-Drug Coalitions of America (CADCA) (www.cadca.org) offers myriad resources that champion the efforts of coalition networks. For example, CADCA's Membership Department can help park agencies network with existing coalitions, matching the two by geographic location and other interests. CADCA also offers a starter kit for those interested in launching their own coalition. Once park agencies have established their community coalition, they should research available grants for additional funding. Federal grants and resources are available through the Substance Abuse and Mental Health Administration (SAMHSA) (www.samhsa.gov).
A Community United
Pirelli strongly believes that park and recreation professionals have a duty to their community to take the lead when it comes to these coalitions. They should invite community stakeholders, police and fire officials, school administrators, nonprofits and for-profit entities to the table for an open dialogue about substance abuse and to develop sound strategies for offering programs for treatment, recovery and prevention.
After all, the more community members come together to find real solutions and create awareness, the more successful they will be in ensuring that their children stay on the right path toward a healthy and happy future.
Vitisia Paynich is a California-based Freelance Writer for Parks and Recreation magazine.