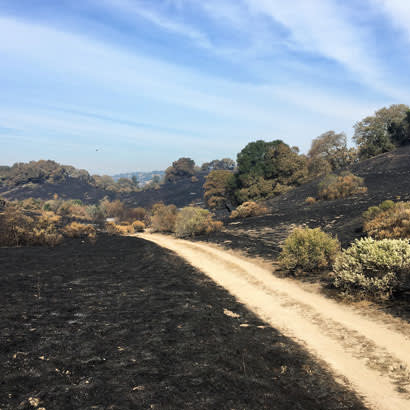 This past year, many park and recreation agencies experienced some of the greatest challenges they've ever faced from natural disasters — hurricanes, floods, tornadoes, wildfires, extreme heat waves, drought, hail, ice storms and more.
In 2017, a series of natural disasters, many say were made significantly worse by climate change, affected large areas of the country. By Labor Day, more than 80 wildfires were burning in California, Montana and Oregon, affecting more than 2 million acres, an area larger than the state of Delaware. Air quality in much of the West and Northwest was so bad from smoke and particulate air pollution that children were restricted from playing outdoors and public health advisories were issued for people of all ages to avoid exertion and active outdoor recreation. Fueled by extreme drought conditions throughout much of the West, some of the fires continue to rage today, including the Thomas fire, which is now considered to be the largest wildfire in California history. California Governor Jerry Brown says wildfires of this magnitude are the "new normal," and could occur annually.
In late August, Hurricane Harvey stalled over the Texas Gulf Coast, pulling an unimaginable amount of moisture from heated Gulf waters that then inundated urban and rural areas with up to 60 inches of rain: possibly the greatest rainfall in our nation's history. Soon after, Hurricane Irma smashed into South Florida, carving a path north through the state and knocking out power for up to 9 million people at one point. Hurricane Maria destroyed parts of Puerto Rico and the U.S. Virgin Islands, and the impacts and costs from all these systems are yet to be fully evaluated. Numerous other extreme weather events struck Louisiana, Arkansas, Missouri, Nebraska, Colorado, Minnesota and many other states across the country.
Literally, thousands of communities were damaged by these extreme weather events, and virtually every park and recreation agency within those communities was impacted. The increasing frequency and severity of such natural disasters have prompted park and recreation officials to examine how prepared they are for whatever comes and how resilient they will be able to be in recovering. Much is at stake. Tens of billions of dollars of damage to public infrastructure and lands have resulted from these "climate-enabled" extreme weather events, and they are increasing in number. Agency budgets and self-insurance funds are often not designed to cover the consequences of major natural disasters, and unprepared agencies can spend months or years recovering.
Recognizing the magnitude of this challenge, at its meeting in New Orleans this past September, NRPA's Board of Directors requested that NRPA staff give special attention to the issue of resiliency for parks and recreation. This mirrors a national trend that's being followed by many local and state government agencies. Cities, counties and states are ramping up their resiliency programs, hiring chief resiliency officers and establishing multiagency teams to assess preparedness and evaluate readiness for damages and stresses that will inevitably affect their communities.
David Rouse, research and advisory services director for the American Planning Association, says the American Planning Association is devoting considerable resources to planning for resiliency. "Community resiliency has multiple dimensions," says Rouse, referencing the Rockefeller Foundation definition of resilience. "Fundamentally, resiliency is about the ability of people and systems to adapt, survive and grow, no matter what kind of shocks or stresses they may face. Parks have become increasingly important to community systems through proven benefits to health, stormwater management, urban heat island effects and other stressors, and thus, are a vital component of community resilience."
To assess how park and recreation agencies are becoming more resilient, NRPA staff writers interviewed key park and recreation staff from cities, towns and regions that were most affected by some of the most damaging natural disasters. Their stories present a fascinating picture of how they and their personnel have become more resilient in the face of adversity
Hurricane Harvey
Hurricane Harvey has been called "the worst disaster in Texas history" by FEMA Director William Long, and it affected major cities, small towns and rural agricultural areas alike. Mariana Garcia, parks and facilities manager for the city of Ingleside, Texas, on the coastal bend of the Gulf, says when Hurricane Harvey approached, it got "way bigger than anyone ever anticipated. We began to seriously start preparing on Tuesday, August 24, and we were secured by Thursday morning before the storm hit."
The greatest damage to their parks occurred from wind. "Six of our parks were heavily damaged. Wave damage pounded Cove Park, which is on the water. The wind tore the roof off the service building and support facilities like our fish cleaning station were just gone.
"We know awareness and preparedness are really important," says Garcia, "but communications during storms is critical. Our phones were down, electricity was off, and what made it worse was we had to work from temporary offices. Our recreation center is still closed," Garcia explains. "It tested positive for mold and the A/C system was seriously damaged. Contractors are totally overloaded. They say they can get us a quote, but not for a couple of months."
However hampered they were, Garcia says they are driven to get back on their feet. "We have worked really hard to do some special programming and get some of our fields playable. It is so important to kids and youth to have something to look forward to," she says.
Meanwhile, in greater Houston and Harris County, Texas, flooding, not wind from the stalled hurricane, inflicted the most damage. In Baytown, a municipality of 80,000 people east of Houston, Scott Johnson, director of parks and recreation, was dealing with an unbelievable 50 inches of rain that fell on the city over four straight days. "There is nothing you can do to prepare for that," Johnson says.
"When the rains abated, we only had a skeleton staff. We opened a community center as an emergency shelter as soon as we could. The Fire Department had some high-lift vehicles, and they were bringing people in who had nothing but the clothes on their backs. Some of our playgrounds and parks were underwater for days and became covered with up to 6 inches of muck. It silted in everything, including our stormwater management ditches, which we are still working to clear."
"We didn't lose our communications network, which was a huge help. The problem for us was getting our people to work — they just could not get to their work stations," says Johnson. "We found the best way to help our city employees was to provide day care for their kids. Schools were closed, grandparents were inaccessible, and once people got to work they had difficulty going home. We called it Camp Harvey, and it was a huge help to our workforce."
According to Kyle Kelley, parks director for Precinct 2 in Harris County, Texas, floods severely damaged many of their parks and 25 miles of trails. When Hurricane Harvey hit, "Our priority was people — we had to ensure our staff was safe before any consideration of property and buildings," he says.
"One of my parks, Meadowbrook Park, was literally wiped off the map," Kelley continues. "Eight pavilions gone, asphalt trails, picnic tables — just gone. There was a very large sinkhole that opened up in the park where the flood waters were obstructed. It took 60 dump-truck loads of fill just to fill it in. Staff really stepped up even though some were really affected. Some still don't have a home. Many were in disbelief that we could have that kind of rain. It was just unimaginable. One thing we learned in the recovery was that parks really do provide a measure of healing. We have heard this after major disasters, but we saw it come true in our own community," he says.
Hurricane Irma
Following on the heels of Hurricane Harvey, Hurricane Irma made landfall in the lower Florida Keys as a Category 4 storm on September 10. Irma was such a monster storm that it blasted both coasts simultaneously as it spun northward toward Tampa. The damages in Miami-Dade County were primarily from powerful sustained winds that cut through the entire park system. "We lost 30 percent of our tree canopy cover throughout our 2,000 square miles of parks," says Maria Nardi, director of Miami-Dade County Parks and Recreation. "Our park staff are first responders after a hurricane, clearing roadways, causeways and critical transportation network components, but this storm really tested us."
"We had incredible damage from the wind," Nardi relates. "Not so much structural damage or flooding of buildings, except in our coastal parks, but more to our natural systems — trees, wetlands and beaches."
Miami-Dade County has an excellent emergency preparedness plan that serves as the basis for the parks and recreation plan of action. It follows extensive checklists for pre-storm, in-storm and post-storm actions and does extensive training for staff, including administrative staff, who are tasked with documenting damages and assessing what happened because of the storm. Nardi says, "The culture of teamwork, care and collaboration is remarkable. The staff is just amazing."
As with many other park agencies in times of natural disaster, Miami-Dade's staff supported county-wide emergency operations in many ways. Rec centers became food and emergency supplies distribution sites; parks were made available for the vehicles of 800 utility crews that were staged in advance of the storm. After the storm, their open space parks were used for debris collection and staging. Their biggest task post-storm was the cleanup of their 17 miles of beaches. Every one of their public beaches was piled up to 3 feet high with storm-tossed seaweed, all of which had to be removed by hand.
Getting their community centers open to the public soon after the storm was their most important goal, and within a week, they had 25 centers functioning. With widespread power outages lasting weeks, public pools and air-conditioned centers were extremely important for the public. "They were packed as soon as we opened them," says Nardi.
As Irma churned toward Tampa, new director of Tampa Parks and Recreation, Paul Dial, says its unrelenting high winds caused a big storm surge and much infrastructure and tree damage.
Tampa's emergency preparedness plan is based on a concept, called "Know Your Role," a city-wide action strategy in which all employees know their duties and what they should do in natural disasters. The park and recreation department observes a people-first approach. For example, park and recreation staff distributed more than 80,000 sandbags to residents before the storm, and staff and equipment were pre-positioned to respond immediately after the storm to begin clearing roads and reopening public facilities.
At the last minute, Hurricane Irma turned to the east and spared Tampa the worst of the storm. Nonetheless, Dial believes Irma was a cautionary lesson and that training and vigilance are critical. "We train for the worst and hope for the best," he says.
"We had many important lessons learned from Hurricane Irma," says Nardi. "With such an extensive park system in populated communities, we found that unpruned trees on private property caused us havoc. We can work with the public on educating property owners about how to prune trees. We did an extraordinary job responding to this storm, but we can improve in many ways, especially in utilizing volunteers. We have great goodwill from the community, and we need to have staff ready to manage them whatever the conditions."
Wildfires in the West
Late on the night of October 8, 2017, a series of extremely destructive wildfires began burning across Sonoma County in Northern California. These wildfires, driven by 70-mile-per-hour winds, spread at an incredible speed and burned more than 200,000 acres of land, forcing thousands of people to evacuate their homes and taking the lives of 44 people.
Park rangers from Sonoma County Regional Parks began evacuating campgrounds that were within a few miles of the active fires and began calling agency staff and other folks they knew lived in the affected areas. With no formal, centralized command system in place at the time this disaster unfolded, park rangers and other staff from Sonoma County Regional Parks began knocking on the doors of county residents, waking up people in the early morning hours and helping to stage ambulances and to assist other emergency personnel with evacuations.
"Our rangers are trained in emergency scenarios around earthquakes and floods, but we didn't anticipate a truly wildland fire like this where people are jumping in their cars and driving away from their homes and running for their lives," says Sonoma County Regional Parks Director Bert Whitaker. "That was really the way things looked for the first 12 hours of this fire."
By day two, maintenance crews and staff were clearing out the county parks, and clearing state parks of fallen trees and debris from the high wind so fire crews could get into areas. In addition to helping respond to this crisis, many members of the park staff were also impacted by it. Ten of Sonoma County Regional Parks staff lost their homes in the fires, and 50 percent of the staff was on some sort of mandatory evacuation. Staff members were trying to take care of their park system while simultaneously trying to ensure their families' safety.
It took about 10 days before the fires were partially under control and about two weeks before they were officially declared under control. Sonoma County Regional Parks, as well as California State Parks, opened safe areas in their campgrounds to people seeking refuge from the fires. Two of the Sonoma County's parks that were hard hit had previously been slated as sites for future subdivisions. That they remained as open space, Whitaker believes, potentially prevented far more damage and loss of life. Fire crews were able to halt the fires' deadly advance in these open areas, highlighting the importance of local efforts to keep these lands open and protected.
Sonoma County has seen an outpouring of public support, both on the human side of the tragedy, as well as in the community's care and concern for its public lands. Sonoma County staff has also learned that fires are not just fires. Because of the rain patterns in the winter, fires are often followed by floods, so they have been aggressively working to prepare for floods, landslides and mudslides.
This season of wildfires has highlighted two important lessons: the community really loves its parks and, now, probably appreciates them even more after this devastating event; and the need to expand emergency preparedness efforts to be sure they include and help other partners in the community.
Whitaker says his agency needs to have a plan in place to work with the fire agencies, including California State Parks, to be able to predict fire behavior in the future. To be prepared, it is necessary to look at these types of disasters with the best available science. "These fires have brought us together at a new level of just our basic needs of shelter and safety," says Whitaker. "It kind of made us all look at how our perceived safety can change very quickly. Our parks will heal with time, and we are here to support our community that cherishes the incredible natural resources and beauty of Sonoma County."
Conclusion
Despite large losses and painful recovery from these climate-enabled disasters, there were powerful lessons on the value of resiliency for parks and recreation. "In our community," says Johnson of Baytown, "we owe it to our citizens to do the best we can. We have really tried to get a sense of normalcy back. Parks and recreation shows the best of all of us. Helping people who are hurting get back on their feet, we do year-round, but it's never more important than in times of need." Kelley of Harris County says, "People associate parks with healing and quality of life. They are one of the reasons people love where they live."
So, how prepared is your agency and what does resiliency mean for you? In the coming months, the subject of resiliency will be a recurring topic in NRPA's professional development and educational offerings. Valuable new NRPA resources on how green infrastructure in parks can aid in making park and recreation agencies more resilient are now available.
Rich Dolesh is NRPA's Vice President of Strategic Initiatives. Cort Jones is the Associate Editor for Parks & Recreation magazine.