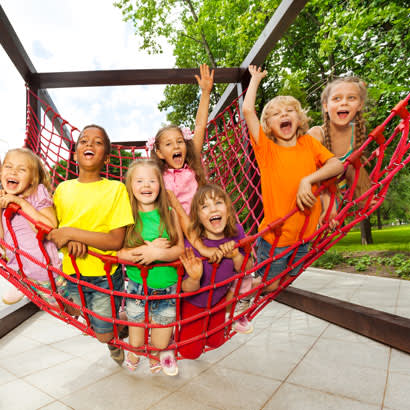 Public playgrounds are intended to be places where children can enjoy positive experiences that enhance their physical, mental and social well-being. They also contribute to a sense of community and are a source of economic growth for communities.
However, some challenges exist that make playgrounds less than pleasurable: safety concerns resulting from outdated equipment, hazardous surfaces, such as concrete or asphalt, lack of accessibility for children with disabilities and the threat of crime (a growing concern), to name a few. Funding shortages, the result of tightened budgets, only serve to make matters worse.
Resolving these challenges requires park and rec professionals to engage in some out-of-the-box thinking. Fortunately, novel trends in design combined with innovative approaches to playground use and access to a variety of funding sources are making playgrounds a place to gather, play and stay.
Trends in Playground Design
Following are a few of the design trends that are reinvigorating playgrounds:
Themed Playgrounds – Theme playgrounds continue to be a popular trend. Whether they echo a medieval castle, pirate ship or outer space, these creative, holistic play spaces are breaking the mold of traditional playgrounds to battle ever-shrinking attention spans.
Take, for example, Morgan's Wonderland Inspiration Island Splash Park in San Antonio, Texas, which carries a pirate theme. Believed to be the first-ever waterpark built for people with disabilities, it allows children of all abilities to pretend to set sail on a pirate ship or search for buried treasure as they enjoy keeping cool while playing in the sun.
Inclusive Playgrounds – One of the newest trends in playground concepts, inclusive playgrounds, goes beyond just accessibility (as the ADA defines the term) by encouraging and enabling disabled and non-disabled children alike to engage with one another in play and discovery. There are no "special needs" sections, because the equipment is designed to challenge all children.
ARISE at the Farm, an accessible, inclusive recreation center on a 77-acre working horse farm in Chittenango, New York, is one example. It focuses on the needs and interests of individuals with disabilities in the Central New York region. In addition to an all-inclusive playground, the facility offers a variety of recreational activities, including therapeutic horseback riding and an accessible fishing pond.
Adventure Playgrounds – Although they may seem like a new idea, adventure playgrounds originated in 1931 when Danish landscaper and playground designer Carl T. Sørensen noticed that no matter what he built, children seemed to find new ways to play on his traditional playground equipment beyond its intended purposes. His resulting question — What if children could be given raw materials to construct their own playgrounds? — would usher in a new way of looking at the idea of play.
Today, there are approximately 1,000 adventure playgrounds around the world, though none better than Adventure Playground in Berkley, California. With boats, forts, towers and a zip line for children above the age of six, it offers a unique play environment and has earned recognition as a "top 10" playground by National Geographic.
Innovative Approaches to Playground Use
Combined with these design trends are innovative approaches to the role playgrounds serve. Two worth noting include the use of musical instruments and multigenerational playgrounds.
Music Education – Playground developers are now installing musical instruments in playgrounds to stimulate speech, cognitive and motor development for children with autism and other sensory issues. Examples of instruments include tuned drums, chimes and bells.
The Freenotes Harmony Park in Moab, Utah, offers the opportunity for persons of any age or ability to interact with real musical instruments, including drums, chimes and xylophones. No musical knowledge is necessary either; the park promises there is no such thing as a wrong note!
Multigenerational Playgrounds – One of the best new trends in public play environments is the growing number of multigenerational playgrounds. These spaces include something for everyone, such as shade and seating areas where grandparents or parents can rest while children play, but more and more, they also feature fitness equipment, game tables and other amenities to engage adults, who also want to play in the outdoors. Equipment designed with adults in mind includes permanent obstacle courses, trailside exercise stations and even adult-sized swings.
Funding Playground Improvement, Development
Since the Great Recession of 2007, recovery of the funding for parks and recreation has lagged behind other government services (read more about this in "The Great Recession's Profound Impact on Parks and Recreation" on page 50 in this issue of Parks and Recreation). As a result, finding the funds to make improvements to existing playgrounds and building new ones requires municipal park and recreation managers to get creative and look for other revenue sources.
In addition to hosting a special event and/or reaching out to individual donors and local businesses, consider approaching large corporations, which often have budgets that can help finance your playground. Of course, you'll have to sell them on your project by showing them the return on investment they can enjoy, but by investing a bit more time and energy in crafting your "ask," you may be able to secure the funding for most, if not all, of your project.
Your search for grant opportunities should begin with a visit to the NRPA Grants and Fundraising Resources webpage. Also, check out "NRPA Provides Microgrant Funding" on page 59 in this issue of Parks & Recreation, to learn about some innovative projects that recently received funding and some upcoming funding opportunities.
Finally, the internet has given rise to a number of crowdsourced fundraising platforms that are another great financing resource. Here are three of the most popular:
Fundraise.com is a social fundraising platform that allows anyone to create and manage online fundraisers.
Crowdrise is an innovative, cost-effective online fundraising website for personal fundraisers, nonprofit fundraising and event fundraising.
Neighborly connects communities with new funding sources and citizens with the community projects they care about.
John Adams, the first U.S. vice president and the country's second president, is quoted as saying, "Problems are often opportunities in disguise." Playground funding challenges offer park and rec professionals an opportunity to get creative by focusing on new trends in design, play-space innovation and fundraising resource discovery.
Faith Munsell is Manager of the Playground & Sport Surfaces Blog for No Fault Sport Group.