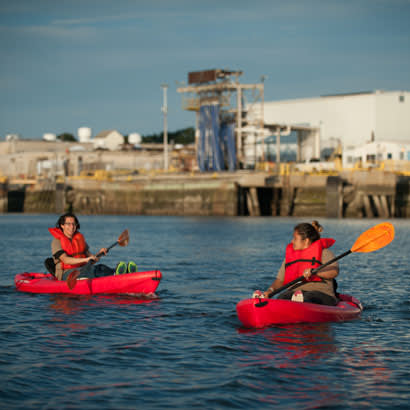 More frequent and extreme weather events combined with aging gray stormwater infrastructure are affecting the environmental and community health of neighborhoods across the country. Heavy rains often result in sewer overflows, severe flooding and unusable public spaces, especially in low-income and underserved communities.
NRPA's Great Urban Parks Campaign, which promotes and advances green infrastructure stormwater management projects in parks, places issues of environmental injustice at the forefront of these projects. Parks can reduce localized flooding, and infiltrate and clean water. They also can offer vulnerable communities increased access to green space for recreation, and opportunities for education and employment. However, without meaningful and early community engagement, these green stormwater infrastructure projects are at risk of not being fully embraced or understood by residents or accurately serving the diverse needs of the community.
Thanks to the support of Southwest Airlines, GreenRoots in Chelsea, Massachusetts, the city of Covington, Kentucky, and the Alliance for the Great Lakes in Gary, Indiana, executed innovative community engagement strategies related to the planning, design and implementation of green stormwater infrastructure installations in their parks over the past year. "Southwest Airlines is committed to bringing people together to transform public spaces into places that connect people and contribute to a resilient, healthy and inclusive community," says Todd Spinks Southwest Airlines' advisor, Sustainability & Citizenship."Our partnership with NRPA provides an opportunity to do just that by empowering local organizations, inspiring youth and engaging each other in ways that enhance green stormwater infrastructure."
Each of these communities created an engagement plan unique to the needs of its residents, which enabled them to work together to create green infrastructure solutions that bring maximum benefit to their communities. While these projects all experienced challenges, each community partner gained appreciation for the value residents added to the project and the overall accomplishments made through inclusion of the residents.
Chelsea, Massachusetts
Chelsea, Massachusetts, in the north suburbs of Boston, is a low-income community that has been severely impacted by environmental injustice issues, most notably because of the overabundance of heavy industries located on Chelsea's waterfront. GreenRoots, a community-based organization, is working to restore water quality and reduce the flood risk to the surrounding communities of Mill Creek through the installation of multi-benefit green infrastructure. A recent project at the Mill Creek Natural Playground focused on restoring the water's edge into a more open and accessible site that supports the growth of appropriate flora and promotes active recreation. In addition to adding stormwater tree trenches, bioswales and rain gardens to manage flooding, GreenRoots knew it wanted the project to provide amenities that were lacking in the community.
GreenRoots' ongoing strategy to engage the community has largely focused on fostering the long-term leadership development of Chelsea's young people, who have traditionally not had access to their waterfront. Through a partnership with The Environmental Chelsea Organizers (ECO), a local youth-led environmental justice group focused on empowerment, leadership development and civic engagement, GreenRoots has created a platform for ECO youth to lead community engagement around a green infrastructure project.
"Youth empowerment means motivating ourselves and our peers to make decisions that will make a positive impact in our lives," says ECO participant Cristian Garcia. "It means making our dreams come true with hard work and dedication. It means making those who don't believe in us take a step back and realize we are leaders."
The two groups carried out community events, meetings and activities to promote a greater connection to the river and to further educate residents about the importance green infrastructure can have on waterfront communities. Through community visioning sessions, residents shared their interest in having benches, open spaces and a community garden to complement the traditional bioretention areas. This created a win-win for all — green stormwater infrastructure projects were implemented while residents gained valuable open space, passive recreation and growing areas that will help further food justice goals.
Covington, Kentucky
Within the city of Covington, Kentucky, 100-year rainfall events are occurring more routinely. Because of age and capacity issues with the combined sewer system, portions of the city have been prone to flooding during these heavy rainfall events. However, the public is largely not aware of green stormwater infrastructure as a solution to flooding and, therefore, there is not much public support for green stormwater management projects.
To increase education and awareness and determine an ideal spot within the city to implement a green stormwater infrastructure project, the city of Covington worked with an undergraduate science education fellow. The fellow provided high school students with part-time employment where they learned about water quality and local stormwater issues through a Project WET curriculum, developed by experts in water education resources. The students participated in stream water quality testing, restoration projects and an outdoor adventure activity. Throughout the program, they used the knowledge they gained to select a park site. Then, they created a green stormwater infrastructure project proposal, which they shared at a public workshop during which they asked the community to vote on their ideas. To gather even more community participation, the projects were also shared on social media and followers were invited to vote. The city acquired a total of 130 votes from interested residents.
While implementation of the winning project is a long-term goal, the students' knowledge about water quality and stormwater-related issues increased exponentially, and they are now able to spot areas where green stormwater infrastructure installations would be ideal. In addition, they are developing ongoing strategies for how to communicate to the public about the issue and possible green solutions. Through youth education and job programs, Covington is hoping to bring more attention to the benefits of green stormwater infrastructure so that project implementation is widely embraced.
Gary, Indiana
The city of Gary, a historically wet city because of two low-banked rivers that flow through its center, has recently recorded unprecedented precipitation and flooding. This has led to frequent combined sewer overflows, as well as substantial property damage. Depopulation and a lack of financial resources exacerbate these challenges; the current population of about 80,000 people is just 45 percent of the 1960s peak population. Those left to address the city's expansive and aging stormwater infrastructure are ill-equipped to pay for needed updates. To manage these issues, the city committed to scaling the Vacant-to-Vibrant program, a multicity, Cleveland Botanical Garden-led initiative in which Great Lakes cities, challenged with many vacant properties, blight and flooding, install green infrastructure in pocket parks. The city partnered with The Alliance for the Great Lakes to support resident leadership and ensure that resident expertise is driving the site selection, design and implementation process for the transformation of six vacant city lots to pocket parks.
The project was highlighted at district meetings, and the community was given the chance to join the project steering committee, which included residents, city staff, landscape architects, planners, ecologists and engineers. This ensured that those community members had a say in every step of the planning process. Joelle Gamble, a resident of the Aetna neighborhood in Gary, shared her thoughts on being included in the process: "I have seen and have played a part in my neighborhood developing into a family-friendly place, where neighbors know each other and have a vested interest in the neighborhood. We voice our concerns and address issues, and the result is that more families have moved in. It's such a nice feeling to see children playing in the streets, riding bikes and people walking their pets. We have a lot more challenges to overcome, but the neighborhood is the place we call our home!"
The alliance and the committee conducted targeted outreach, including attending neighborhood and church meetings, making personal calls and sending emails to promote community-wide site selection meetings where sites and design were discussed. This helped inform the city of priority pocket park locations and designs.
Lessons Learned
Through outreach and engagement, residents in Chelsea, Covington and Gary are now more knowledgeable about solutions that enable their communities to better manage the effects of extreme weather and protect against severe flooding. In addition, their park and recreation agencies and partner organizations learned valuable strategies to engage residents in green stormwater infrastructure projects.
Rely on Existing Relationships – To recruit kids for the city of Covington's program, the parks and recreation manager relied on her relationship with a student she met through a previous summer camp program. Word of mouth proved to be the city's most successful recruitment tactic, because that student encouraged his sister and other friends to join the program. "Recruitment for the program would have been very difficult without existing relationships with students," says Rosie Santos, Covington's parks and recreation manager. Now several students are leading an effort to establish a club at their school to continue learning about related topics and to generate more interest in implementing green stormwater infrastructure projects among their peers, as well as their families.
Start with Understanding Needs Rather than Education – Communities may not be informed about green stormwater infrastructure as a solution for flooding and poor water quality. By understanding the needs of the community and showcasing how those needs can be met with green stormwater infrastructure projects, residents will not only be more engaged, but will also become advocates
for future projects.
In Chelsea, GreenRoots learned that engaging residents in green stormwater infrastructure projects through the lens of creating more open green space and public access to the river has empowered them to think about the long-term, positive effect on local rivers and climate change more broadly. They have coupled community gardens, parks and sitting areas with bioswales and rain gardens.
Don't Let Project Setbacks Impede Community Engagement – Almost every project encounters delays that cannot be prevented. However, it can be difficult to explain this to a community that lacks trust in its city government to deliver on its promises. Instead of focusing on the negative, keep residents engaged through related activities. It shows you still care about their needs and you are not abandoning the project.
GreenRoots had to delay its project to deal with land ownership and reme- diation challenges regarding the site. To keep residents engaged, it provided activities around the river, including storm-drain stenciling, kayaking trips and cleanups, which continued to bring attention and excitement to the waterfront.
Partnerships Matter – Within many city governments, community engagement around green stormwater infrastructure projects may not be a top priority for numerous reasons, including funding and staff capacity. Partnering with local nonprofits or grassroots organizations working to create resilient communities can help increase a park agency's capacity to prioritize long-term community engagement in park projects.
The city of Gary had existing ideas on the best locations for new pocket parks that could have the most impact on neighborhood stabilization and stormwater. However, it wanted to ensure residents' needs were considered in the selection process. The Alliance for the Great Lakes partnered with the city to provide that support. The alliance spent time building relationships with residents to understand their needs and help them see how the city's goals of the Vacant-to-Vibrant program relate. It used visual information and testimonials from residents who previously participated in Vacant-to-Vibrant projects to show them that these green stormwater infrastructure pocket parks can stabilize their neighborhood, provide healthy green space and manage stormwater. This work was crucial in the city's selection and design process.
Conclusion
Southwest Airlines' support enabled these communities to create meaningful change for underserved communities and individuals in the three locations where the projects took place. The lessons learned from these projects will help to inform NRPA's community engagement best practice and case study resource guide, which will be completed in spring 2018. The guide is part of NRPA's larger effort to promote participatory planning, design, maintenance and programming at a park system and project level that engages under-represented communities and addresses equitable community development.
Jennifer Cox is NRPA's Conservation Program Specialist.