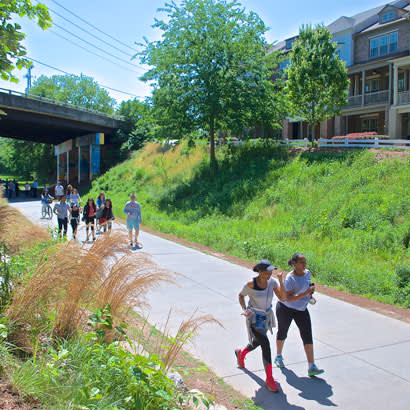 How social equity is breaking down barriers and connecting communities
It's a beautiful Saturday morning in the city of Atlanta, Georgia, and a group of visitors just boarded a bus at the Inman Park MARTA station for a guided city tour. However, unlike your average run-of-the-mill city excursions, this three-hour tour of the Atlanta BeltLine is constantly evolving — offering something new and exciting at every turn.
In 2005, the city launched one of the most expansive — not to mention ambitious — undertakings ever conceived in its history. This comprehensive urban redevelopment plan will implement 1,300 acres of new parks and green space, 33 miles of multiuse trails, 22 miles of modernized public transportation, 5,600 units of affordable housing, public art and up to $20 billion in total projected economic development. Over the course of this 25-year project, the city also aspires to create 30,000 permanent jobs and 48,000 temporary construction jobs. Most importantly, the BeltLine's emphasis on social equity aims to improve the quality of life in 45 historic neighborhoods and ultimately connect Atlantans of all socioeconomic backgrounds.
Who was the visionary behind this large-scale endeavor? In 1999, Ryan Gravel, a Georgia Tech graduate student wrote a thesis centered on redeveloping a 22-mile loop of neglected and underutilized rail corridor by transforming it into a viable public transit system complemented by sustainable economic development and sound connectivity methods.
Spearheading this project is Atlanta BeltLine, Inc. (ABI), which formed in 2006, supported by Atlanta BeltLine Partnership and the city of Atlanta. "Atlanta is basically a black-white city in terms of race and ethnicity. And, much of the city north of Interstate 20 is majority white and affluent, and south of Interstate 20 is majority black and lower income," explains Nonet Sykes, chief equity and inclusion officer, ABI. "Ryan envisioned this project as a way to bring those two worlds together and no longer keep the various neighborhoods along the rail corridor segregated."
Sykes says social equity is top of mind within every facet of the BeltLine project, and it's not exclusive to the affordable housing component. "It's really about having an equity mindset and approach toward workforce development, housing development and transit development," she notes.
In December 2013, ABI board of directors approved the Atlanta BeltLine 2030 Strategic Implementation Plan (SIP) to help steer the transportation and redevelopment project through its projected 2030 completion. According to ABI, the first seven years of the program earned about a 3:1 return on investment, with more than $1 billion in private redevelopment stimulated by approximately $350 million of investment.
Enhancing the Park System
Throughout the duration of this long-term plan, ABI and the city intend to expand the park system — augmenting green space by 40 percent, building 1,300 acres of new parks and renovating 700 acres of existing green space.
The Historic Fourth Ward ranks among Atlanta's most underserved areas, with one of the highest rates of children living in poverty. What's more, the area lacked parks and green space and suffered from constant flooding. The Trust for Public Land (TPL) acquired numerous properties to construct a new 17-acre park featuring a manmade lake to collect stormwater overflow to remedy the area's flooding problems. After two years, the Historic Fourth Ward Park opened in June 2010 and includes a playground, recirculating stream, splashpad, amphitheater/plaza, as well as an outdoor trellis, event lawn and sculpture garden.
In July 2018, Enota Park received a $600,000 grant from the U.S. Department of the Interior as part of a nationwide program focused on building and expanding green spaces in underserved communities. Located on a 0.3-acre play lot, Enota Park will be expanded to more than 8 acres and will feature a full-size basketball court, community garden, rebuilt creek bed, event lawn and playgrounds.
Trails Connect People and Places
The ongoing construction of the BeltLine trail system demonstrates the city's efforts to bridge the socioeconomic and geographic divide. Once completed, it will feature 33 miles of shared-use paths for walking, running and cycling, and adjoin 45 "intown" neighborhoods.
"Early on in the design process for the 12 segments that are currently open and under design, we looked at many opportunities to connect neighborhoods to the trail," says Beth McMillan, ABI's community planning & engagement director. "We provide access at all street intersections with the trail." To date, the following trails are open to the public: West End Trail, Westside Trail, Eastside Trail, Northside Trail and Southwest Connector Spur Trail.
Stretching 2.4 miles, the West End Trail is among the first path projects to be completed and links many Southwest Atlanta neighborhoods — such as the historic West End, Mozley Park and Westview. The trail also intersects with the 3-mile Westside Trail and offers access to retail and restaurant developments in those areas.
Crews completed the first phase of the Eastside Trail's southern extension in November 2017, which boasts new pavers, lighting handrails in the Krog Tunnel, streetscape enhancements on Wylie Street, as well as the installation of a temporary pedestrian pathway to Krog Street and DeKalb Avenue. Work began on the second phase of the Eastside Trail in July 2018 and includes extending the trail to Memorial Drive.
In March 2018, the city and ABI acquired 63 acres from CSX Transportation for $25.8 million. "This plan is part of a long string of acquisitions through the end of the year," says Clyde Higgs, ABI's interim CEO. "In March, Mayor [Keisha Lance] Bottoms led an announcement of a historic purchase of the Southside corridor for the BeltLine…that will ultimately connect the Eastside Trail to the Westside Trail. That was a game-changing acquisition for us."
The project includes redevelopment of the 4.5-mile railroad corridor, spanning from University Avenue to Glenwood Avenue and linking 18 neighborhoods, five schools and three parks. Once completed, the newly built trail will offer outdoor enthusiasts 14 miles of uninterrupted pathways — from the Westside Trail to Eastside Trail.
A Robust Transit System
Transit on the Atlanta BeltLine remains at the forefront of the connectivity issue among many residents and will serve as an expansion of the Atlanta Streetcar system. These streetcars will run alongside the multiuse trails with the goal of connecting more people to the downtown and crosstown lines and Metropolitan Atlanta Rapid Transit Authority (MARTA) stations across Atlanta, thereby offering some relief to long commute times.
In October 2018, MARTA board of directors approved $2.7 million worth of transit expansion projects, with $570 million allocated toward outfitting 15 miles of streetcar tracks for the Atlanta BeltLine.
"Transit is really connecting people to workforce development, and that's what enhances affordability," says Jenny Odom, ABI's communications & media relations manager. "That's the bigger picture."
Boosting Economic Development
What impact is the BeltLine having on Atlanta's economy? As an example, just on the Westside Trail alone, Higgs says: "We're tracking over $300 million in private investment that is coming [from] the commercial corridors of the Westside, and that's part of our promise on the delivery of the BeltLine — making sure that it has a significant economic development and job creation impact."
He adds that ABI is monitoring more than 11,000 jobs that have been created to date along the Atlanta BeltLine.
Hitting the Reset Button
In the early 2000s, addressing the critical need for affordable housing for middle- to lower-income residents, the city of Atlanta — via a legislative mandate — directed ABI to fund 5,600 affordable and workforce housing units in the Tax Allocation District (TAD) by 2030. However, about two years into the program, the Great Recession hit "and that slowed our ability to raise funding…so we really didn't get the influx of tax dollars that we thought we would have," says Sykes. Although she says the market began to bounce back in 2011–2012, ABI still fell short in terms of the amount of dollars it estimated the agency would have at that point — raising just 10 percent of the $240 million projected by 2030.
In 2016, the BeltLine project faced more setbacks when Ryan Gravel and a fellow board member resigned from the board of the Atlanta BeltLine Partnership, citing misgivings about a lack of inclusivity and equity within the development project. To make matters worse, a scathing investigation by the Atlanta Journal-Constitution and Georgia News Lab published in August 2017, not only revealed that a mere 785 affordable units had been funded, but also reported:
Beltline Inc. kept units that it funded affordable for only a short time; decreased spending on affordable housing as the city entered its current housing crisis; and even passed up on millions of dollars of potential funds. The untapped funds were enough to more than double the project's affordable housing budget, the investigation found.
On September 11, 2017, then-CEO Paul Morris resigned from ABI and was succeeded by Brian McGowan, who left shortly thereafter. In summer 2018, Clyde Higgs, who joined ABI three years earlier as chief operating officer, stepped in as interim CEO.
Higgs and the ABI team are now turning the corner by hitting the reset button on equitable development and seeking guidance from the Affordable Housing Working Group, a panel of affordable housing experts representing the public, private and nonprofit sectors. In August 2018, ABI and the Working Group released a final report containing an overview and analysis of the project.
Some of the Working Group's recommendations include:
Clarifying TAD vs. Planning Area
Collaborating with strategic partners to reach affordable housing goals both within the TAD and the broader Planning Area
Counting new units and preserving existing units
According to Higgs, the top takeaway from the report is about the partnership piece. He says, "We didn't perhaps partner as well as we would've liked to, [and] we were actually competing, in many ways, against some of those housing partners because we couldn't necessarily count all of the affordable units that were created by public dollars."
With regard to the TAD vs. the Planning Area, Higgs contends, "At the end of the day, it's about making sure that we bring units to bear regardless if they are in the Tax Allocation District or not, but we don't count those units that are in the general Planning Area against the 5,600-unit goal." To date, the BeltLine and its public partners have either constructed or preserved 1,600 units of affordable housing within the TAD, with 1,042 units in the BeltLine Planning Area — which are the half-mile zones on either side of the corridor.
Teaming with Atlanta Housing Authority
"Partnering with other city agencies, other nonprofit organizations, corporate players and government is critical for helping this project to be successful," asserts Sykes. "We can't be expected to solve the city's affordable housing challenges by ourselves."
For ABI, Atlanta Housing Authority is the go-to partner organization for housing in the city and for partnering strategically to reach the 5,600-unit target. Higgs and his team meet with Atlanta Housing on a regular basis to discuss combining resources. The agency is unveiling its strategic plan for the next three to six years, "and now it looks like the BeltLine is going to be a priority focus for a lot of the resources that they have available, because this is what they do," he says.
Embracing the Arts
"Another really big project the community loves and is involved with is the art on the Atlanta BeltLine," says Jenny Odom. "It's grown to be the largest public outdoor art exhibition in the South. People can come out to see performances for free, to see art for free, and that is a really huge draw for people."
In July 2018, the city debuted a thought-provoking outdoor art exhibit that stretched 4 miles along the Eastside and Westside Trails, drawing attention to Atlanta's past while embracing its future of urban renewal. Dr. Karcheik Sims-Alvarado, an artist and historian, curated a walking history of the Modern Day Civil Rights Movement, displaying 60 black-and-white photographs from her 2017 book, Images of America: Atlanta and the Civil Rights Movement, 1944–1968, in an outdoor setting.
According to Higgs, "We look at [this] not only as a deliverable to the community, but [as] a way for us to have conversations and engage the community." He adds that ABI's Arts & Culture team reports to the Community Engagement department so that they can assess how they engage other segments of the community that, perhaps, they wouldn't have typically reached out to in the past. "We can use art as a way to have those conversations. That's something we're really excited about," he points out.
Higgs says the Lantern Parade perfectly illustrates how art unifies communities, especially given this year's turnout of 70,000-plus attendees. This traditional event celebrates the annual Art on the BeltLine exhibition, using a procession of lights, music and color to set the Eastside Trail aglow.
Twanna Harris, ABI's vice president of brand content and strategic initiatives, says because of that art component, "Many community members engage with us and [it's] how we get feedback from them." She adds that through a jury-panel process, the team reaches out to local communities and others to solicit art for the BeltLine. The panel then votes on what kind of art will be displayed on exhibition throughout the year. "That's representative of the community and the culture for each distinct neighborhood," says Harris.
The Community Connection
Community outreach remains central to the Atlanta BeltLine project. "We have a staff here at ABI whose sole responsibility is that, and we have several different types of outreach to communities," explains Beth McMillan. ABI also presents quarterly briefings, whereby the agency updates community stakeholders on ongoing projects related to parks, trails, transportation and affordable housing.
As Sykes puts it, "The feedback and the partnership with residents are critical to the success of this project." For instance, when ABI sent out a survey to gauge the top project concerns from the community, Sykes says they received about 6,000 responses. ABI was pleased to learn the BeltLine had 80 percent favorability from the community.
McMillan adds: "We also do citywide conversations when there is a point of education that we want to provide to a community." In addition, the agency is kicking off a new initiative, called BeltLine University, which will train and educate 35 people each year on the intricacies of the project to create a base of volunteer ambassadors who will relay information back to their communities.
Moving Toward One Atlanta
Although total completion of the Atlanta BeltLine project remains several years away, one can already see the substantial progress throughout the 22-mile loop, the strong support among community stakeholders, as well as how the BeltLine is dramatically changing people's lives. Sykes says ABI's mission is "to develop this project in a way that benefits all Atlantans — regardless of their race, ethnicity, age, economic status or even physical capabilities."
Vitisia Paynich is a California-based Freelance Writer for Parks and Recreation magazine.