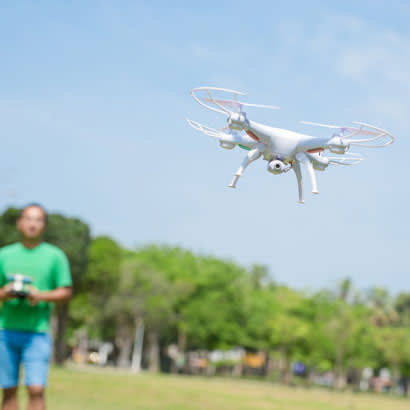 Unmanned Aerial Vehicles (UAVs), also known as drones, are a recent phenomenon that has become popular in the past few years. They are remotely piloted aircrafts that first started being used by the military when manned flights were considered too dangerous. Chronologically, drones first appeared in military operations starting in 2000, but gained military and civilian popularity from 2009 to 2016. However, because drone popularity has skyrocketed, local regulations regarding the use of drones for recreation have not kept up. The lack of regulations has resulted in issues regarding safety, privacy concerns, encroachment on private property and others, and thereby warranting discussion regarding development of policy and regulations.
The combined factors of impressive technology and offering the thrill of unmanned flight in one easy-to-operate package have made drones incredibly popular. They offer fulfillment of dreams of all ages, kids and adults alike, including scientific fantasies about flying cars and fancy new technology to launch society into the future. The idea of a future where packages and pizzas are delivered to doorsteps or in parks by drones is now a reality. Excitement abounds. People take their drones to public spaces, from national parks and wilderness areas to local public parks down the block.
Arguments against drones focus on security and privacy. People are afraid that drones could be used to observe unsuspecting people or be used in new cyberattacks. Some are paranoid that it is another way for "Big Brother" to further infringe on civilian rights and liberties. Some are simply concerned about flyovers of their property. To fly drones safely, many operators have turned to parks as the best open space to fly their drones.
An undeniable appeal of drone flying is the ability to take photos from perspectives that have never been done before except by professional photographers in a plane or helicopter. Fueling the excitement is posting such pictures on social media and getting the most "likes" on Facebook. The temptation of having drones for the perfect picture is high. People like to use their drones to get aerial shots of landscapes, get up closer than normal to wildlife and to try to re-create photos in the likes of National Geographic, all of which can cause problems if done irresponsibly.
There are positive aspects to having drones in parks for their use in helping to manage parks and facilities. Drones can be used in conservation efforts, public safety and natural resource management. They can be used in search-and-rescue operations, wildlife monitoring, monitoring endangered areas, creating more extensive maps and managing invasive species. They truly can be a resource for assisting in research focusing on environmental threats and expanding scientific knowledge.
However, recreational flying of drones in parks brings up a new set of issues. Complaints that drones pose safety problems, cause noise pollution and are a nuisance to other park visitors have become more common. To alleviate these public concerns, park and recreation professionals need to figure out how to regulate drones and accommodate public recreation flying in a way that is safe and productive.
A law passed by Congress in July 2018 granted the FAA control over all airspace, a law that supersedes local or state law. There are no other entities that can dictate where a drone can fly. Cities, states and other types of park agencies can regulate where a drone can take off and land, however. It is the responsibility of each jurisdiction to enact its own policies or regulations surrounding access for takeoffs and landings.
While many of the regulations set forth by the FAA seem vague, they do offer a substantial amount of information. The No. 1 tenet is safety: the FAA urges UAV operators to do so in a manner that reduces any risk of endangering the public. These guidelines are easy to find on the FAA website. Two types of drone operators have been designated by the FAA: hobbyists and commercial-use pilots. There are clear sets of rules for each type of flight covered under Part 336 for hobbyists and part 107 for commercial use. The basic rules apply for both but require commercial operators to pass a certification exam that must be renewed every 24 months.
It is also important to note that the FAA requires any drone weighing more than .55 lbs. (250 grams) be registered. There is no registration fee for an operator who plans on flying recreationally only, but it does require online registration of some personal information. Once registration is complete, a hobbyist pilot is issued an alphanumeric identifier that must be displayed on the UAV. Commercial pilots must also follow the same process, but, unlike the hobbyist pilot, each commercially flown drone must be registered separately and registration requires a $5 license fee that covers the drone for 24 months. Having a registration requirement places a level of accountability on anyone who pilots a drone.
Because of the popularity of drones, park agencies will face increasing public pressure to look at allowing hobbyist flights and commercial-use drones in parks There may be revenue potential in charging for a "day permit" to fly, but more importantly, permitting drone takeoffs and landings in park areas shows that the park system accepts drone flying as a legitimate form of recreation. Day or season permits would also help filter out less savvy or unsafe drone pilots with the requirement to show FAA registration and limited takeoff and landing space would additionally help park staff supervise flying.
By creating stronger guidelines and policies about how to fly drones in parks instead of adopting blanket restrictions, parks can give people an outlet and place to fly recreationally. New programming and events can be planned around drones, bringing in visitors and related businesses that benefit the parks. The popularity of drones will continue to climb. The opportunity is here for park and recreation professionals to accept drone flying and keep it focused on safety and respect for all parties. Such acceptance will protect the public and park resources and enable an exciting new form of recreation to take place.
Visit NRPA's Open Space Radio podcast page for more information about drones in parks.
Courtney Wootton is a Graduate Student in the Therapeutic Recreation program at Eastern Kentucky University. Michael Bradley is an Associate Professor in the Department of Recreation and Park Administration at Eastern Kentucky University. Ray Neal is a PMP-Certified Project Manager and an FAA Part 107-Certified Remote Pilot.