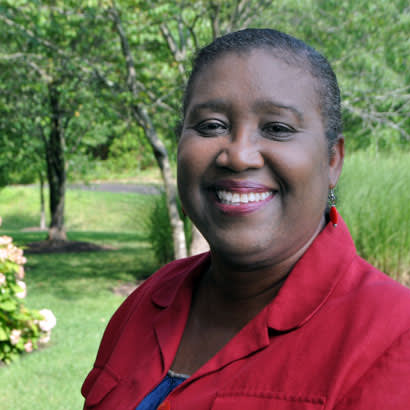 It's that time of year when our thoughts turn to being with family and friends and observing traditions, religious and/or secular. Two of my favorite Thanksgiving Day traditions are watching the Macy's parade while helping to prepare the meal, followed by the Westminster Dog Show and then, on Friday, connecting and reconnecting with neighbors as we all enjoy the local Thanksgiving Day parade in our town center. I wish we could hold on to that feeling of community and comradery past the ball drop in Times Square on New Year's Eve. That feeling of community, of being part of something larger, dissipates after the holidays, as we get back to business as usual.
Healthy, resilient and harmonious communities are what you as park professionals work to create and sustain year-round. In this issue of Parks & Recreation, we celebrate the increasing importance and prioritization of listening to community, especially when it comes to creating open spaces where all feel welcomed. For example, in Taos, New Mexico, by giving voice to groups that tend not to be sought out during the community planning process — the Native American population, the legacy Hispano community, and recent Central American and Mexican immigrants — the nonprofit Taos Land Trust embarked on a year-long community-focused master planning process to restore the river and surrounding wetlands along a portion of the Rio Fernando. In "How to Build a Park, Community Style!" on page 42, contributor Jim O'Donnell walks us through the process, which not only includes plans for a public park, but is meeting a need to reconnect to the land — an important cultural element for this community.
Repurposing industrial and transportation infrastructure to create exciting and innovative public spaces is all the rage. However, in the process of creating these spaces, the often-neglected communities that once abutted them are gentrified, displacing instead of benefitting the existing community. On page 48, in "New Urban Infrastructure Parks," by NRPA Vice President of Strategic Initiatives Richard J. Dolesh and "Tracking the Atlanta BeltLine," by contributor Vitisia Paynich on page 54, we see how social equity, once considered in hindsight, is now an important priority in these large-scale urban park projects that are meant to improve the quality of life for all members of the community.
But, many of you are already ahead of the game when it comes to being innovative, as evidenced by the programs chosen to receive the NRPA Innovation Awards in health and wellness, conservation, social equity and park design. Check out the Imagination Guide, accompanying this issue of the magazine, to learn more about these winning programs/projects.
Thank you for the work you do each and every day to advance the health and well-being of your communities and our country. This past year, we've seen the increased awareness at the local and national level regarding the impact of parks and recreation. From all of us at headquarters to all of you, Happy Holidays and happiness and peace in the coming year.
Sonia Myrick is NRPA's Executive Editor, Parks & Recreation magazine.