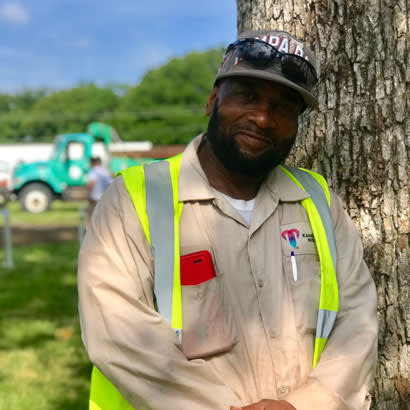 Each day during the recently observed Park & Recreation Month, the Kansas City Parks and Recreation Department named an employee the #PlayerOfTheDay and featured him or her on Facebook, Twitter and Instagram. "Our tagline is 'Where KC Plays,'" says Heidi Markle, KC Parks' manager, marketing and events, "so we wanted to focus on promoting play and recognizing employees in a fun way for Park & Rec Month."
With nearly 400 employees working at 221 parks and 10 recreation centers, this could have been an overwhelming task, but the response was seamless. The selected employees were peer-nominated and represent the variety of areas that serve KC Parks and Recreation. Markle traveled to the various locations to photograph the employees and collect pertinent data, including the answer to, "Why do you love working with parks and recreation?"
"I love watching people use parks and playgrounds that I have built and maintained," was the response Markle got from Andy Fleming, the municipal management trainee-North District who's been with KC Parks for five years. "I've even had people invite me to join their family reunion, as they used grills I installed just the day before! Helping the citizens of my city enjoy their time together is rewarding and encourages me to take pride in my work," he added.
The effort proved to be an encouraging way to build community, both internally, where staff offer congratulations online and in person, as well as within the local area served, by putting a face to the many things that go on behind the scenes.
At the end of the month, the 31 employees were highlighted in one document that will be shared with the park board, as well as distributed throughout the department for one more recognition. Markle adds, "It's been very rewarding to meet the selected employees, to take their picture and get their quote. They take great pride in knowing they help make their community better." Visit www.instagram.com/kcmoparks to see all 31 #PlayerOfTheDay employees.
Suzanne Nathan is NRPA's Media Specialist