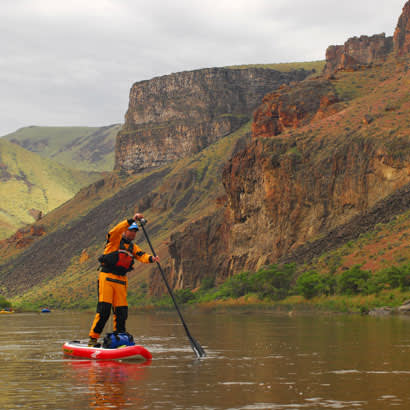 This year, recreationists and conservationists alike will be celebrating the 50th anniversary of public rivers and trails. On October 2, 1968, the Wild and Scenic Rivers Act and the National Trails Act were passed. At the time, outdoor enthusiasts and congressional champions demanded free-flowing rivers and long-distance trails to balance a national policy of rampant dam building and a lack of connection to the outdoors and historically significant places. These monumental acts of Congress marked the beginning of more than a decade of environmental lawmaking, protecting natural attributes like air and water quality, and institutionalizing public participation in environmental reviews. These acts also brought rivers and trails — the networks that connect communities to public lands — to the forefront of American consciousness.
The National Trails Act established the initial components of the National Trails System, launching the creation of what are now called, National Scenic, Historic and Recreation Trails along with Rail Trails. These trails provide outdoor recreation opportunities and promote resource preservation and public access. Through designated trails, the public can identify the scenic, historic and recreational elements the trails protect and more easily connect with nature, history and their communities. Scenic and historic trails have a minimum mileage requirement of 100 miles, while recreational trails have no minimum mileage requirement and many are located entirely within city, county and state parks. Since its creation in 1968, the National Trails System has grown to encompass more than 100,000 miles of trails in all 50 states, Washington, D.C., and Puerto Rico.
For rivers, the passage of the Wild and Scenic Rivers Act of 1968 created the National Wild and Scenic River System that includes wild, scenic and recreational rivers. The system protects specific segments of free-flowing, un-dammed rivers for water-based recreation, fish and wildlife habitat, scenery, geology, and cultural and historical uses. Protected rivers provide a wide range of visitor experiences, from wild and primitive, to those in developed areas that are readily accessible by a road. As with the National Trails System, the Wild and Scenic Rivers System has grown steadily since its creation and today protects 208 rivers, encompassing more than 12,000 river miles in 40 states and Puerto Rico.
Visiting National Trails and Wild and Scenic Rivers
National Trails and Wild and Scenic Rivers are open for all Americans to enjoy. Many recreationists visit on their own, but the tourism and outdoor recreation industries also play critical roles in introducing people to the outdoors. Horse packers, hiking guides and river outfitters inspire and educate customers about the historical and contemporary values of rivers and trails and the public lands to which they provide access. State and local governments are also critical players in river stewardship and recreation by providing and maintaining river access to sites, trails and trailheads.
Let's take a closer look at some beloved rivers and trails:
Ice Age National Scenic Trail
Tracing the edge of the glacier that covered much of Wisconsin during the Ice Age, this 1,000+-mile trail travels along some of Wisconsin's most beautiful natural areas and across a variety of unique landscape features. These glacial remnants are now considered among the world's finest examples of how continental glaciation sculpts our planet. But, the Ice Age Trail is more than a path through the woods. It is a place for mental and physical rejuvenation, a place to unwind after a grueling day and enjoy the landscape of Wisconsin. Across the state, city, county and state parks partnerships enhance the access for both thru-hikers and more casual trail users by offering campsites, shelters and parking areas. Park groups and trail groups team up to maintain and expand existing trails through efforts, such as prairie restoration and post-storm cleanup. More than 1 million people use the Ice Age Trail each year to hike, snowshoe, backpack, disconnect and reconnect.
St. Croix Wild and Scenic River
Flowing for more than 250 miles along the border between Minnesota and Wisconsin, the St. Croix Wild and Scenic River is one of the eight rivers originally protected in 1968. The St. Croix River offers outdoor enthusiasts a wilderness-like experience within easy reach of a major metropolitan area through access provided by 20 state, regional and local river parks and numerous other landings. Anglers, campers, picnickers, swimmers and bird watchers enjoy its variety of scenes throughout.
On the upper portion of the river, Class I-II rapids challenge canoeists. The Lower St. Croix is popular for recreational enthusiasts who enjoy canoeing, boating, fishing, rock climbing and hiking along its scenic shores. Near St. Croix Falls, the Minnesota and Wisconsin Interstate State Parks provide access to the Ice Age Trail's western end. Power and sail boating are popular at the very lowest end of the river, where it widens into Lake St. Croix. At places where the river flows through towns, like Hudson, Wisconsin, plein-air artists (a branch of impressionism that attempts to represent outdoor light and air) draw inspiration from the tranquility of its lazy, burbling waters.
Lewis and Clark National Historic Trail
The Lewis and Clark National Historic Trail retraces the steps of the members of the Corps of Discovery from 1804 to 1806 in their search for a route to the Pacific Ocean. The story of the Lewis and Clark Expedition is more than the story of two men. It's the story of individuals and groups, military men and scientists, a president and a slave, women and men, French-speaking boatmen and Native Americans. It is a story of loss and hope, and one of changes that began in 1803 and continue today. Today, you can still experience the trail as the Corps did. Hike Idaho's Bitterroot Mountains and follow the centuries-old footsteps of the Salish, the Nez Perce and the Corps of Discovery, explore meadows and forests on horseback or enjoy activities never imagined by the Corps. Bicycle along rugged paths or endless blacktop, or, in winter, discover the trail on skis or snowshoes. Travel by car or bus to see in days what Lewis and Clark required months to explore. Along the trail, state parks, such as the Sacajawea State Park in Washington, and Lewis and Clark State Parks in several states, expand the education and experience of the trail through interpretive centers, educational programming and historical reenactments.
Missouri Wild and Scenic River
Much of Lewis and Clark's exploration of the west took place by river, and Montana's Missouri Wild and Scenic River parallels 150 miles of the historic trail. Today's visitors raft, canoe or kayak through the Upper Missouri River Breaks National Monument, which protects public lands surrounding the river and ensures a sense of solitude. Floaters will see folded, buckled, twisted and rippled landforms sculpted by volcanic activity and glacial erosion. Campers enjoy dark star-filled skies and are lulled to sleep by the sound of wind rustling the leaves of cottonwood trees that line the riverbanks. Of the 49 species of fish residing in the river, fishermen are most likely to catch goldeye, drum, sauger, walleye, northern pike, channel catfish, carp and smallmouth buffalo. Of the six remaining paddlefish populations in the United States, Missouri's appears to be the largest in average size. The Upper Missouri River valley is home to 60 species of mammals and 233 species of birds. Bald eagles, which were once scarce, are again nesting in cottonwood snags.
Flagler National Recreation Trail
The Flagler Trail, designated as a Seminole County, Florida "Showcase Trail," is located along an abandoned railroad and runs for approximately 14 miles. The journey begins at the St. Johns River Trailhead and Lake Harney State Wilderness Area. Along the way, experience an untouched, completely shaded canopy of trees. The entire Flagler Trail is designated for local unpaved horseback riding and also allows bicycling. The southern portion of the trail is part of the Florida National Scenic Trail.
Wekiva Wild and Scenic River
Crossing the Florida National Scenic Trail multiple times, the Wekiva Wild and Scenic River is a complex mix of springs, seepages, sinkholes and blackwater streams. Since almost all the river flows through state forests, preserves and parks, local communities are vital to the management of this "partnership" river — a unique category of designated rivers managed through long-term partnerships between federal and state government and citizen stakeholders. The Wekiva's subtropical river basin supports diverse plant and animal life, including the needle palm, shield fern, gopher tortoise, Florida black bear and American alligator. Paddlers and fishermen enjoy hour- or day-long trips on this river's popular paddle trails.
Learn more about visiting these and other National Trails and Wild and Scenic Rivers.
Celebrating 50 Years of Protection
During this year's 50th anniversary of rivers and trails, groups across the country are celebrating their rivers and trails through community building events. Check out river festivals, like FeatherFest celebrating California's Feather River and NoliFest celebrating Tennessee's Nolichucky River. Or, participate in educational and artistic events, like Northern Arizona University's first Student Water Symposium and writers' retreats on the Salmon and Missouri Rivers. On June 2, National Trails Day will feature guided hikes and rides on trails across the country. The Arizona Trail Association will traverse the entire Arizona National Scenic Trail in a day, and the National Pony Express Association will complete a Re-Ride, from California to Missouri.
These and countless other local events embody the unique connections people have to all rivers and trails — scenic, historic, wild or otherwise — and to the federal, state, regional, county and city public lands and open spaces that surround them. You can participate in this unique time in river and trail history by joining existing celebrations or spearheading a new community event or activity where you live. Learn more about river events and trail events near you.
Lisa Ronald is the Wild & Scenic Rivers 50th Anniversary Coordinator.
Leigh Schmidt is the Communications Coordinator for Trails 50.