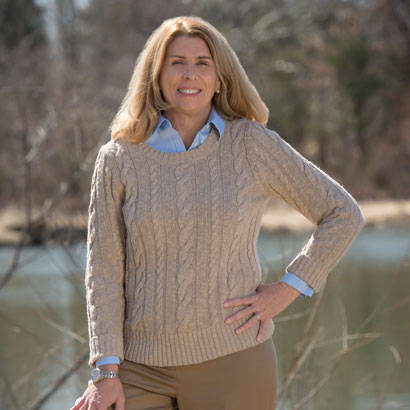 Since an early age, I developed an appreciation for nature, which, not surprisingly, carried over into my adulthood. Some of my favorite memories are hiking through the Uinta and Wasatch Mountains with my father. Growing up in the rural outlays of the west, I was lucky to have quick access to both the Colorado and the Green River and the vast, heroic landscape of all of south-central Utah as my backyard.
This year marks the 50th anniversary of public rivers and trails. In celebration of this milestone, contributors Lisa Ronald and Leigh Schmidt take a closer look at some of America's most cherished rivers and trails in the feature, "#FindYourWay on America's Rivers and Trails," on page 38. Do you have a great river or trail experience you'd like to share? Your powerful story could be used to help protect and steward beloved rivers. For more information, visit www.americanrivers.org/rivers/wearerivers.
Our cover story by Metroparks Toledo's Scott Carpenter, titled "Howard Marsh Metropark: A Marsh and So Much More," on page 32, highlights the strategic goals the park agency has for parklands near Ohio's Lake Erie shore — including reestablishing a wetland habitat that not only will help improve the health of Lake Erie, but also will provide additional open space for people and wildlife. In addition, Carpenter discusses how Metroparks established strong partnerships to advance conservation efforts for Howard Farms, which represents the last remaining tract of land in the Western Lake Erie marsh region.
On page 44, NRPA's vice president of strategic initiatives, Richard Dolesh, begs the question: "Coyotes Have Moved into Parks Across the United States — Now What?" Dolesh goes one-on-one with industry experts, who address the economic and environmental impact of this ever-growing challenge and offer suggestions to park agencies on how to ease the fears of their community members.
Writer Paula Jacoby-Garrett talks about the health benefits of introducing youth to the great outdoors in, "Take It Outside: The Key to Engaging Young Children with Nature," on page 50. Although it's clear that being outdoors can directly impact a person's overall health and well-being, I believe Lindsay Glasner of Cornell Lab of Ornithology, perfectly captures the essence of why children should be exposed to nature, stating: "Simply being outside can drastically change a child's mindset and foster a love for the world around them."
And who knows…by helping children develop an early passion and appreciation for nature, you could be creating the next generation of conservationists.
Gina Mullins-Cohen is NRPA's Vice President of Marketing, Communications and Publishing Editorial Director