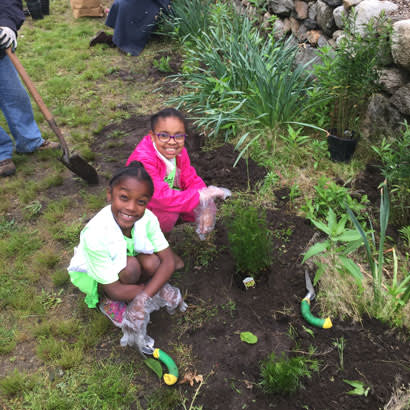 It's been clinically proven to enhance children's growth and development, cognitive abilities, creativity, problem-solving skills, physical health, social relationships, self-discipline and reduce their stress. It's free, and it's right outside your door — It's nature!
Yet, today, there is an "increasing divide between the young and the natural world," even though there is a "growing body of research that links our mental, physical and spiritual health directly to our association with nature," says author and journalist Richard Louv. Louv coined the phrase "nature deficit disorder" or the lack of "vitamin N" (nature), as he researched the lack of nature experiences in youths and adults and prompted an international push toward providing nature education and experiences for all ages.
While the physical benefits to counter childhood obesity are obvious, benefits to the child go beyond physical health. A May 2010 Report to the President from the White House Task Force on Childhood Obesity states: "Children's level of physical activity has been shown to increase when they participate in environmental education programs that promote outdoor activity" and "children of all ages are healthier, happier and have better social skills if they have frequent opportunities for free and unstructured play outdoors."
Furthermore, according to the Children and Nature Network, "Time spent in nature can improve not only general health and well-being, but also improve academic success through increased focus and attention, enhanced critical thinking and problem-solving skills, greater engagement and enthusiasm. It can also reduce ADHD symptoms and minimize disruptive behavior."
Beyond physical and mental benefits, experiences with nature can help foster passion and care for the outdoors and our natural spaces. "Simply being outside," says Lindsay Glasner, BirdSleuth and K-12 outreach coordinator for Cornell Lab of Ornithology, "can drastically change a child's mindset and foster a love for the world around them."
For recreation managers, tight financial constraints and a lack of personnel and specialized training can make implementing nature programs a daunting task. Knowing where to begin and how to stretch resources can be difficult. One way to successfully initiate a program is to look at others that are successful in this space. These can be models or guides to launching programs in your area.
The Wildlife Explorers Program (Ages 5–10)
In November 2016, NRPA launched its Wildlife Explorers curriculum for children 5–10 years old. The six-week program contains activities for children, including a guide for facilitators, and can be conducted in any outdoor space with no previous experience required for staff. To date, more than 1,000 partners are either currently using, or plan to use, the curriculum soon. The goal is to reach 200,000 children over the next few years.
"The intended participants of the Wildlife Explorers program are children who are already at their park and recreation centers as part of an afterschool or summer-care program. Research has shown that positive and frequent early experiences in nature influence the development of lifelong environmental concern among adults and even environmental career choices. Getting kids outside and comfortable with spending time in nature early on is critical," says Serda Ozbenian, NRPA's conservation program manager. "The activities in the workbook were developed by our partners, the National Wildlife Federation and Cornell Lab of Ornithology, for 5–10-year-olds, but the Wildlife Explorers curriculum can be modified for older or younger groups."
NRPA has provided several resources at the bottom of its Wildlife Explorers webpage to further familiarize staff with the program. "We recognize that agencies are often lacking the necessary staff, resources and experience needed to implement outdoor programming," Ozbenian explains. "Many out-of-school time program leaders are young adults who may also have had insufficient time outside and are lacking the prior experience needed to implement outdoor programming. [They] may be facing the same discomfort outdoors as the kids in the community. For these reasons, the Wildlife Explorers program provides resources and training for young program leaders to increase their capacity and comfort to successfully implement nature-based programming outdoors. In this way, the program not only connects kids to nature, but also connects young adult program leaders to nature and increases their environmental leadership opportunities within park and recreation agencies."
"The program was very well-received in our community, as it enabled us to use a park that was designed to educate the public about the unique history, geology, plants and fauna within our region," says Stephanie Gardner from the Parks & Recreation Department of Tukwila, Washington. "The program provided the opportunity to bring kids into the park and teach them how to explore and connect with its uniqueness."
"I love that the program is so accessible," says Mary S. Rapoza, director of the New Bedford [Massachusetts] Parks Recreation & Beaches. "Our staff delivered a great program to the children without any prior environmental education experience." Alexandrea Matthews, program and events manager at New Bedford Parks Recreation & Beaches, added that the program fits well into their afterschool program.
"Wildlife Explorers was highly customizable, so we could easily adapt it to our urban program," Rapoza shares. "Most of the students we work with had never been in the woods before, so we enhanced our Wildlife Explorers program with a trail walk field trip. They got to examine our local plants and try to build their own animal habitats. Being immersed in nature helped the kids take ownership of their local natural resources. Over the course of the program, we saw an increase in the children's critical thinking skills, and they were asking more questions about their surroundings. We saw an increase in the students' comfort with being in nature, and by the end of the program, they were much more interested in their environment."
In Omaha, park and recreation professionals worked with other city divisions, such as forestry, to implement the program. As an NRPA Wildlife Explorers grant recipient, the Omaha Parks & Recreation was able to offer the program to a wide variety of children in multiple settings, such as community centers and parks.
The Nature Tykes Program (Ages 3–6)
It's late morning at the Clark County Wetlands Park; the Las Vegas strip is visible in the distance. A group of preschoolers are lying on their backs intently studying the underside of a desert lizard called a chuckwalla. They are part of the Nature Tykes program that is providing urban preschoolers with nature experiences.
Established in 2013, the program's goal is to engage preschoolers with nature in a 100 percent outdoor classroom. They practice "recognizable preschool activities and concepts: color and shape matching, counting, adding/subtracting, graphing, language, poetry, stories, puppets, singing, games, puzzles and art," says program creator Jody Walker. What "makes us unique is that we teach and learn outdoors, in nature, covering at least a mile — moving from place to place. All Nature Tykes lessons are centered around things in nature — the plants and animals that we find at the Wetlands Park."
Like many other metropolitan areas, Las Vegas is a dense urban city where more than a third of school-aged children are overweight or obese. Located on the east side of the valley, the Clark County Wetlands Park was once a dumping ground and homeless camp. Conservation efforts have transformed the area into a wetlands and urban river environment — attracting a host of wildlife.
For Liz Bickmore, program administrator at the Clark County Wetlands Park, it's about creating quality programming with limited resources. "We are very careful about how we budget our resources so that we can maintain a high level of standards without sacrificing quality. We have been extremely fortunate to attract and maintain dedicated and talented staff and volunteers that work at the Wetlands Park, because they love the place and they love sharing their experience with others."
For program creators Jody Walker and Nancy Gyori, taking children outside seemed natural. "We were both raised in a time that outdoor play was just part of growing up," says Walker. "We had the freedom to roam, to explore and to imagine. We wanted to share that with the smallest children and their parents."
It was important for the Nature Tykes program to be set in the outdoors for all classes — 100 percent of the time. Walker says, "We all connect to the earth in different ways, but if you're not in it, it's hard to learn to appreciate and ultimately protect and preserve it."
The push for outdoor education programs has been gaining momentum, and in the past decade, a multitude of programs have erupted, from outdoor classrooms among the trees of the Washington Botanical Gardens to the beach classrooms of San Diego. What they all have in common is a significant portion of their entire day is spent outdoors.
"Learning is fun. Through all sorts of adventures and activities, we learn what happens in nature — we count insect legs, build nests, pretend to be hunting owls, make cat-tail puppets, design prints of real fish, scavenger hunt for tortoise eggs, taste leaves, make maps, design birds, play freeze-bird tag and discover that a lizard doesn't have a belly button — and that is awesome!" exclaims Walker.
"For supplies, I think it's important not to have 'stuff.'" Our projects are usually re-purposed materials or we use items in the park that occur naturally. I like to imagine what it was like for people long ago without all those purchased toys and educational materials. It's amazing what you can do with a bit of imagination, a smidgeon of creativity, a rock, a stick, some leaves and re-purposed materials," says Walker.
In early evaluations of the Nature Tykes program, parents voiced that the hour-long program wasn't long enough. The program is now extended to an hour and a half and includes a free-play component, called Hummingbird Time, where the children can play and interact with nature as they want to with limited boundaries and parental involvement.
"We found that parents want to parent all the time. They guide, influence, interject, set boundaries, explain, wipe, work out problems and say 'don't' a lot. We think that the freedom to play is important. To run with arms outstretched. We've watched it build creativity and compromise," Walker continues. Time to play independently can allow children to build relationship skills and develop self-awareness and control.
Back at the Clark County Wetlands Park, the program is winding down, but the children are still full of energy and conversation. "I want to be an owl," says one preschooler, "except for the throw-up part." A young girl speaks up: "I'm going to be a scientist…or a ballerina."
In 2014, the Nature Tykes program was recognized by the Nevada Recreation & Park Society with the Program Excellence Award. Today, it has a strong following that includes parents, grandparents and multiple siblings. Diane Arnott has taken two of her grandchildren through the Nature Tykes program, and shares the following: "I love the outdoors, and it's good for the kids. They have time to explore and look for things — like a treasure hunt. For one of my grandsons, the freedom of the outdoors was the biggest draw, for the other, it was seeing all the animals."
For Jody Walker, the program's success is all about the children and imparting her love of nature. "I wanted to share the absolute joy I find outdoors and help connect people to the natural world," she explains. "I want to support parents in their efforts in raising smart, energetic, creative, thoughtful children. [An administrator] once told me, if you're having a good time, then the program is successful."
"I am."
Paula Jacoby-Garrett is a Freelance Writer based in Las Vegas, Nevada.