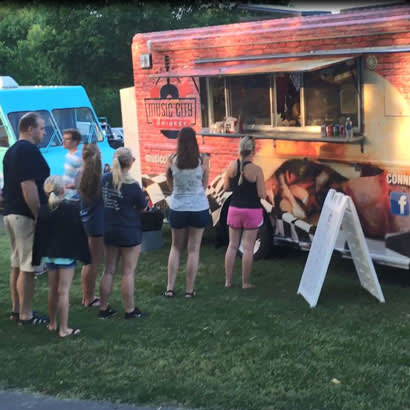 Food trucks aren't a new concept. The New York Times Magazine says a vendor named Walter Scott is the father of food trucks. In 1872, he parked a small covered wagon in front of a local newspaper office to sell sandwiches, pies and coffee to journalists and pressmen. Mobilecuisine.com says the honor belongs to cattleman Charles Goodnight, who, in 1866, purchased an army surplus Studebaker wagon and converted it into a chuckwagon — a mobile kitchen for cowboys.
Food trucks became a mainstay at construction sites in the 1930s, a tradition that continued for decades. However, they weren't known as the most appetizing places to eat. That changed in 2008, when Chef Roy Choi revolutionized the food truck industry by selling tacos stuffed with Korean barbecue outside Sunset Strip bars. Since then, gourmet food trucks have become wildly popular.
For municipal parks, food trucks are a relatively new addition. It's not always the easiest process, but some agencies have found that it's one that's worth the work. In fact, park directors and their staff have found some creative ways to incorporate them into their recreation space and events.
"Our parks are zoned residential and our ordinances said that a business could not operate in a residential zone," explains Leslie Morgan, the management assistant and special coordinator for the City of Lubbock (Texas) Parks and Recreation. After two years of working with other city departments regarding ordinances and codes, the city passed ordinance changes that allow owners of mobile food trucks to apply for a permit to sell in the parks. The changes are so new that, as of press time, the city hadn't yet received its first permit request. "We have a lot of special events and want to offer food," Morgan says. "It's nice to see this come to fruition."
Lubbock is just the latest park to join the food truck craze. Plantation Heritage Park in Broward County, Florida, and the City of Brentwood Parks in Tennessee are two parks that have already embraced the trend. Representatives from each share their insight into what it takes to make the concept work at your park.
An email inquiry to Plantation Heritage Park Account Clerk Christine DiBenedetto sparked the park's interest in hosting food trucks. Steve Simon, owner of Food Truck Invasion, a company that organizes events for food trucks, inquired about the possibility of bringing his event to the parks. DiBenedetto, a self-described foodie was already a fan of the concept and took the idea to her boss. The county embraced the concept and it's become a year-round family favorite.
Longevity: Six years.
Food truck frequency: Weekly. Tuesdays 5:30 p.m. – 9:30 p.m. The event attracts between 200 and 1,000 people. Themed activities, including family friendly movies, like Jurassic Park Night, and a Back-To-School Dance Off are popular.
What's on the menu: According to DiBenedetto, "20 to 25 trucks participate in the weekly event. Cuisine ranges from Latin and Infusion to American, Caribbean, seafood and kid-friendly options. Dessert trucks are included in the offerings."
The process: "Food trucks are required to pay an annual vendor fee of $125 and submit certificates of insurance. All employees must also pass a background check," DiBenedetto adds. "Then, the vendors work with Steve at Food Truck Invasion to become part of the weekly event. However, once a food truck is approved, park-goers can hire the vendor when they rent park shelters for private parties."
Marketing strategy: Plantation Heritage Park serves as the host, not the event coordinator. Steve Simon, the owner of Food Truck Invasion, manages all promotion. However, it is listed on the county's website and promoted."
Park benefits: "Food Truck Invasion has brought a lot more awareness to our park because people didn't realize we were here," DiBenedetto says. "One change we've seen is that on weekends a lot more people hire a food truck rather than BBQ."
Advice to other parks: "Try it out!" she says. "The food trucks offer something that is different and unique. Some of them offer food you're not ever going to get at a restaurant. A lot of them feature gourmet chefs, and even the trucks that offer burgers add their own twist to make them different."
City of Brentwood, Tennessee
The city of Brentwood, Tennessee, recognized the growing interest in mobile food vendors in its community. The increased number of mobile food vendors located in the middle-Tennessee area demonstrated it was a trend the city couldn't ignore. "In 2017, it passed two ordinances to address the regulations and permitting that would maintain the health, safety and welfare of the citizens who used the food trucks," explains Deanna Lambert, director of community relations for the city of Brentwood.
Longevity: Two years.
Food truck frequency: "At city-sponsored events," Lambert shares. "In 2017, we had food trucks at eight events and in 2018, at nine. Food trucks are also in parks for other various events not organized by the city."
What's on the menu: "We use food trucks for concerts that attract about 2,500 guests," Lambert explains. "We have used everything from pizza and BBQ, to ice cream, snow cones and lobster trucks. The classic options are the most popular."
The process: Vendors apply for a $50 annual permit. Additional permits are required for participation in "rallies," or whenever there is a gathering of more than two food trucks. It's an additional $50 for rallies of three to 10 food vehicles and $250 for more than 10.
Marketing strategy: "We worked with the Nashville Food Truck Association and created a website to educate vendors and users," Lambert says. "We also held a community meeting to inform food truck owners and operators about the new regulations."
Park benefits: "Attendance at Brentwood-sponsored events is up, and food trucks are in part to thank for that," Lambert shares. "They offer another element of fun to the event, which helps attract more people. Families really enjoy the food trucks because with young kids, you can plan to head out to the park for fun and not worry about what to do for dinner."
Advice to other parks: "Explore what other cities do in terms of food truck regulations. Seek advice from those municipalities around you," she advises. "Work with the food truck vendors and be willing to hear the concerns from brick and mortar-based businesses in your community when creating regulations. All groups and their input were helpful to our process in Brentwood."
Katie Navarra is a New York-based Freelance Writer.