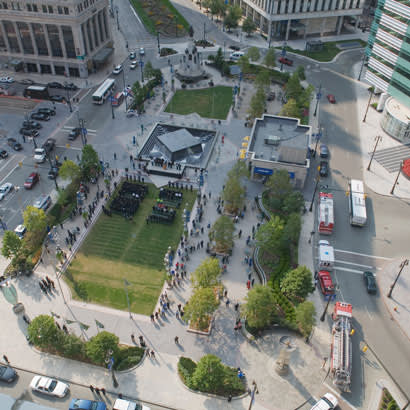 Parks come in all shapes and sizes. They can be strictly recreational, used to protect environmental and natural areas, or can simply be passive spaces. They can be located in urban or suburban areas and can be linear greenways, small pocket parks or large neighborhood parks. Whatever their constitution, today's parks need to be versatile and able to be used for multiple purposes.
For example, an open lawn in a park, such as White River State Park in Indianapolis, could be used for downtown concerts once a week, but also become a refuge for workers at lunchtime, an oasis of green for residents living nearby, and be used for group classes, like yoga or aerobics, increasing awareness of the benefits of physical exercise. A park can also be used for a local gathering place where business people conduct a meeting, friends and families meet for an outing together, or where residents happen to bump into each other during evening walks.
Successful parks usually have five elements associated with them. They are engaging, adaptable, authentic, connected and iconic. They should be designed to provide comfort, convenience and enjoyment, fostering social interactions and physical connectivity. And, that design should create an engaging space that attracts people every day and most hours of the day and should be adaptable to support a variety of programming. Parks located in a downtown area need to attract people 24 hours a day, seven days a week, year-round. They need to be authentic, celebrating the unique and individual identity, heritage and culture of a particular place and contribute to the quality of life of the neighborhood or city. They must be connected to a larger amenity infrastructure of sidewalks, bike paths, green spaces, streetscapes and mixed-use environments that connect neighborhoods, employment centers and cultural districts. And, finally, they should be iconic, creating a distinctive and transformative experience where they shift the paradigm and redefine their community.
Demographics are influencing the way we design and use parks. The "rebound wave" of Millennials, Baby Boomers and Generation Xers returning to cities from the suburbs are creating unprecedented demand for housing, jobs, educational options, healthy places, mobility options and amenity-rich downtown environments that demand bold, new action when it comes to the design of our parks, public spaces and streets. America's population is growing older and more diverse. We live in an increasingly connected and competitive world, where resource-intensive lifestyles are not sustainable and the need to get away from technology is increasingly present.
As the demographics change, planning for an inclusionary and diverse community should be a priority so that all people have access to parks that will increase their overall quality of life. Therefore, the design of our cities must evolve to take advantage of these trends and meet the needs of the changing population.
We used to design parks to be largely green and to be a pastoral setting for the primary purpose of providing an oasis, or respite, from our life. But parks are the essential places for play in the live/work/play environment that cities across the country are striving to provide. As a result, people expect more from our parks. They must now be green and provide relaxation, as well as offer entertainment, social interaction, communication and unique experiences. They must incorporate all the elements previously mentioned for a highly diverse population of users.
Quantifiable Benefits
While the intangible benefits of parks are wonderful for people's quality of life, there are quantifiable economic benefits in the return on investment and a city's tax base that urban planners and designers are seeing. As CityLab noted in its "Why We Pay More for Walkable Neighborhoods," if your home is located within a walkable area and near a park, the value will likely go up by $81.54 per square foot. According to Americans for the Arts' "Arts & Economic Prosperity III" report, parks that incorporate local heritage and artists attract more tourists, and residents feel a strong connection to that place. So, for every dollar invested, there is generally a $7 return on the investment. This is why we are seeing communities around the county invest in their amenity infrastructure, which, in turn, spurs private investment.
Amenity infrastructure is so critical that it helps potentially undesirable areas transform into hubs of activity and redevelopment. In many cases, the creation of any type of park space on a vacant or under-utilized parcel can lead to new residential, mixed-use or retail area around these parks, all of which increase the quality of life for residents and visitors to that community.
As cities compete to attract new businesses and residents, parks increasingly have been utilized by business and marketing strategies for towns and cities. Businesses are attracted to amenities and activities often found in the public realm. These businesses realize that many of the professionals they wish to employ are looking for communities that have well-managed and maintained parks and public spaces.
So, how do communities justify the use and investment in parks, public spaces and the associated programming? They use quantitative elements, such as increased tourism, increased resident and visitor spending, the increase in property values adjacent to parks and public spaces, the increase in jobs to meet tourism demands and the increase in occupancy rates around these parks and public spaces.
Campus Martius Park
Campus Martius Park in Detroit, Michigan, is located at the intersection of five major streets: Michigan Avenue, Cadillac Square, Fort Street, Monroe Street and Woodward Avenue. It was designed to anchor a two-square-block district that is the commercial center and heart of downtown Detroit. The park was redesigned to communicate the history, spirit and identity of Detroit and is the reason this area of the downtown has seen reinvestment and redevelopment. A public-private partnership between the city and the nonprofit Detroit 300, which invested $50 million, helped finance the re-routing of several downtown streets to make the area more pedestrian friendly. And, since the construction in 2004, the area has seen more than $500 million in redevelopment in the area adjacent to the park.
The Campus Martius District is a 24-hour neighborhood, composed of 20,000 office employees, 750 residents living in loft apartments and condos, more than 35 dining options and 50 retail outlets, and plays host to more than 2 million visitors annually. It is now surrounded by more than 6.5 million square feet of mixed-use space, from the stunning historic architecture of the nearby Westin Book Cadillac Hotel, built in 1924, to the contemporary Compuware and Quicken Loans headquarters.
Campus Martius has become a regional destination. The park's amenities include a unique performance area with a retractable stage to provide flexibility and adaptability of the space, a European-style bistro café that's open year-round, an ice skating rink in the winter, a sand beach with beach chairs and volleyball nets in the summer, and the Woodward Fountain splash pad that has 100 water jets. In 2010, Campus Martius Park received APA's designation of Great Places in America: Public Spaces.
The Indianapolis Cultural Trail
The Indianapolis Cultural Trail (ICT) in Indianapolis, Indiana, is a world-class linear park that is an urban bike and pedestrian path, connecting neighborhoods, cultural districts and entertainment amenities, and serving as the downtown hub for the entire greenway trail system. Indianapolis, an auto-dominated city traditionally known as the "Crossroads of America," has transformed itself with a beautiful and safe linear park that has helped to spur a renaissance in downtown living and development along its path. The project has had a transformative impact on the environmental, physical, economic and social health of the Indianapolis community and has served as a catalyst for the city's rebirth.
The ICT began as an innovative, public-private partnership that sought to create a multimodal, interconnected, and safe bicycle and pedestrian system, featuring a distinctive urban design, public art, history and landscape elements, and providing a connective, linear-park experience. The hope was that this system would be a catalyst for economic development, neighborhood redevelopment and talent attraction in an enhanced atmosphere of culture, art, history, sports and tourism — all without using local public funds. The city donated right-of-way for the ICT to be constructed on city property. The design challenge was how to reduce the roadway width of major downtown streets to create space within the public right-of-way for this enhanced urban pedestrian and bicycle system.
Although public and private sources funded the project, no city tax dollars were used. A $63-million investment has yielded an unprecedented amount of private investment and key developments along its trail. Neighborhoods have been revitalized and entire downtown districts have been transformed from vacant, underutilized areas to thriving, vibrant, activated mixed-use communities. The project's remarkable ability to connect all areas of downtown in an electrifying new way has created a powerful "economic development circuit," which private investors have raced to plug into. And, the growth in the assessed value from these projects has been astronomical.
A 2015 study by the Indiana University Public Policy Institute found that the value of all properties within one block of the trail have collectively increased by more than $1 billion since its construction in 2007. There has also been increased spending in businesses located along the trail. On Virginia Avenue, there was more than $30 million in private development in a four-block area in Fountain Square, which brought 245 apartments and more than 27,000 square feet in retail space to the neighborhood. It has also spurred many other developments along other segments of the trail.
Circus Square Park
Circus Square Park in Bowling Green, Kentucky, is a 4.6-acre park with a central gathering space that integrates the construction of a multipurpose civic park with the adaptive reuse of a historic structure in celebration of the community's heritage and its future. In 2008, an underutilized 3.5-acre block in downtown Bowling Green was constructed as a key downtown recreation activity hub as part of the Bowling Green Revitalization Strategy. The block was designed as a community gathering space that serves as the heart of a revitalized entertainment district. Organized into four quadrants, the site contains an outdoor marketplace; an interactive foundation; a performance plaza and green, civic gardens; a "Heritage Walk"; and concessions and bathroom facilities, in a restored 1921 Standard Oil Station. The park serves as a venue for events, from weddings and private gatherings to festivals, as well as the annual concerts in the park series. A renovated, historic auto dealership building on the site was redeveloped and became home to the Downtown Redevelopment Authority and the Bowling Green Area Convention and Visitors Bureau.
While the park was under construction, The Bowling Green Area Chamber of Commerce opened a new $4-million building just one block from the park site. In 2009, the $28-million Bowling Green Ball Park, home of the Bowling Green Hot Rods, also opened a short distance from the park. The Southern Kentucky Performing Arts Center, which offers arts and education opportunities for South Central Kentucky, is the newest addition to downtown Bowling Green. Occupying more than 69,000 square feet with a 1,600-seat theater, the facility's total construction costs were $28 million. A planned, private redevelopment project, a mixed-use building estimated to cost $25 million, will be located across from the park and will feature shops, restaurants, office space and condominiums.
Strategies to Minimize Gentrification
While there is tremendous economic benefit to having a park located nearby, there are some things that must be considered when planning for improvements or for the creation of a new park. Parks can be an economic development engine for a community. However, the design must create a more sustainable, walkable, vibrant, active and connected neighborhood and city. The neighborhood, the public and business owners all need to adopt the park for the benefits to continue to be transformational and provide the necessary support and programming for it to be an active space, including taking part in maintenance and cleanup. There must be a funding strategy for construction, long-term maintenance and programming.
Finally, besides design and construction, planning and designers must take special caution and work with local leaders to develop strategies to address gentrification around new parks. For most transformational parks, economic development generally starts to occur on underused and vacant sites. Often, as property values rise, businesses and people who currently live adjacent to the site get relocated because they cannot afford to continue to operate or live there.
Strategies to minimize gentrification could include working with community development corporations or other nonprofits to purchase land to build affordable mixed-use buildings. A government jurisdiction could purchase land through a land bank to sell lots to developers who would build low-to-middle income housing and senior housing. In Boston, the city council voted to reduce or freeze property taxes to protect longtime businesses and residents. However, it does require approval of the state legislature.
Cities or nonprofits can also provide maintenance grants to low-to-moderate income families and seniors for upkeep of their property. In some areas, nonprofits are linking neighbors to help those less fortunate maintain their property by cutting grass, painting, fixing siding and porches, etc. Cities can also consider limiting or prohibiting large, luxury developments in areas that are at-risk for gentrification. Finally, changing in zoning regulations that make development easier and more affordable will allow the supply to increase, meeting the demand and, thereby, limiting the effects of gentrification.
Cynthia A. Bowen, AICP, LEED AP, is President of the American Planning Association and the Director of Planning for Rundell Ernstberger.