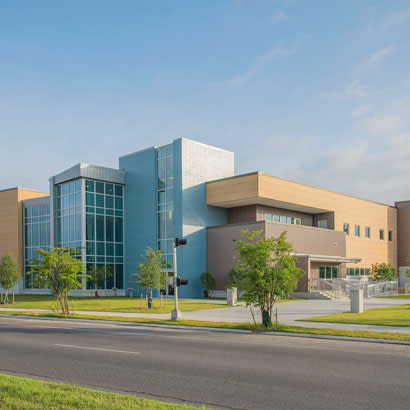 This fall, as Louis Duplessis prepared for his first day of seventh grade, he walked with his mom from their home to the nerve center of his neighborhood — the corner of Caffin Avenue and North Claiborne Avenue — in the Lower 9th Ward of New Orleans.
Because it's bounded by water on three sides, the Lower 9 can feel like its own small town, separated from the rest of New Orleans by the Industrial Canal, a shipping channel that connects Lake Pontchartrain to the Mississippi River. That day, Louis and his mom made their first stop at the corner of Caffin and Claiborne to check on a few last-minute back-to-school details at Dr. Martin Luther King Charter School. Then, they walked across the street to make sure his registration was current at the Andrew "Pete" Sanchez Multi-Service Center, run by the New Orleans Recreation Development Commission or NORD.
In 2015, neighbors cut a ribbon to open the sparkling, 65,000-square-foot Sanchez Center. The previous community center had been dedicated in 1977 but was ruined in 2005 when federal levees, lining the Industrial Canal, gave way after Hurricane Katrina and sent a wall of floodwater onto the neighborhood. Many houses floated from their foundations and helicopters spent days rescuing people from rooftops.
The Sanchez Center's breadth of services and spaces is impressive. On its first floor, it holds a full-size swimming pool; a dance studio with sprung floors; a large exercise center with treadmills, stationary bicycles and other fitness equipment; a full-size gymnasium connected to a large performance stage; a commercial kitchen; a police substation; and a large senior-citizen center, along with offices that include a parent resource center. Upstairs is a full-service health clinic, a breast-feeding room for nursing mothers, a sound-proof music room used for piano and strings instruction, classrooms with electronic whiteboards used for structured afterschool and enrichment programming, an arts-and-crafts room, and a teen center that NORD CEO Victor Richard describes as an intentional "space for teens to loiter."
Louis, 12, sees the new Sanchez as an essential part of his year. "I know I'm going to play basketball; maybe football too," he says. After school, he might walk upstairs to take part in The Loft, a mentoring, enrichment and homework assistance program. Between times, maybe he'll go to the teen center to play foosball, Ping-Pong or video games. He expects that his friends will be doing the same thing. "This is kind of a neighborhood gathering spot," he adds, leaning on the Sanchez Center's broad front desk.
Sanchez is important both because of its role and where it's located. "That corner was always a hub," says Austin Allen, 67, an associate landscape-architecture professor at Louisiana State University who lives nearby. To him, it seemed natural that, within weeks of the 2005 disaster, the National Guard moved onto the corner of Caffin and Claiborne to create a Lower 9 checkpoint, where neighbors could check in for escorts to their flood-torn homes.
Leaning Forward
Today, it's clear to anyone who enters the Sanchez Center that they've entered the heart of the Lower 9th Ward. Even the center's spacious two-story atrium seems perfectly designed for the way New Orleanians greet each other. That's made easier at Sanchez, where nearly all staffers grew up in the neighborhood, from Rec Center Manager Jerome Cochran, on down. So, as neighbors walk in the door, the greetings begin: "Good morning. How are you doing? Where's your son today? How's your mama doing?"
Most of NORD's rec centers were inoperable after 2005, leaving the community with limited places to get together. Even as recently as 2013, NORD had only three operational recreation centers and no year-round pools. Its green spaces were also limited because, for years after Katrina, the city's ballfields and playgrounds were used as FEMA-trailer parks for people trying to rebuild their homes.
Then came the ribbon-cutting years, which opened a series of stunning new buildings, including Sanchez, one of NORD's crown jewels. "We placed our model center here because the city of New Orleans and Mayor Mitch Landrieu saw an opportunity to renew and invest in the historic Lower 9th Ward," Richard says.
To become a multi-service center, Sanchez needs nonprofit partners, to implement, maintain and run its programs. Those partners are recruited seasonally, when NORD issues a call for programmatic partners. "NORD programmatic partners bring creative and innovative programs to the city's rec centers and fields at no cost," Richard adds, noting that Sanchez, like the rest of NORD, relies on such partners for many of its afterschool programs, summer camps, youth athletics, creative-art lessons, and senior health and wellness classes.
Thanks to a $270,000 grant to STEM NOLA from the Louisiana Department of Education, one of the center's upstairs classrooms was devoted last year to a state-of-the-art afterschool STEM program for third to eighth graders, who learned about concepts like buoyancy, solar power, electric circuits and the body's circulation system. In partnership with Dr. Martin Luther King Charter School, STEM NOLA transforms the Sanchez Center into a 21st Century Community Learning Center. "It was always my ability to do science and math that brought me joy, that kept me safe, that got me out of trouble when I was in schools," says STEM NOLA Founder Calvin Mackie. "So I know if it did that for me, it would do the same for plenty of other children in our community."
Greer Goff Mendy, a 62-year-old New Orleans dance legend, is dedicated to seeing African and African-diaspora art and culture develop and persevere. Lessons at the Sanchez also keep her in touch with her family's Lower 9th roots. "I've come full circle," Mendy says.
Nanette Nelson, 44, who runs the LOFT afterschool program, incorporates NORD programming for art, music and swimming into her academic calendar. Last spring, Cochran plugged her into a new resource, by introducing her to staff from the senior center, who are usually gone by the time she arrives.
"Jerome [Cochran] really forged that relationship," Nelson says, noting that the seniors immediately pitched in to support the LOFT. "They told me, 'We're all like family here,'" says Nelson, who aims to strengthen that connection this year by having the children read with the seniors and by asking elders to talk with her students about Lower 9th roots, culture and history.
Seniors
The morning fog was still hanging over the nearby bayou when a bus drove up to the Sanchez Center's front door, ready to pick up the Sanchez Center senior-citizen choir for a morning concert. Like clockwork, two-dozen gray-haired choir members in matching maroon polo shirts filed out of the Lower 9th Ward senior center. Some happily hummed the tunes they'd been rehearsing, while others danced a few steps as they walked. "Our audience awaits," one quips.
The Sanchez senior center has the highest participation rate of any senior center in New Orleans. Its attendance rates are so high that no new seniors have been accepted for two years, despite a six-page waiting list.
In the center's large, sunny dining room, seniors can sit and talk, while also keeping an eye on what's happening on the school playground and at the bus stop. The center serves meals twice a week, hosts informational seminars and has two tables reserved for card-playing, one for spades and one for pitty-pat. "This is our time for ourselves when we're not bothered by young people," says 74-year-old Mary Thomas.
Before Katrina, the neighborhood had some of the highest African-American homeownership rates in the city. Now, both Thomas and her good friend, Yvonne Johnson, 84, live on blocks where only two or three houses are occupied. Less than 40 percent of the pre-Katrina population has returned to the Lower 9.
"My biggest regret is that our neighborhood didn't come back like it was," says Vera Fulton, 93, who remembers when the Lower 9 was filled with neighbors, who often left fresh garden produce on your front porch in the morning. Every morning, these women head to the senior center, which serves a vital role in the disaster-struck area. "Our blocks are too quiet," Fulton says. "We come to the Sanchez Center because it's full of life."
Holistic Health
"It seems like the Lower 9 was always a place for innovation, perhaps because of its isolation," says New Orleans Health Director Marsha Broussard, noting that the city has long tried to ensure that Lower 9 neighbors didn't have to cross the Industrial Canal to receive assistance: they can see a doctor, a lactation specialist or a child-development counselor at Sanchez. The city uses Sanchez as a base for Healthy Start, its program for pre- and post-natal care, and for Women Infants and Children (WIC), the supplemental nutrition program.
Dr. Elizabeth Goodly, who works at the Sanchez health clinic, knows multiple generations of the same family. "Often, I'll see entire extended families: grandparents who come with their children, their grandkids or their great-grandchildren," she says.
"The clinic is unique in the city because of its location in a community center," says Jeremy Simmons, director of community outreach for Baptist Community Health Services, which operates the clinic. "And that's great for our providers, who can go beyond mere medication management to recommending a cooking class or suggesting that a patient swim or walk in the center," he explains. "We can help our patients improve their lifestyle in a way that can really impact chronic conditions like high-blood pressure or diabetes."
Monica Williams is a good example of that philosophy at work. She lives nearby, but it was a doctor who first recommended that she try the pool at Sanchez about a year ago. Now Williams, 59, can be found there every weekday for the 8 a.m. water aerobics class. With her neighbor, Gilda Wyble, 66, she also takes weekly cooking and nutrition classes offered by the Backyard Gardeners Network. With the help of water aerobics and healthy eating, she's now lost 27 pounds, shed 6 inches from her waistline and brought her A1C blood-sugar levels from 9 to a much healthier 6. That makes her doctor happy. "And I feel really good," Williams says.
The Sanchez is a true multi-service center, able to connect with residents in social, cultural and physical ways," Richard says. "This center has shown that it can build resilience and community in the Lower 9th Ward. It serves as a model for the rest of New Orleans and for the entire nation."
Designing the New Sanchez Center
The design for the new Sanchez Center was complicated by its funding sources. Because the natatorium that holds the pool was funded by Community Development Block Grants and the larger community center was funded by FEMA, these amenities had to be housed in separate buildings, but those buildings could be attached. In addition, the municipal building codes changed after Hurricane Katrina, so the building had to be much stronger than the one it replaced: the glass in the windows had to be able to withstand 150-mph winds, the building had to have greater energy efficiency and be raised to a higher elevation, above the base flood-elevation levels determined by FEMA. Because FEMA funding can only be used to replace what was in place before the storm, the number of windows in the new building also had to match the number in the original building. The resulting $20.5 million building blends turquoise and gray and other natural shades, with an entrance that skews toward the Dr. Martin Luther King Charter school across the street, where many of its young patrons attend classes.
Katy Reckdahl is a Journalist and New Orleans-based Freelance Writer.