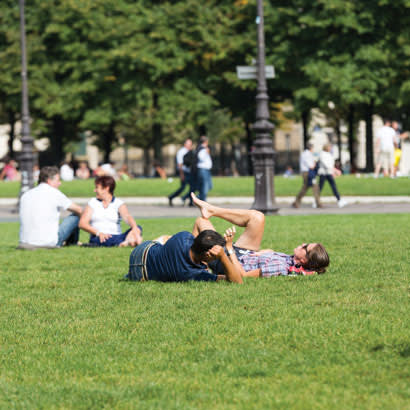 Balancing the need to effectively manage weeds and pests in parks, the mandate to protect and conserve valuable natural resources and the demand for well-manicured recreational areas can be a big challenge for land managers.
The negative environmental and human health impacts of synthetic fertilizers, herbicides and pesticides have been widely documented and some park agencies are seeking and testing new landscape management methods to strike a balance that would satisfy park users and managers. Some park agencies have committed to going pesticide-free, herbicide-free or organic, while others have taken a piecemeal approach and are devising site-specific management strategies.
Mixed Results
In Durango, Colorado, for example, in response to strong pressure from residents, the Durango Parks and Recreation Department and Durango City Council adopted the Organically Managed Lands Program, agreeing to initiate a three-year pilot program to switch half-a-dozen parks in Durango to organic — meaning they would only manage them using organic fertilization and herbicides — absolutely no synthetic chemicals. The trial period ended last spring with mixed results. According to Scott McClain, parks manager for the city of Durango, undesirable turf increased from 5 percent to 50 percent in the three-year period.
The organic methods produced results that were less desirable, required more maintenance and were more expensive, particularly for sports fields. He noted that expectations were very high in the community and there was little tolerance for weeds, leading to a high-maintenance management plan. The city is now looking at ways to modify the program so plant materials get the nutrients they need to establish healthy turf with the use of fewer chemicals to keep weeds at bay. The issue is a highly contentious one for the community and emotions run high. It leads one to wonder: Are organic parks unattainable?
Well, it's not all black or white. There are many examples of parks implementing more responsible and environmentally sensitive approaches to managing turf that are effective and economical.
Managing Expectations
Ryan Anderson, program and communications manager for Midwest Pesticide Action Center (MPAC), explains: "Some parks have been using pesticides for so long that the soil has become dependent, so going cold turkey is not the best option. We recommend coming up with a plan over three to five years and weaning the soil off the dependency, while building organic matter." For the past eight years, the Chicago Park District has partnered with MPAC and committed to limit the use of pesticides in its parks.
Close to 90 percent of Chicago parks now practice natural lawn care and avoid spraying weed control chemicals. MPAC aims to reduce the use of harmful synthetic pesticides in parks by promoting safer, natural alternatives as part of its "A Natural Park Is a Healthy Park" campaign. The agency does this by empowering citizen action groups with information and working with them and the city to improve policies. Anderson also noted that it's very important to manage community expectations when it comes to costs, and it can be helpful to start with a demonstration field.
Also partnering with MPAC is the city of Boulder Parks and Recreation. It primarily uses Integrated Pest Management (IPM) practices while trying to balance the needs of athletic field users who desire a weed-free turf. Boulder Parks and Recreation has not been using herbicides on managed turf for almost 15 years. It acknowledges that resource constraints are a big obstacle to managing parks organically — specifically staffing levels, equipment needs, funding for materials and testing. Boulder has also worked to increase community awareness and acceptance of weeds, such as dandelions in parks, noting that dandelions are a sign of a healthy place where synthetic chemicals have been eliminated.
"The transition was tough at first, there were some complaints from neighbors early on," says John Cogdill, park turf and irrigation manager for Boulder Parks and Recreation. "It definitely requires more work, aeration, and is more time consuming. You have to be consistent. Results won't show up in a month or two; it takes some time. But giving the community a safe field is more important and outweighs the problem of having to control some dandelions in the spring," he adds. According to Cogdill, 99.5 percent of the community agrees with him.
Montgomery Parks in Montgomery County, Maryland, also practices IPM methods to control weeds and other pests while minimizing the use of pesticides. It acknowledges that reducing pesticide use requires many critical resources, such as sustainable design, quality equipment and materials, and staff trained in alternative practices and proper monitoring for pest problems. In 2016, Montgomery Parks began a pesticide-free parks pilot program to eliminate the use of pesticides in 11 parks and gather valuable information about the impact and best practices associated with maintaining parks without pesticides.
A growing number of communities are not in favor of the use and overuse of synthetic chemicals on public lands and are counting on park and recreation agencies to take the necessary actions to ensure healthy community spaces. Earlier this year, NRPA conducted a member survey on sustainability practices that included a question about responsible natural land management. Of the nearly 400 park and recreation agencies that participated in the survey, 76 percent indicated controlling invasive plants with less toxic means, 67 percent indicated following sustainable turf management practices and 66 percent indicated following IPM practices.
Park and recreation agencies have a responsibility to train their staff in environmentally sensitive approaches to managing landscapes, while improving and preserving the health of the soil and living organisms within the soil, using native plants and improving water quality. And, of course, it's also important to manage expectations and educate communities on proper natural landscape management and involve them in the process.
Serda Ozbenian, MS, is NRPA's Conservation Program Manager.