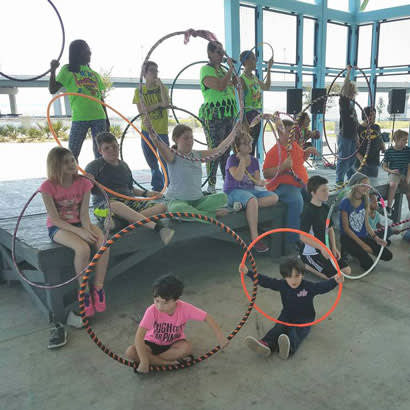 Each year, the American Heart Association and the Society of Health and Physical Educators (SHAPE) sponsor their annual Jump Rope For Heart and Hoops For Heart fundraising events. With about 1 in every 100 babies being born with mild to severe congenital heart defects, these events raise funds to help them. The events are also geared toward teaching children not only how to develop heart-healthy habits while being physically active, but also the value of community service and coming together to help other kids with special hearts.
As part of this year's Hoops For Heart events, members of the City of Biloxi Parks and Recreation Department hosted its first Hoops For Heart event on September 9, a precursor to the Gulf Coast Heart Walk, which was held September 30 as a coast-wide event at Jones Park in Gulfport, Mississippi.
Following an hour-long workshop in which they built and decorated their own hula hoops, participants burned some calories in a Hula Hoop Workout Dance Party with professional hula hooper, "Nola Hoop Girl" Cat Copeland, a fitness instructor and professional performance artist from New Orleans. They also learned about heart disease and stroke, while raising funds for cardiovascular disease research, stroke research and health education.
"We are teaching the community how to get moving and get hooping with those hips," says City of Biloxi Parks and Recreation Administrative Assistant Gina Cuervo. "Why hula hoops? It's probably one of the easiest ways to get physical exercise, and it's a great way to promote confidence and health and body awareness — which is awesome."
A little more than $150 was raised during this inaugural Hoops For Heart event, but it was one of several events organized by various departments/divisions of the city of Biloxi. For example, the Administration Department held a climb the lighthouse event, called Climbing with Heart, and the Community Development Department held a Heart Walk Bake Sale, to name a few. In addition to the money raised, a good time was had by all. The children especially enjoyed challenging their parents to dust off their hula hooping skills.
Sonia Myrick is the Executive Editor for Parks & Recreation magazine