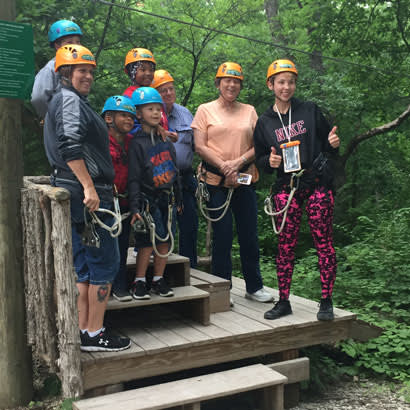 Families experience many challenges during the deployment of their loved ones who are in the military and often have higher rates of depression, anxiety, sleep disorders and other mental health issues. The longer the deployment, the greater the challenges that exist in all phases of the deployment. There's the anxiety during the pre-deployment phase brought on by the anticipated separation, while the actual deployment phase creates added responsibilities and worry about family members being injured or dying. Even the homecoming or reintegration phase of deployment creates high expectations and the acknowledgement that everybody — the service member and his or her spouse and children — is different because of the deployment experience. Recognition of these challenges led to collaborative research on how participating in Morale, Welfare and Recreation (MWR) activities at Fort Riley, Kansas, can promote resilience in spouses of deployed military members.
What is resilience and why is it important to increase resilience for healthy military families? Resilience is the ability to respond to, and cope with, difficult or stressful experiences, situations, environments, people and setbacks in life. Our ability to learn from experience helps us build resilience. As you increase resilience, you increase your ability to handle stress and bounce back from demanding situations. For the armed services, the resilience of its service members, their family members, military units and communities is critical to mission readiness, the ability of the military to accomplish its assigned mission. On military installations, MWR provides well-balanced recreation that normalizes behavior after a stressful experience and promotes health and wellness. But, the MWR program is also important in building individual resilience and impacting service member and family readiness, which is especially critical during deployments.
Blue Star Card Program
This past spring and summer at Fort Riley, spouses of its deployed military members participated in the Blue Star Card Program. "Blue Star" refers to the long-standing practice of designating families of deployed service members as blue star families. The first hurdle in undertaking this study was to secure the necessary financial support, which came from Kansas State University, which partners with Fort Riley's MWR program, and from the Kansas Masonic Foundation. Once funding was secured, the MWR team began creating tailored activities, designed to have positive effects on the health and wellness of spouses of deployed military members, and recruiting participants. Participants completed surveys immediately before and at the end of the recreation activity to measure their levels of resilience.
'Hit Them Where They Are'
The process of recruiting spouses of deployed soldiers began with a "hit them where they are" strategy. The MWR team set up Blue Star Card registration tables at every possible family readiness group, pre-deployment town hall and other meeting or forums concentrated with spouses. While there was a self-directed registration option located at the MWR Leisure Travel Services program, a high percentage of program sign-ups occurred when the opportunity was taken directly to the spouse. Like a snowball effect, after about 100 spouses had been registered, word-of-mouth began driving a gradual increase in the program roster size. Facebook is the vehicle of choice for spouse communication, so MWR developed a Blue Star Card Program Facebook page and relied on it — and group emails — to disseminate information and manage promotions.
Give Them What They Want
When asked to identify their recreation programming needs, the military spouses typically offered open-ended responses about the programs in which they would participate. However, they strongly indicated that the discount or elimination of user fees and the provision of childcare were the two key components of any recreation program that would draw significant interest.
Armed with this knowledge, the MWR team chose an already existing MWR program, called "Cocktails and Canvases," popular beginner group painting classes paired with the option of drinking wine, for its first activity. For the Blue Star Card version of the program, the user fee was reduced by half and childcare was provided with the assistance of MWR's Child and Youth Services Division. The spouses were then able to enjoy two hours of instructor-led painting and a drink ticket was included in the fee.
For the second activity, the MWR team leveraged an existing partnership with a local adventure park to provide spouses with a trip that featured the thrill of seven ziplines. Unlike "Cocktails and Canvases," spouses were encouraged to bring their family members along. The cost per person was significantly reduced and was progressive, meaning that spouses of soldiers with a higher rank paid more than those with lower rank.
The "Cocktails and Canvases" and ziplining activities were enthusiastically attended by spouses of deployed soldiers and garnered high customer satisfaction scores for the MWR programs. Participants ranged in age from 19 to 49, and 86 percent were spouses of service members with an enlisted rank, while 14 percent were spouses of officers.
At the completion of the MWR activities, the resilience score for the spouses increased by an average of 5.2 points. Furthermore, 88 percent of the spouses agreed they have used recreation to deal with stress, 97 percent agreed the MWR activity provided them with a way to deal with stress, and 95 percent agreed the MWR activity made them more confident in their abilities. On a scale of 0–100, customer satisfaction with the MWR program increased from 83 to 90.5, indicating that the services exceeded their expectations.
This research provided the Fort Riley Family and MWR program with many positive outcomes. It provided an opportunity, using outcomes, to measure and communicate the success of its MWR programs. Those measurable outcomes helped to bolster budget justification and demonstrate how funding MWR is translated into health and wellness results. By demonstrating the positive effects of MWR as an essential component of health and wellness, this research influenced the perceptions of decision makers and may result in an increase in program funding in the future. By using health and active living as a central platform, MWR can positively affect the health and wellness of individuals and military communities.
Carol Potter is a Consultant and Former Department of Defense Assistant Director of MWR Policy. Matt Enoch, CPRP, is the Community Program Coordinator at Fort Riley Family and MWR.