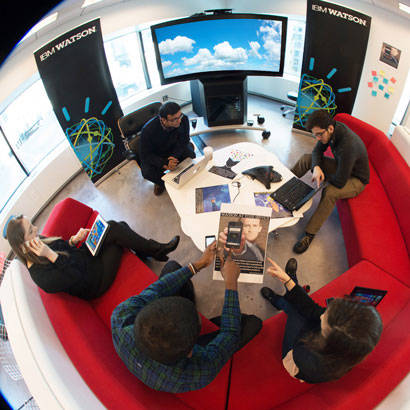 While many park and recreation agencies are chasing the latest digital marketing craze, good old email marketing is still the killer app to beat when it comes to return on investment (ROI).
"There are some unique benefits that email marketing has over social media that cannot be denied," says Creighton Wright, director of the City of American Canyon (California) Parks and Recreation. "We have found that not everyone is using the same social media platform, and it can be difficult to stay current with the trends. In addition, due to the social media sites' algorithms, our posts are not always shown in everyone's newsfeeds. We are able to achieve a more consistent result with the email marketing campaigns."
Nicole Garvis, marketing/technical coordinator for Deer Park (Texas) Parks and Recreation, agrees. "I have had extreme success with email marketing due to email automation. I am able to get messages out to the right people at the right time without considerable time and effort. Email automation has allowed me to craft comprehensive campaigns and ensure that my messages get where they belong. I can better track my email success, monitor my leads and continually refine my process for the long term."
Indeed, three separate studies released in 2016 — one by the marketing consulting firm Clutch, another by the email marketing firm Campaign Monitor and the 10th annual Email Marketing Industry Census produced by Econsultancy in partnership with email marketing service provider Adestra — seem to confirm that email marketing still has the highest ROI of any marketing channel:
Eighty-three percent of the companies Clutch surveyed said they were using e-newsletters to make new sales, and more than 70 percent were using stand-alone and follow-up emails to nurture nibbles of interest from customers (http://bit.ly/2dZholN).
The Campaign Monitor study found that businesses can expect a $38 return for every dollar they invest in email marketing.
Researchers in the Econsultancy-Adestra study found that 73 percent of the more than 1,100 marketers interviewed said email was their No. 1 marketing channel in terms of ROI. According to Adestra CEO Henry Hyder-Smith, the study "points out that companies investing at least a fifth of their marketing budgets on email are eight times more likely to see sales attributable to it in excess of 50 percent."
The Reason Behind Email's Potency
Despite the buzz over social media, 58 percent of internet users say the first thing they check on their computerized device each morning is email, according to an Exact Target study (http://tinyurl.com/lr8m6sv). "Here's the truth," says Derek Halpern, owner of Social Triggers. "When you have someone's email, you're allowed to communicate with them when you want, how you want."
Halpern recently conducted his own informal test, pitting email against Twitter. On Twitter, he posted a link that he wanted prospective customers to click on and then sent the same post and link via email. The result was that 50 of his Twitter followers clicked on the link, while 1,200 of his email subscribers clicked on the same link. "Yes, my email list might be twice as large as my social media following, but it generated about 24 times more clicks," Halpern says. "That's the power of email."
With a Little Help from IT
Also helping email's cause has been all the work IT departments have been doing to block spam from getting to company email boxes. Those safeguards have significantly decreased the amount of spam business users get today compared to just a few years ago, and, as a consequence, email open rates are looking healthy. On average, 17.6 percent of emails are now being opened by recipients, according to a 2016 IBM whitepaper titled "Email Marketing Metrics Benchmark Study" (http://tinyurl.com/mazb9x9).
Many marketers see email as an effective way to cut through all the noise. "With email newsletters, we are able to be seen by our customer base on their time — outside of the noise of social media," says Kelsey Heiden, CPRP, marketing coordinator for New Braunfels Parks and Recreation in Texas. "Email facilitates a quieter, more intimate and less distracting environment for a conversation." This sentiment is echoed by Deer Park's Garvis who says, "Emails generate a less distracting, more intimate environment for a conversation. As long as the content of your emails captures your client's interest and continually reinforces the connection they have with your organization, emails will engage the reader's attention and strengthen the relationship they have with your brand."
Email Marketing Best Practices
Getting email marketing right for your park and rec agency involves more than simply knowing it works. Here are the top 10 email marketing best practices, based on insights from the Email Marketing Industry Census 2016 (http://tinyurl.com/lockza6) conducted by Econsultancy in association with Adestra:
Engage in basic segmentation: 78 percent of companies said they're doing basic segmentation, which means they're creating slightly different versions of the same email marketing message to cater to different segments of their customer base.
Optimize for mobile: 64 percent of companies said they're using single-column email designs that allow for easier resizing and responsive design that automatically resizes an email based on screen size, and eliminating content in mobile emails that ordinarily displays on full-sized computers.
Clean your list regularly: 54 percent of companies surveyed said their email marketing success also hinges on ensuring they regularly clean their mailing list of emails that bounce back as no longer valid. They also quickly remove email addresses from the list when customers request it.
Encourage sharing of your email on social networks: 47 percent of businesses surveyed said they got more mileage from their marketing emails after asking their customers to share those emails on Facebook, Twitter, Instagram and other social media networks.
Use your transaction emails for marketing: 43 percent of businesses said they had a standard practice of inserting marketing messages into transaction emails.
Include video content: 42 percent of companies said that adding video content to their email was critical to the potency of those marketing messages. Given that YouTube is the second most popular site on the web, this move is pretty easy for park and rec agencies that could easily post video of their properties.
Do remarketing: 41 percent of companies surveyed said they regularly use emails to remarket to customers. Web visitors who fail to confirm their new subscription to your e-newsletter, for example, might be prodded again by email to confirm that sign-up.
Personalize your email: 37 percent of companies surveyed said personalization of emails was also key to their marketing success and went beyond simply addressing a person by first name. Other personalized data, such as the person's birthday, acknowledgement of previous goods and services purchased by the recipient, and similar qualifiers, was included in the email, indicating the company truly knew who they were emailing when they put together the message.
Use emails for lead nurturing: 35 percent of companies said that once they received a nibble on an offer by email, they regularly followed up with additional emails to try and close the deal.
Combine email with multichannel triggers: 31 percent of companies said once contact was made by email, they followed up by reaching out to the customer via other channels, including Facebook, Twitter, telephone and old-fashioned snail mail.
With the implementation of a mobile-friendly marketing strategy, Adolfo Cruz, director of the City of Riverside (California) Parks, Recreation and Community Services, says, "Our department has seen an increase in email open rates, click-through rates and conversion rates, resulting in increased participation and revenue in our programs and services." Tjiska Van Wyk, executive director of the Jack London Historic State Park in Glen Ellen, California, adds, "We find most people engage with us via mobile devices more than desktop computers."
Joe Dysart is an Internet Speaker and Business Consultant based in Manhattan.