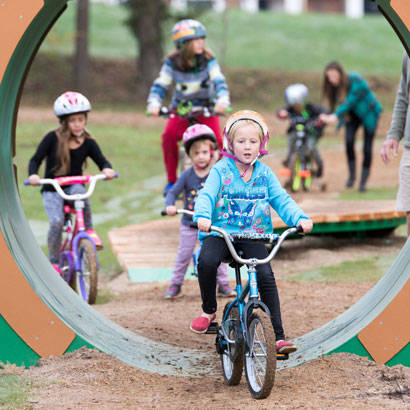 Bentonville, a community of approximately 45,000 residents, nestled in Northwest Arkansas, is most commonly known as the birthplace and home of retail giant, Walmart. However, more and more, the community, and the entire Northwest Arkansas region, is becoming recognized as a destination for cycling enthusiasts. As the pulse of the Oz Trails network, Bentonville has more than 50 miles of the region's 200 miles of mountain bike trails. In addition, it is one of the bookends of the Northwest Arkansas Razorback Greenway — a paved 36-mile trail connecting Bentonville to Fayetteville.
In early 2016, Bentonville Parks and Recreation began exploring how to activate an area of greenspace located at a popular Razorback Greenway trailhead. Located on North Walton Boulevard, the trailhead is visible to the 20,000 vehicles that pass by daily. Approximately 30,000 people per month use this section of the greenway, which offers access to Bentonville Bark Park, Bella Vista Lake, Crystal Bridges Museum of American Art and Downtown Bentonville Square.
"The area was intriguing because it was so visible," states Jon Terlouw, chairman of the Bentonville Parks and Recreation board. "With this facility being on our city's busiest street, we knew we wanted to provide a unique amenity. After weeks of discussions with citizens, community leaders, trail users and staff, it just seemed like most everyone associated that piece of property as the entry to the Slaughter Pen Mountain Bike Trails," says Terlouw. "It made sense we do something that capitalized on our community's passion for bicycles."
Bentonville Parks and Recreation staff approached John Hunter of Progressive Bike Ramps to brainstorm for creative ideas. "Bentonville was familiar with our pump tracks, but they were searching for something more," says Hunter. So, Progressive Bike Ramps introduced the Bentonville team to a concept that it currently had in design: a playground for children on bicycles. The playground would include a starting line, ramps, bridges, tunnels and a centralized finish line. "Our team had worked on this for some time, but we were not sure exactly where to introduce the concept," Hunter adds. "When we learned Bentonville was searching for something like this and actually had a location established for it, we were ecstatic!"
The Bentonville Parks and Recreation board unanimously approved the concept, and the city council and local cycling enthusiasts also supported the idea; however, reality hit during discussions with the municipal department. The 2016 budget year did not include funding for the project. "Our plan was to include it in the 2017 capital plan, but, lucky for us, our community had a different idea," says Terlouw.
In November 2016, Bentonville hosted the annual International Mountain Biking Association (IMBA) World Summit. Two local organizations, Visit Bentonville and the Walton Family Foundation, worked with IMBA to host this event. When word of the new facility reached Visit Bentonville's CEO, Kalene Griffith, she expressed her desire to have the bike playground in place before the event. "Visit Bentonville knew this facility was being built for the residents of our community and Northwest Arkansas," Griffith explains, "but this [was] something we wanted to show cyclists from around the world. We loved this idea that Bentonville would be the first city in our country to have one of these fantastic amenities." It was decided that Visit Bentonville and the Walton Family Foundation would provide grants to Bentonville Parks and Recreation to build the facility, with the stipulation that construction would be completed prior to the IMBA World Summit.
Progressive Bike Ramps and Bentonville Parks and Recreation immediately went to work on finalizing plans and getting construction underway. While Progressive Bike Ramps built the bicycle playground, Bentonville Parks and Recreation added amenities such as trees, landscaping, picnic tables and benches. "The desire [was] to have a location where parents have a comfortable place to watch their children on the new playground," says Terlouw. "We asked our team to provide the soft infrastructure amenities that would complete this new amenity." As a result, the department planted 40 5- to 6-foot-tall caliper trees to provide shade for and add color to the park.
The new bicycle playground opened November 5, 2016, one week prior to the IMBA World Summit. Approximately 250 citizens attended the ribbon-cutting ceremony. "Our community loves it!" says Terlouw. "The way this project came together was just amazing." As Bentonville Parks and Recreation celebrates a successful project, the real celebration comes in the form of people using the new facility. An unusually warm winter resulted in a very high usage rate during a time of year when most people choose to be indoors," Terlouw adds. "We will see if this trend continues, but since this opened, it has certainly been our most popular playground."
David Wright is the Director of Bentonville Parks and Recreation.