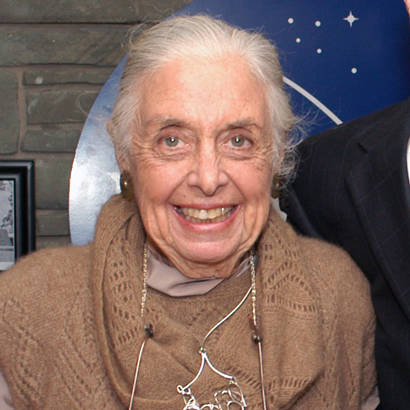 Terese T. "Terry" Hershey, considered the "environmental godmother of Houston," died Thursday, January 19, 2017, on her 94th birthday. Hershey, who was born in Fort Worth, graduated from the University of Texas in 1943 with a degree in philosophy and married Jacob W. Hershey, a CEO of American Commercial Barge Lines in 1958.
Hershey and her husband made their home in Houston, Texas, along the Buffalo Bayou in the mid-1960s, and it was there that her passion for conservation was ignited after she witnessed the denuding of the banks of the Bayou by the Army Corps of Engineers. This was being done in preparation for rerouting the course of the river before lining its banks with cement. Hershey became an active member of the Buffalo Bayou Preservation Association and began mobilizing neighbors and the community to bring attention to this issue. She also enlisted the help of her newly elected congressman, George H.W. Bush, who invited her at the beginning of his first term to testify about this issue before Congress. Her campaign to halt the destruction of Buffalo Bayou culminated in 1971 with the passage of the National Environmental Policy Act, which required the Army Corps of Engineers to get public input and prepare environmental impact statements for major projects. For her indefatigable efforts and persuasive style, Bush described her as a "force of nature for nature."
Following her Buffalo Bayou achievement, Hershey founded a number of organizations dedicated to conservation and environmental protection, including Citizens Who Care, the Citizens Environmental Coalition, Urban Harvest, Park People, the Jacob and Terese Hershey Foundation and the Lady Bird Johnson Wildflower Center, which she started with her friend Mrs. Lyndon B. Johnson. In 1991, Texas Governor Ann Richards appointed her to the Texas Parks and Wildlife Commission: the second woman appointed to that body. Hershey was also instrumental in launching Texas' conservation easement movement, whereby private landowners agreed to limited use of their land to protect its conservation value. In addition, she was involved with a number of national organizations, including serving as an NRPA trustee.
"Terry was one of a kind, a true maverick," says Lois Finkelman, chairman of NRPA's Board of Directors from 2007 to 2010. "She was a wonderful person and natural leader when it came to conservation and parks. She moved in very elite circles and had the ear of people of influence and power, but you never would have known that talking to her — she was so down to earth. Her influence on conservation was national in scope. She made opportunities for conservation where none existed, and she truly loved parks."
Hershey had a passion for wildlife and was known to never leave a restaurant without a doggy bag of uneaten bread to share with her backyard birds. For her dedication to the environment, she received numerous awards, including the Chevron Conservation Award and the Cornelius Amory Pugsley Medal. In 2015, the Terry Hershey Women in Conservation Awards was established in her honor by Audubon Texas. Her indomitable, yet humble spirit will be sorely missed.
— Sonia Myrick, Managing Editor of Parks & Recreation magazine