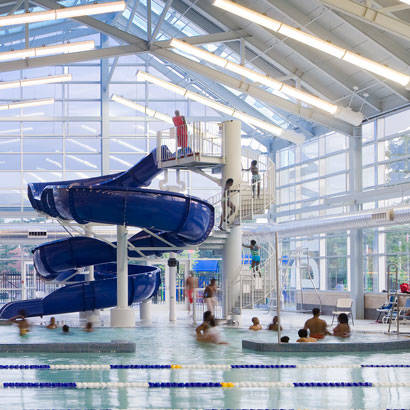 The days of the old rectilinear neighborhood pool have given way to the modern aquatic center. This is due in part to the need to generate revenue to offset operating expenses and to meet the public's demand for specialized programs and services. As we look to the built environment to support these programs, we have seen the evolution of the multipurpose swimming pool, designed and built to provide the special needs for a variety of programs and uses, including:
Swimming Area
Recreation Areas
Specialized Use Areas

Lap/Competition lanes,
Diving wells

Water slides, Climbing walls
Lazy rivers, Lilly pad zones
Wading pools
Water basketball
Zip line zones

To meet the specific needs of each program, a pool requires different water depths, water temperatures and pool profiles. In some cases, we may choose to have multiple separate pools to meet the demand of these different aquatic activities. However, because of the code-required pool decks surrounding each pool and the need for spectator areas and paths of travel, multiple separate pools require more area than a single multipurpose pool. The cost savings from developing a smaller, multiuse pool area is especially magnified in a natatorium where the cost per square foot is much higher. Multiple pools also require a larger mechanical space to house the code-required independent filter and mechanical systems for each pool. The cost savings from these two combined often make a multipurpose pool the best choice for a new or renovated aquatic center.
It is important to keep in mind that multipurpose pools can create conditions that require special attention as the varied programs can put extra loads on the pools, systems, staff and patrons. Areas that often require special attention include:
| | |
| --- | --- |
| Water Quality | Spectator & Seating Areas |
| Air Quality | Wayfaring (i.e., traveling on foot) |
| Paths of Travel | Staffing |
Most state health codes require a public swimming pool to have a 65-hour turnover rate; wading pools have a one-hour turnover requirement. So, how do you manage a pool that has both areas in a single multipurpose pool? Most state codes do not give direction on how to handle this. One approach is to calculate the pool volume in the various pool areas and then add the flow rates of each area to find a total flow rate for a multipurpose pool.
The chemical feed and control system also must be upsized to accommodate these heavy organic loads. Automated feed systems and controllers are recommended for pools with high organic loads, to control chloramines and other undesirable byproducts. Also, supplemental disinfectants, such as an ultraviolet, disinfection system, can help provide better water quality.
For indoor air quality, the ASHRAE standards call for four to six air changes per hour for a natatorium. A multipurpose pool, however, will require a minimum of six to eight air changes per hour to maintain high, indoor air quality. Indoor multipurpose pools may have a greater propensity for chloramine formation, which can require the air handling system to have a higher than normal air change rate. Furthermore, the air handling system needs to have a purge setting to exhaust the entire volume of natatorium air to clear chloramines or other air pollutants. The greater loads of air pollutants close to the deck make it important to have the suction taken from this area. As an added layer of air quality, high-volume fans can be installed in the ceiling above the pool surface.
ADA-compliant access to a multipurpose pool can be a little tricky. ADA regulations require every pool to have a means of ADA-compliant access, and pools with 300 perimeter feet or larger are required to have two means of ADA access. Think about the different zones of the pool and how patrons needing ADA-complaint devices can access these zones. To help patrons and limit staff required to operate the facility, good signage and foot traffic paths should be provided. Multipurpose pools with waterpark-type features, such as slides and current channels, should also use a safety consultant to help with establishing the quantity and location of guards. This staffing plan should be addressed during the design of the pool as it will affect the staffing costs.
In conclusion, a multipurpose pool can be configured to meet the specialized needs of your entire community. The pool usage and loads can be much greater than a rectangular pool, but with proper planning, maintenance and operation, it can be a community asset for generations to come.
Dennis Berkshire, AFO-I, is President of the Aquatic Design Group.