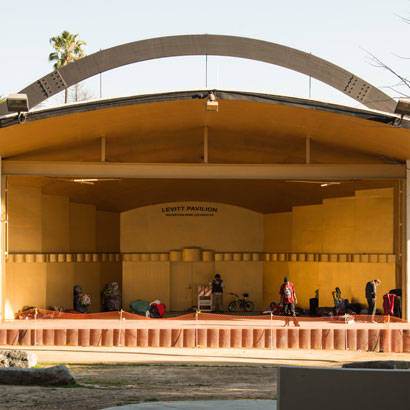 Park and recreation leaders from across the country gathered in Los Angeles, January 25–27, to tackle one of the top social issues plaguing our society: homelessness. The three-day NRPA Innovation Lab, hosted by the City of Los Angeles Department of Recreation and Parks and sponsored by Greenfields Outdoor Fitness Equipment, was titled Homelessness and Parks and Recreation and provided participants with a grim view of the ongoing homeless crisis in Los Angeles. It also included a number of key takeaways from thought leaders across multiple fields and disciplines, including two individuals who were once homeless.
Los Angeles' elected City Attorney, Mike Feuer, kicked off the conversation on homelessness in parks by acknowledging the fact that "parks are the center of our communities." He then mentioned how the city of Los Angeles is training its recreation staff to get more engaged with the homeless community, which includes providing staff with the right resources to help the homeless. Barbara Romero, deputy mayor for the Mayor's Office of Community Service, explained how the city is looking to increase park restroom hours, the number of park rangers on staff and the number of community centers that are open to the homeless during an emergency. Romero also highlighted the essential need to partner with nonprofit organizations to provide services to the homeless.
The keynote speaker for the event was Nan Roman, president and CEO of the National Alliance to End Homelessness. Roman, who identifies parks and recreation as a key partner in solving homelessness, emphasized that homelessness is a "difficult problem, but it's also a problem with a solution." She believes the solution lies in getting people housed. She also mentioned that it "often takes a little work to get people interested in leaving" the streets, and "some people make a choice not to go to shelters," so it's important to offer them something they'll like. She recommends low-barrier shelters and shelters that are open 24/7 as opposed to traditional shelters that have strict rules.
As part of the lab, Jesus Aguirre, superintendent of the Seattle Department of Parks and Recreation, and Stephen Bentley, assistant director of the City of Raleigh Parks, Recreation and Cultural Resources, shared how their respective departments are helping to tackle this issue. Aguirre, who recognizes homelessness as "part of our reality," says his department is "committed to being a part of the solution." Specifically, he talked about how he envisions his department serving as a "navigation center" for providing services to the homeless. Bentley, who showcased the work his department is doing to help provide the homeless with a "dignified" place to eat and spend the night, explained how addressing the homeless crisis provided his department with a leadership opportunity, and brought the city and county closer together.
Peter Lynn, executive director of the LA Homeless Services Authority, described homelessness as "the most visible face of misery in our culture." He also pointed out that homelessness is "far too complex to approach individually." Mark Casanova, executive director of Homeless Health Care Los Angeles, advises agencies not to reinvent the wheel and to work together with other departments and with like-minded partners to provide services to the homeless.
On the final day of the lab, attendees were joined by Vikki Vickers, community advocate and speaker from the Corps for Supportive Housing's Speak Up! Program. Vickers, who shared her experience as a homeless person, described parks as the only place she felt safe. Speaking alongside Vickers was a fellow advocate, Kerri Bales, who had been homeless for 25 years. Bales, who described herself as "once a part of the problem, now a part of the solution," emphasized that housing is important and urged participants not to ignore the homeless. "If you see someone out there, don't pass them by," she says.
Typically, park and recreation agencies showcase their best parks during an NRPA Innovation Lab. This lab was different. During a tour of Skid Row, the infamous homeless capital of America, participants witnessed large groups of homeless people lining the streets with their tents, shopping carts and personal belongings. When the group visited Gladys Park, they were greeted by the "Mayor of Skid Row," General Jeff Page, who founded the community's positive movement, which focuses on helping manage and program the park while bringing new opportunities to the residents of Skid Row. The tour of Gladys Park also included a brief presentation by employees at Lava Mae, a company that provides free hot showers to the homeless living in Los Angeles and San Francisco.
A consistent theme throughout the Innovation Lab discussions was the tension between wanting to offer a humane response to individuals experiencing homelessness in parks while staying true to the parks and recreation mission. Some agencies believe that it's up to them to find the solutions. However, as Michael Shull, general manager of the City of Los Angeles Department of Recreation and Parks, points out, it takes "every single department, every single leader" to address homelessness.
View the presentations and materials from the Los Angeles Innovation Lab.


Heather R. Williams, MPS, is NRPA's Senior Manager of Public Relations.