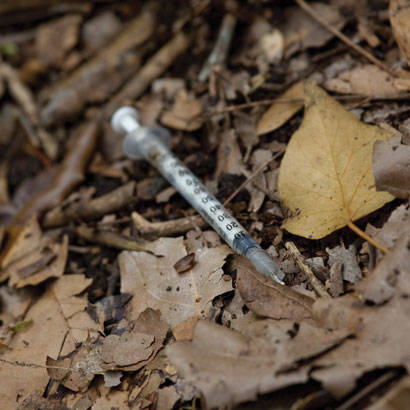 The alarming epidemic that is wreaking havoc on communities nationwide is becoming a more frightening reality every single day. The use and abuse of opioids and the subsequent addiction are spreading like wildfire, and agencies across the country are doing everything they can to keep up and douse the flames. With opiate abuse and overdose rates rising every year, what can local parks do to not only keep our nature spaces clean from this crisis, but also to offer places for addicts seeking recovery to engage in therapeutic activities?
According to the Centers for Disease Control and Prevention (CDC), opioids — prescription and illicit — are the main drivers of drug-related overdose deaths. In the United States, opioids were involved in 33,091 deaths in 2015, and opioid overdoses have quadrupled since 1999. Further, heroin-related overdose deaths have quadrupled since 2010, with nearly 13,000 overdose deaths in 2015.
While the statistics clearly identify an increase in opioid addiction, the problem is gaining prominence in local parks across the country. Parks can become a haven for addicts, as they offer a free place to interact with other users, sell or use drugs and even potentially hide from law enforcement. Additionally, parks are dealing with health and safety issues, as many areas have been littered with drug paraphernalia such as used syringes.
According to Dr. David Rolfe, professor of recreation management at Central Washington University, it takes a drug prevention policy that is comprehensive and involves the entire community in order to be successful in making a change. "A wide coalition, which includes education, law enforcement, parks and recreation and other constituents, can impact effective change, but they have to care enough and be consistent to carry through," he says. "It's key that everyone is on board and upholding the coalition's mission.
"In our experience, the participation of public parks is an integral part of a task-force coalition, as we know they have become the preferred destination for addicts to use and deal," says Rolfe. He also adds that effective design strategies that increase visibility within parks — such as the use of passive lighting in secluded areas where people tend to use or deal drugs — can be helpful in promoting parks as safe community destinations, as well as discourage park users from engaging in illicit behavior.
Gabriella Korosi, a transitional care and outreach registered nurse with CareOregon, a nonprofit organization committed to improving and protecting the health of low-income and vulnerable Oregonians, believes understanding the mindset of those who suffer from addiction is crucial in addressing prevention. Korosi agrees that parks and public recreation facilities can be an easy place to hide and offer comfort to opioid users seeking refuge, and that an alliance of community agencies is the most important asset when it comes to finding a solution. CareOregon is partnering with the medical community, law enforcement and local park agencies to provide prevention education and treatment for those in need. The focus of this coalition is training staff members on the safe disposal of needles, first-responder training and wellness rehabilitation.
When it comes to the disposal of needles, many parks have taken a proactive approach with a published protocol to ensure staff and visitor safety, as the use of public bathrooms for opioid use has skyrocketed.
Billie Schmidt, superintendent of park operations for Kitsap County in Port Orchard, Washington, concurs. "Needles are on the rise at all of our locations. Each of our vehicles has a bag with items in it to use for sharps removal, including thick gloves with 5/10 needle stick resistance," Schmidt says. "We have sharps containers in each of our 21 restrooms in our fairgrounds location, and these containers are made to be tamper-resistant so as not to be a danger to curious children."
Schmidt explains that all maintenance staff is instructed never to tamp down garbage, and also to carry garbage bags away from their bodies. The Kitsap County fairgrounds are also a hub for other county workers to bring their full sharps containers for disposal. "Once the bin is filled, it's sent to the appropriate location for disposal. Our risk management department worked with our parks department and public works department to create this system," Schmidt adds.
Cleveland Metroparks in Ohio is also taking similar measures when it comes to finding paraphernalia in their parks, as well as working with law enforcement. Employees of the parks are advised to not handle trash with their bare hands, and if needles are discovered, they are to notify their supervisor, as well as law enforcement rangers if there is suspected drug abuse going on within a park. "In that case, it becomes evidence and the rangers handle it," says Nancy Desmond, director of special projects for Cleveland Metroparks.
For Jared Bunde, a registered nurse with the Department of Health's Homeless Outreach Team in San Francisco, the park system is ground zero for much of the drug activity in the community. With Golden Gate Park spanning over one-and-a-half miles, Bunde believes it is a key area for opportunities to spearhead prevention and offer rehabilitation services to addicts.
"We team up with park rangers to provide social and medical services based on what they have identified for resource connections," says Bunde. "Outreach workers and the medical team are trained to distribute Naloxone and ensure people living on the streets have access. A lot of the needle disposal happens through exchange programs and the city of San Francisco in tandem with the parks system. The grounds maintenance team is really on the forefront of identifying and managing through needle collection and cleanup safety."
A key element of success for Bunde's initiative is working hand in hand with parks to assist opioid abusers in finding the proper help they need. For instance, at Golden Gate Park, grounds maintenance workers and addicts seeking refuge in the park interact on a regular basis. Having people on the frontline who have daily interaction with drug users and can identify issues is an integral part of providing intervention and help.
"Being alone is a huge risk factor in fatal overdoses," says Bunde. "Those tending to the park grounds are there early in the morning and are able to identify potentially dangerous behavior and notify the park rangers, who then work with their constituents."
Since opiates affect the brain's receptors that release dopamine — a neurotransmitter that produces a "feel good" reaction — many experts agree that recreation and physical activity can help offer an alternative lifestyle for opioid addicts. This can translate into parks becoming a haven for addicts seeking recovery activities and a positive way for them to channel their focus and energy into beneficial exercise, and ultimately, a method of rehabilitation.
Sarah Welton, of the Well Building Institute, is a triathlon coach in the San Francisco Bay area and agrees that exercise can trigger a similar "feel good" reaction as opioids by creating increased serotonin and dopamine levels in the brain. "Fitness and wellness groups should become an integral part of the community coalition and stakeholder groups," Welton adds.
While the opioid epidemic is a highly complicated one to understand and address, the clear message for the park system is to:
Work with a dedicated coalition of professionals in the community to identify and treat substance abuse disorders.
Design or adopt a protocol for addressing needle disposal that keeps everyone safe.
Consistently identify and mitigate "at risk" or untended areas within a park to prevent dealers and users, particularly at night and early in the morning.
Offer activities and programs that give people a community to be a part of, including sports, and welcoming faith, emotional and drug abuse support programs to meet and host gatherings in the parks.
Bunde adds, "Opioid addicts are people who have lost their way and the parks are where they find refuge. It can be the start of where we can help them to become as healthy as possible."
Mareya Ibrahim is a Freelance Writer, based in Aliso Viejo, California. Cort Jones is the Associate Editor for Parks & Recreation magazine.