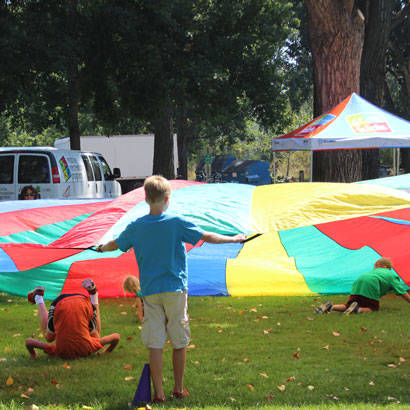 Where do kids want to play? The answer seems to be wherever they are invited to or allowed. Mobile recreation programs make it even easier to bring fun and play to where people are — and not just to kids, although they are often the first to partake. Vehicles and bikes travel throughout neighborhoods and across communities transporting and pulling toys, games, athletic equipment and supplies, creating safe environments for fun and physical activity. Park and recreation staff serves as positive role models for participants by reinforcing good sportsmanship and well-being. In neighborhoods where activities for youth are lacking, mobile programs step in to fill a significant void.
It is commonplace for the mobile recreation team in Boise, Idaho, to set up a temporary play space where 10 different languages are spoken by its large refugee population. Often, the kids will help translate for each other and communication happens in various ways — both verbal and nonverbal — but play has also become a shared language of sorts for the kids and provides an important opportunity for them to interact with and be part of a common team. Nic Ginter of the city of Boise coordinates the mobile recreation program and loves to develop new and different activities for the kids in his community. When asked about the favorite part of his job, Ginter says, "Working with the kids and helping them grow — especially our refugee population — and watching them flourish in an environment that we have created for them."
July is a time for integrating into the schedules of various summer camp programs in Boise. During the school year, the agency's two vans travel to various schools for lunch and afterschool programs. Throughout the year, they take as many opportunities as possible to visit farmers markets, festivals, movies in the park and apartment complexes where activities might be lacking. "We go where the kids are, and, if we have the space we need, we'll make it work," Ginter says. Favorite activities of their participants include dodgeball, capture the flag, soccer, hula hooping and jump roping. When turned into a game, butcher paper rolled out on the ground can combine arts and crafts and movement. Kids draw a picture, switch positions and then move to another spot. The end result is a beautiful compilation of all of their artwork combined.
The weather is one of the greatest challenges Ginter faces in keeping the program running smoothly. From snowfall and bitter cold weather to rainfall and extreme heat, they deal with it all in Boise. In addition to finding a shady spot in the park to stay cool and hydrated in the summer or ensuring participants are warm enough in the winter, Ginter and his team also serve participants healthy snacks, another added benefit that helps kids be active and have fun.
The Calm After the Storm
When devastating floods ravaged Baton Rouge in August 2016, Michael King, who coordinates the BREC on the Geaux mobile recreation program for the Parish of East Baton Rouge, and so many others in his department didn't stop working and found meaningful ways to help their community in crisis. The Red Cross enlisted BREC's help to set up temporary shelters immediately following the flood until everyone could be transferred to larger shelters. BREC on the Geaux visited as many shelters as possible, including Celtic Studios, a large local movie studio with several stages that was converted to shelters, and the FG Clark Activity Center, the gymnasium at Southern University.
Cheryl Michelet, BREC director of communications, and King coordinated activities at these larger shelters with Baton Rouge River Center staff, the American Red Cross, Louisiana Office of Child and Family Services and the Office of the Mayor-President. They loaded up their trucks, determined a route they could access with their vehicles and set up temporary place spaces for kids who needed to release energy, but who also needed to relax for a while and forget about the trauma happening around them. This allowed their parents and caregivers the time needed to deal with paperwork and the often painful process of determining what was possible and what was next. The kids were able to escape the stress, have fun and be kids again — and spend time with their friends. BREC on the Geaux allowed them to be together in a safe environment, have fun and experience something that was familiar and comforting to them.
Anyone who has supervised this type of program will likely tell you that kids are incredibly adept at creating fun in unique ways and developing new games. They will generate, often independently of any adult involvement, a new set of rules, requirements and purpose for an activity all on their own. When asked if the mobile recreation team at BREC had ever introduced an activity that was unpopular and that the kids simply didn't like, King was silent as he thought about it. A colleague happened to walk in the room and King posed the same question to his co-worker. They were both at a loss. "No matter what we do, the kids always find a way to have fun," he responded. Kids are resilient and good at making the best of even stressful situations, but mobile recreation programs help facilitate their creativity and offer invaluable opportunities for play — particularly when it is needed most.
Marla Collum is NRPA's Senior Manager of Programs.