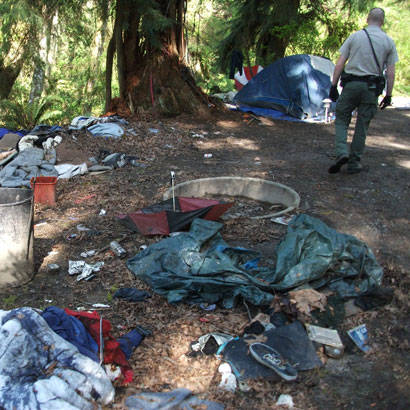 At 10 a.m. on St. Patrick's Day 2017, 11 City of Everett [Washington] Parks and Community Services employees began cleaning a wooded area where, just days before, 20 unsheltered individuals had been living. Although the individuals had left, the evidence of their past habitation was still present. Fire pits, toilet paper and other rubbish were left behind for the parks department to dispose of. Encampment cleanups like this have become commonplace for park employees.
The January 2017 Point-in-Time Count, conducted by Snohomish County, estimated that 515 individuals were experiencing chronic homelessness in and around Everett, which is located 30 miles north of Seattle. This number represented a 60 percent increase in unsheltered individuals since 2015 — an influx that resulted in several of the undeveloped and wooded areas under the responsibility of the parks department becoming attractive locations for many unsheltered individuals.
Coordinated Effort
In the past, departments within the city acted individually and removed camps as they saw fit. However, in 2014, as the epidemic of people without shelter continued to grow, the need for departments to utilize each other's expertise became apparent and more interdepartmental cooperation developed. All city departments that were impacted by the unsheltered population began to meet to address the complications associated with encampments.
Although the Everett parks department had park rangers who were able to perform enforcement, it lacked the resources to address encampments and the individuals who occupied them. It was standard practice to post a sign in an encampment stating that everything on-site would be disposed of, and, after a few days, if staff was available, which is exactly what happened. At the staff's discretion, items could be kept in a storage area for up to 45 days before being donated to a local thrift store. This process was inconsistent, time consuming, and, often, unsheltered individuals didn't receive assistance or a path to get off the street.
In the fall of 2015, the Everett Police Department developed the Community Outreach and Enforcement Team (COET). Community members and city departments can contact COET if they are aware of an unsheltered individual who may want assistance. The COET employs two embedded social workers who connect with the unsheltered individuals and work with them to find assistance and services. The team can help these individuals to enroll in food stamp programs, find housing and work, and, in some cases, attend a rehab program. Park staff began to use COET to help address the underlying personal issues of many of the unsheltered individuals they encounter.
Legal Ramifications
On March 14, a park ranger, police officer and social worker entered the encampments to post a 72-hour notice of cleanup and to offer assistance and services to any individuals living on-site. They made contact with four unsheltered individuals that day, and they each had their own story, their own setbacks and each was at a different stage of willingness to accept assistance. Three days later, park staff returned and removed all the refuse that was left on the sites, tagging and storing any property that had value.
While needing to provide safe, clean parks, Everett parks also had to be mindful of the needs and rights of the unsheltered individuals and their property. Parks are in a unique position: during set hours it is legal to occupy, sleep in and use most of our property. The fact that someone appeared to be unsheltered did not exclude them from using park facilities during daylight hours. There were complaints about people using the restroom or sleeping in the grass during park hours, and our staff in the field began educating park patrons and neighbors about the rights of individuals to use park property. We attended neighborhood meetings and spoke with local stakeholders about the processes we were required to follow when we encountered an unsheltered individual.
When staff learned of what appeared to be an encampment — where people stayed outside of normal park hours — they had to determine if the encampment fell into one of three categories:
Active Encampment – Currently occupied by an individual or group of individuals.
Abandoned Encampment – Previously occupied, but for at least 72 hours, had not been used for habitation but was still recognizable by the abandoned property as an encampment.
Inactive Encampment – A location that previously was used as an encampment but was now closed, and all the individuals and their personal property had been removed and the area had returned to its natural and/or pre-encampment state.
If an encampment is determined to be active or abandoned, staff is required to post a 72-hour notice of the plan to remove property and garbage. Staff is also encouraged to inform the COET of the encampment so the team can attempt to contact the individuals residing on-site. If park staff determines an encampment is inactive, they are able to clean up the area as soon as possible.
A significant hurdle for the parks department was how to retain the property of value that was removed from an encampment site. This property was to be retained for 60 days to allow the owners time to claim it, but this presented a two-pronged issue: first, "Who determines what property had value?" and second, "Where do we store the property for 60 days?"
The parks department was encouraged to use a loose definition of "valuable." As a result, any blanket, pillow, sleeping bag, tent or other object that did not contain obvious rodent damage, human waste or drug paraphernalia was often stored. One encampment could produce a large amount of retainable property. Fortunately, Everett Parks Department has access to a large, former assembly hall in which to store the property.
A Look at the Future
Weeks after the encampments are cleaned up bare spots are still visible in the wooded areas from the walking trails. Vegetation begins to reclaim the site, but it will take years before it fully recovers. Some of the unsheltered individuals will accept assistance from COET and other services in the region, and some will move their camps to another location and start the process over again.
The epidemic of unsheltered individuals is not confined to parks, this one city or the region. There is not a single simple solution, and tackling the issue requires an immense amount of coordination and resources. In Everett, increased interdepartmental coordination and the creation of a standardized response to encampments have enabled park staff to clear encampments more efficiently. As a city, Everett will continue to explore new avenues to better serve its residents, both with and without shelter.
David Green is the Park Ranger Supervisor, Parks and Community Services, for the city of Everett. John Peterson is the Assistant Director, Parks and Community Services, for the city of Everett.