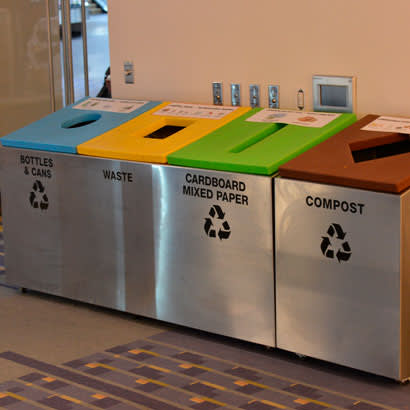 "Leave no trace" is the motto for entering the great outdoors. Blue skies, open air and the view of mountains, a lapping lake or a babbling brook make the perfect setting for birthday parties, family reunions and celebrations. However, many of these events can harm those very resources we enjoy. Yet, with some advanced planning and commitment, we can help to restore our environment. From where to host to who is invited and all the logistics in between, critical decisions must be made to ensure a positive experience and successful event. The same goes for the type of products used and how they are disposed of afterward.
What Is Zero Waste?
The Zero Waste International Alliance states: "Zero Waste is a goal that is ethical, economical, efficient and visionary, to guide people in changing their lifestyles and practices to emulate sustainable natural cycles, where all discarded materials are designed to become resources for others to use."
There are straightforward steps planners and hosts can take to move toward a zero-waste event. Stephanie Barger, U.S. Green Building Council director of market transformation and development for the TRUE Zero Waste program, offers some advice:
Know the waste diversion services available in the area. Consult the local parks administrator, government recycling coordinator and/or waste and recycling hauler. If the park only has trash bins, work with the local waste hauler to provide recycling and composting bins. Many provide cardboard bins that easily can be set up and taken down. If the event is large enough, the waste hauler will set up and tear down bins for the event.
Determine your zero-waste goal for the event. Although 100 percent diversion is the goal, even diverting 90 percent, 70 percent or 50 percent can have a significant impact on the environment. Cities across the United States have started including waste management plans as part of the approval process for events. Developing a zero-waste plan can help expedite the process along with saving money. Reach out to the local government agency's events department and see if it has sample zero-waste plans.
Build a zero-waste team! For a larger event, notify all your vendors of your zero-waste goal and provide guidelines for them to participate in the process. Vendors might also have ideas if they have participated in other zero-waste events. Invite local nonprofits, including food banks and environmental organizations, that are more than willing to provide their expertise and resources for promotion and a donation. For smaller events, encourage your friends and family to provide ideas and assistance.
Just REDUCE! The zero-waste hierarchy is reduce, reuse and recycle. Reduction has the largest impact on the environment and on our budget. From mailing out invitations, printing out programs and giving out prizes to decorations, think of creative ways to keep the fun but reduce the impact. Electronic invitations not only save trees, but also help with managing RSVPs and sending reminders, and the natural environment — pinecones, leaves and twigs — make great table decorations.
Buy reusable or bring your own. Bring reusables from home or rent tablecloths, napkins and dishware from a local catering company. Use plastic bins to take dirty dishes and linens home to wash. For prizes or giveaways, provide guests with reusable drink bottles, silverware, etc., or have them bring their own. It will class up your event! Remember those red solo cups can easily be taken home and thrown in the dishwasher to be used repeatedly.
Go green when purchasing. Buy products made from recycled material and that are easily recyclable and compostable. Avoid items that are dangerous to wildlife. Balloons not only can escape and cause damage, but, even when popped, the ribbon can cause harm through strangulation. Polystyrene (styrofoam) products are toxic to both humans and animals and break down into little pieces that mimic food for wildlife (fish eggs, seeds, etc.). Plastic wrappers and cigarette butts can also be ingested or cause injury.
It's all about the food. Most of the waste is around the type and amount of food provided. Encourage finger food and a menu that requires one plate. Review the type of food packaging and choose items in reusable, recyclable and compostable materials. Work with your caterers to limit the amount of packaging. Buy in bulk to reduce the amount of trash but, more importantly, small pieces of plastic that can escape into the environment. Make sure you plan for taking leftovers home by bringing extra containers for you and your guests. Work with your local food banks and shelters to donate any excess food. Wastenotoc.org provides detailed resources on the Good Samaritan food donation law and helpful tips. Remember to buy local and organic: many local farmers would be more than happy to take your compost.
Zero Waste in Action: Make sure all your guests know what goes in which bin through signage, and, for larger events, have volunteers at each zero-waste station. Make brief announcements or include instructions for the event at tables. Have fun!
Cleanup is the most important step. This provides an opportunity to make sure there is no contamination in your recycling and composting bins, all the litter is picked up, excess food is donated or taken home and calculate your diversion. Don't forget to celebrate your success of diverting waste from landfills, incinerations (waste to energy) and the environment with your volunteers and follow-up communication with your guests.
Teams interested in bringing a zero-waste event strategy to life can also learn more from the U.S. Green Building Council's work at the Greenbuild International Conference and Exposition. Each year, the organization brings to life the world's largest green building and business conference and implements plans to support seven sustainability objectives for the event, including waste. The 2016 conference set a record-breaking waste diversion rate of 90 percent. Check out the full Greenbuild International Conference & Expo 2016 Sustainability Report, as well as more information on zero waste.
Sarah Stanley is the Media and Communications Manager for the U.S. Green Building Council.