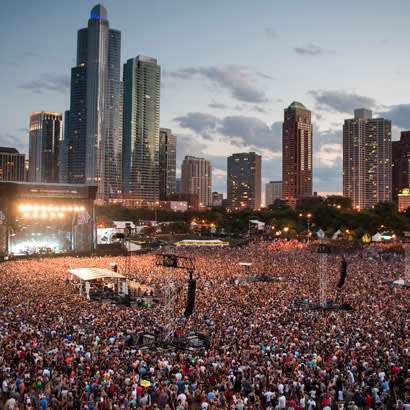 Attending the outdoor performance of music, regardless of one's preference, is one of the great pleasures of life. Since the advent of the Newport Jazz Festival in 1954, and the iconic counter-culture-defining Woodstock in 1969, outdoor music festivals have been a focus of enjoyment nationally and internationally, and their number has expanded to dozens of major festivals and hundreds of smaller ones.
Rather than losing these events to football stadiums — like the "arena rock" era of the 1970s and '80s — or more rural locations — like Tennessee's Bonnaroo or Indio, California's Coachella — cities are offering up their urban parkland to meet the rising interest in summer music. Some of these include the Governor's Ball on Randall's Island in New York, Lollapalooza in Chicago's Grant Park, the CMA Country Music Festival in Riverfront Park in Nashville, the Austin City Limits Music Festival in Zilker Park in Austin and Outside Lands Music and Arts Festival at Golden Gate Park in San Francisco. Many festivals are on non-parkland, such as the Electric Daisy Carnival held in Las Vegas, or are rural, such as the Bonnaroo, Arts and Music Festival in Tennessee, Coachella Valley Music and Arts Festival in California, and others.
Music festivals are a significant urban phenomenon unto themselves. They represent a confluence of popular music industry and urban dynamics trends. Music festivals in our public and private landscapes, urban and rural, have largely escaped systematic consideration perhaps because they are temporary and sometimes inconsistent in location. They are easily overlooked due to their reputation as a voluntary indulgence by those privileged to be able to travel and to spend time and money for the concentrated pleasure of hearing music in a crowd, sometimes referred to as "peak experience." Yet, they are worthy of our attention. Researchers, including Dr. John Crompton of Texas A&M, festival promotion analysts and associated interests have examined the motivations of festivalgoers, both from the academic point of view of the leisure tourism impulse and as a commercial market research subject.
Factors in the Growth of Music Festivals
Several factors have contributed to the growth of music festivals, including the expansion of audiences, their sheer pleasure of attending and the profitability of the venture. At the core of this growth, however, is a sea change in the music industry, with the decline of the traditional recording industry, the evolution of digital media, sharing, outright piracy and dozens of streaming services from major outlets, such as YouTube and Spotify, and smaller ones. With the decline of once more-lucrative recording contracts, touring is now accepted as a major and reasonably sustaining way for musicians of all profiles to make ends meet. In 2002, David Bowie proclaimed: "You better be prepared for doing a lot of touring because that's the only unique situation that's going to be left." Because of these trends, 32 million people attended festivals in 2015.
The numbers are worthy of note. A report by IBISWorld places the value of the live music industry (which includes live venues other than festivals) at $28 billion. Although some believe that the trend may have peaked, it remains a major phenomenon. The popularity of music festivals has clearly not escaped the notice of sponsors, who invested $1.34 billion in sponsorships in 2014 and who help make the financial equation work for promoters, bands and festivalgoers. Festivals have grown, diversified, stratified and responded to feedback, such as the need to be more sustainable. From the point of view of public parks management, if planned well, festivals can bring in money, improve the park in which the festival is located or other parks as well, and please year-round park users.
Some Drawbacks and Benefits
While festivalgoers come and go, festivals have a pronounced, albeit largely temporary, impact on our public parks, in social, economic, environmental and, of course, cultural terms. Negative impacts include direct physical wear and tear or outright damage, temporary exclusion of nonpaying members of the public, the general aura of mass consumption and the generation of waste, carbon footprint and other environmental factors.
Some are critical that parks do not gain, or gain enough, from these events; they simply get put back together. This, sometimes, takes weeks or months, and even in the best of circumstances does not necessarily materially improve the host park commensurate with the sacrifice of its temporary public closure. For instance, the site of Voodoo Fest in New Orleans' City Park was closed to access for months following the 2015 festival, due to the damage sustained by foot and vehicle traffic during a major rainstorm. Most festivals result in satisfactory restoration, though, with Nevada's Burning Man being perhaps the most fastidiously restored site (per agreement with the Bureau of Land Management).
Music festivals have long had a general connection with the well-being associated with nature. As the industry has matured, signature issues, such as waste generation and disposal, energy, healthy lifestyles and other trends, have been the subject of claims and actions by festival promoters, most of whom profess some adherence to a green policy. At the far end of the activist environmental spectrum are festivals with a deep devotion to low-impact operations. The pressure to reduce impact yields some interesting techniques that, beta tested at the festival, could be applied elsewhere in large crowd events and even humanitarian applications.
Positive impacts include enjoyment of the space itself, the associated valuation of parks as desirable venues and the economic return to cities, based on negotiated fees for use of the park. A base condition of major events is typically the restoration agreement, which grants the right to access the park in exchange for a guarantee of restoration and some other negotiated terms. In the case of for-profit events, there is a clear financial pro forma as the subject of the agreement. For instance, Austin's agreement for the Austin City Limits music festival dedicates a share of the festival's revenue to the Austin Parks Foundation.
Tools of Urban Vitality
In 2017, festival organizer C3 Presents gave $6.3 million to the Austin Parks Foundation, part of the $26 million C3 Presents has given the foundation over the past 12 years. The funds go partially to Zilker Park, where the festival is held, and to other parks throughout the city. In addition to these direct benefits, Brendan Daley, director of strategy & sustainability for the Chicago Park District, notes that, oftentimes, a larger and deeper economic impact is from the activities, such as hotel stays, bar and restaurant tabs, and transportation that eventgoers partake in when in a city. In addition to the event fee, there are often amusement taxes on tickets or hotel stays that further contribute to the economic impact. Not to mention the jobs that are created by the event (security, ticket takers and vendors).
Dr. Jonathan Wynn, author and associate professor of sociology at the University of Massachusetts, has examined the music festival as a social phenomenon in his book Music/City. Dr. Wynn uses the term "festivalization" to describe how cities like Nashville, Austin and Newport have experienced the success of such events and made further use of them as tools of urban vitality. He points out the key factors that contribute to the success of festivals — one of which is their temporary, low-infrastructure nature — and notes that the concept provides an alternative to reliance on enormous capital and operating funds for brick-and-mortar venues. In a world seeking authenticity and the vitality of urban spaces that is deemed to be a barometer of success, festivalization could be a nimbler strategy.
Even as the industry matures and is subject to such analysis of the merits of festivals as urban regeneration tools, among those who watch such trends, there is concern that commercialization, commoditization, over-exposure and other industry-insider concerns may be reducing festival popularity. But, there may be a bigger threat to their success.
The Canary in the Coal Mine
Music festivals are but one of the types of major civic gatherings that have drawn attention lately due to acts of terrorism, most recently in New York City. Since 9/11, iconic events, such as New Year's Eve in Times Square, the Macy's Thanksgiving Day Parade and the New York Marathon, have received intense attention to assure their security, with a wide array of security strategies put in place. Even preceding the recent acts of terror, there has historically been a commitment to security for entertainment (music, fireworks and parades) and purposeful occasions (political rallies and advocacy or protest marches). While many purposes for gathering are more important and meaningful to civic life, music festivals in public spaces are, in a way, the canary in the coal mine: these discretionary events would likely be among the first to be discontinued if the measures taken fail to ensure security.
On September 25, 2015, hundreds of park professionals checked into the Mandalay Bay Hotel and Casino in Las Vegas for that year's NRPA Annual Conference venue and left, uneventfully, several days later. This year, also on September 25, the Las Vegas shooter checked in to the same hotel, five days prior to his deadly rampage directed at attendees at the Route 91 Harvest country music festival. The coincidence of common dates and places is more than just grim irony — the Las Vegas and other acts of terrorism threaten the public trust and challenge the simple pleasure of gathering safely in public to listen to music, whether in the United States or abroad.
Harvest was held in Las Vegas Village, a 15-acre plot near the Luxor and Mandalay Bay hotels and one of two open-air venues owned by MGM Resorts International on the Strip. "Before it became the site of the deadliest mass shooting in modern U.S. history, the Route 91 Harvest festival was one of a handful of concert blowouts aiming to burnish the Las Vegas Strip's reputation as a live-music destination," writes Gerrick D. Kenned in the Los Angeles Times, reinforcing Dr. Wynn's remarks about festivalization.
While the Las Vegas Village is not a public park, or even publicly owned, the incident has ramifications for the security of large-scale open spaces, whether public or private. The gunman had staked out two other locations first: one elsewhere in Las Vegas and another from a Chicago hotel overlooking the city's signature Lollapalooza festival.
The tragedy highlighted the vulnerability of music festivals as a soft target. In a world concerned with copycat crime, these events should drive a more coordinated official response to these kinds of threats at public gatherings in general, and music festivals in parks, in particular.
The perversion of terrorist acts being carried out at public parks, other gathering places and streets is even more disturbing because of the generally held perception about why public spaces exist: to be places where we can gather in a carefree way. Writing for the journal Pacific Standard, Hanif Abdurraqiboct says, "The very things that make outdoor concerts so special — freedom, escape, intimacy with strangers — are the first things that the terrorist tries to take away."
Major music festivals are our society's places of extraordinary community and personal self-actualization, yet they have also become the locus of the most devastating attacks of domestic and international terrorism. Cities are responding by describing the extent of their preparations to address the risk, and the overall approach has similar characteristics. First, there is acknowledgment of the need for safety, and that responsibility resides with the local police department. The city's response must be a partnership based on multi-departmental and interagency cooperation: there are several layers of security types.
In the wake of the October 31 Hudson River Park vehicle assault, New York City's chief and commissioner of police described a comprehensive security program for major events that includes counterterrorism snipers, heavy weapons teams, rooftop and aerial observation, uniformed and plain clothes police presence, off-duty officers, trained civilian event staff, use of sand and barrier trucks, integrated communications and other measures that may not be so visible.
The magnitude of investment of both public and private sector time and expense for this type of effort is clearly a costly one. It makes the decision to stage a major event another significant civic ethical decision, balancing freedom to gather, safety and municipal fiscal responsibility. This places an additional hurdle before what might be called discretionary private entertainment events, such as music festivals (as well as sporting and other events), and raises questions about financial as well as other responsibilities. How much of the burden of security cost should be borne by the public sector, for private sector events, especially those that charge admission? Will the burden of security preparation response create pressure that eventually drives major urban music festivals out of cities and into more rural areas where many others are held? Will the festivals be any safer in rural contexts? And, what is the effect on society of giving up certain simple urban pleasures, such as the convenience of enjoying music in our cities?
The New York Times' David Montgomery quotes Austin Police Chief Brian Manley, "The department had re- evaluated security plans after the Las Vegas shooting to include additional resources and brought in state troopers to work alongside Austin officers. I think Las Vegas will make every city and every agency re-evaluate security plans around large events that draw large crowds."
Fortunately, it is a tribute to the ideals of our society that we continue to define major urban gatherings as a public good, one that is worthy of protection to prevent harm. The use of public parks for music festivals and other major events remains viable at this point. This is an expression of our collective determination to weather external threats to our well-being, adapt and continue to enjoy our public spaces.
Eric Tamulonis is a Landscape Architect and Partner at OLIN, and a board member of the City Parks Alliance.