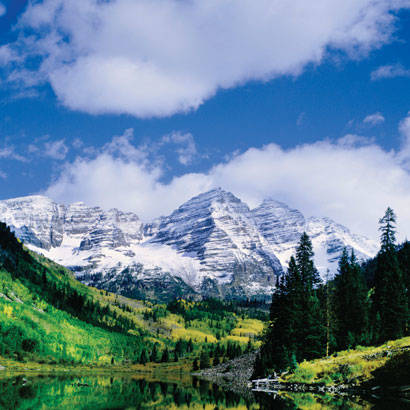 NRPA's Conservation Advisory Panel provides feedback and subject-matter expertise for NRPA's conservation programs and initiatives. The panel serves as a sounding board for new ideas and practices that help to provide guidance to the NRPA staff.
Shaun O'Rourke, Green Infrastructure Director, The Trust for Public Land
Shaun O'Rourke leads the implementation services for the Climate Smart Cities Program at The Trust for Public Land (TPL) and is a faculty member in the School of Landscape Architecture at the Boston Architectural College. Prior to joining TPL, O'Rourke served as the director of sustainable design at the Boston Architectural College, and he has worked at AECOM in New York City as an ecological designer and project manager. He holds a Master of Liberal Arts from the SUNY College of Environmental Science and Forestry, and a Bachelor of Science from the University of Vermont.
Chris Matthews, Division Director for Nature Preserves and Natural Resources, Mecklenburg Parks and Recreation
Chris Matthews is responsible for the management, strategic planning and operations of the Nature Preserves Division, which incorporates Mecklenburg County's nature preserve system, environmental education, outdoor recreation and the natural resources sections. Matthews has a Bachelor of Arts in biology from the University of North Carolina-Charlotte, and a Master of Science in applied ecology and conservation biology from Frostburg State University in Maryland, and was designated as one of the Charlotte Business Journal's "40 Under 40" in 2004.
Priya Cook, Principal Associate for the Connecting Children to Nature Initiative, National League of Cities
Priya Cook leads the Connecting Children to Nature Initiative at the National League of Cities' Institute for Youth, Education and Families, and holds a Bachelor of Arts in great books from the University of Notre Dame and a Master of Public Policy from the University of Texas-Austin. Her work in education, policy and outdoor youth development has taken her to the Texas-Mexico border, interior Alaska, Wyoming and Washington, D.C. Cook has completed an Appalachian Trail thru-hike and serves on the board of the Student Conservation Association.
Katharine Burgess, Director of Urban Resilience, Urban Land Institute
Katharine Burgess leads the Urban Land Institute's Urban Resilience Program, including research and community advisory services. An urban planner with 12 years of experience, she has practiced in the United States, United Kingdom and Germany and has global project experience and research experience with the Landscape Architecture Foundation. Her urban planning work has included post-Katrina community recovery plans, urban redevelopments, campus plans and a new town for 10,000 people, all designed to encourage pedestrian activity, environmental performance and use of the public realm.
Jenny Doty, Recreation Supervisor, Lenexa Parks and Recreation
Jenny Doty serves as a recreation supervisor for the city of Lenexa in Kansas. She is passionate about serving her community with programs geared toward nature, environmental sustainability, community gardening and farmers markets. Doty has worked in parks and recreation for nine years in her current capacity and as a park naturalist while volunteering locally and nationally with organizations such as Kansas Recreation and Park Association, NRPA and the Kansas City Native Plant Initiative.
Rachel Lettre, Eastern Regional Program Director, Student Conservation Association
Rachel Lettre is responsible for the development and oversight of the Student Conservation Association's Eastern Programs, including its youth and young adult programs. She collaborates with federal, state and local land management agencies, nonprofit organizations and partner organizations to develop innovative conservation service programs. Lettre brings more than 14 years of experience engaging underserved populations in urban communities, including Washington, D.C., Newark, Baltimore, Philadelphia and New York City. She received a Bachelor of Arts in outdoor recreation and resource management from Indiana University and a postgraduate degree in outdoor education from Edinburgh University.
Jed Aplaca, Natural Resources Manager, Houston Parks and Recreation
Jed Aplaca has worked with the Houston Parks and Recreation Department for the past nine years and since 2013, as the department's first natural resources manager. He grew up on the windward side of O'ahu, Hawaii, and spent most of his time in nature. After completing internships with the National Science Foundation, The Nature Conservancy of Hawaii and the National Tropical Botanical Gardens, Aplaca completed his Bachelor of Science at Brigham Young University-Provo, Utah, and a Master of Science in biology from Texas State University-San Marcos.
Jai Cole, Natural Resources Manager, Montgomery County Department of Parks
Jai Cole has 17 years of experience in parks and recreation and is currently the natural resources manager for the Maryland-National Capital Park and Planning Commission, Montgomery County Department of Parks. Cole supervises natural resources staff who are tasked with managing the stewardship of 457 miles of streams, 26,000 acres of forest and more than 500 lakes, ponds and stormwater management facilities and devices in the 38,000-acre, six-time NRPA Gold Medal Award-winning park system.
Brendan Daley, LEED AP, CPRP, Director of Strategy & Policy, Chicago Park District
Brendan Daley manages the strategic direction of the Chicago Park District, as well as sustainability initiatives across the city's 587 parks. He's been featured as a guest lecturer at Chicago universities and parks conferences, writes for various publications, and is an accomplished speaker on the environment. Daley holds a Bachelor of Arts in political science from Roosevelt University, an LLB in law from Queen's University Belfast, Northern Ireland, and a certificate in civic leadership from the Harris School of Public Policy at the University of Chicago.
Liza Meyer, Chief Landscape Architect, Boston Parks and Recreation
Liza Meyer is chief landscape architect with the City of Boston Parks and Recreation Department. She guides the development of park planning, design and construction projects citywide and helped author Boston's 2015 – 2021 Open Space Plan, which provides a framework for analyzing the city's existing open space resources and informs future park needs.
Christine Tolchin, Chief of Resource Management, County of San Diego Department of Parks and Recreation
Christine Tolchin oversees park environmental policies and the implementation of the County of San Diego's Multiple Species Conservation Program. Her team has acquired hundreds of acres of natural lands to add to the county's 39,000 acres of protected preserve. Tolchin also oversees the county's 360 miles of trails, ensuring public access while promoting public health and wellness. She has a bachelor's and master's degree in biological science and has been with the county for more than 13 years, working on land use environmental planning, watershed protection and habitat preservation.
Autumn Saxton-Ross, Ph.D., Mid-Atlantic Regional Director, NatureBridge
Autumn Saxton-Ross oversees the NatureBridge programs at Prince William Forest and Shenandoah National Parks in Virginia. NatureBridge is a residential environmental education nonprofit, working in five National Parks across the county, that fosters environmental literacy to sustain the planet. With degrees in sociology, health education and exercise science, her research, academic and professional interests are on the social and physical environment and their influences on physical activity, opportunity and resources, specifically in black and urban populations, and the health benefits of parks and green spaces.
Serda Ozbenian, MS, is NRPA's Conservation Program Manager.