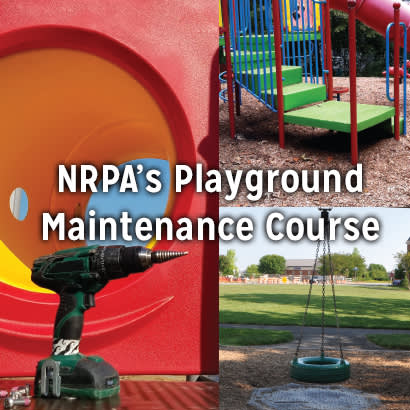 Host a Playground Maintenance Course
Hosting is as easy as securing a location, inviting participants, and partnering with an instructor. Learn how to host a Playground Maintenance Course.
Become a Playground Maintenance Course Instructor
Share your knowledge of playground maintenance by becoming a Playground Maintenance Course Instructor. To become a course instructor, you must first apply to attend the instructor workshop. During this one-day workshop, attendees receive an in-depth review of the Playground Maintenance Course materials, and the technical knowledge and presentation skills necessary to teach the course.
Qualifications
Six years of full-time experience in playground maintenance, playground safety, park operations and management or related fields
Must have experience teaching adult education
Must maintain a current CPSI Certification and have maintained it for a minimum of 6 years
Must be a current member of NRPA
To become an instructor, please complete the online application and submit three professional references (download the reference form here). Only candidates who meet the minimum requirements listed above should apply. Once accepted, you will receive instructions on how to register for an upcoming instructor workshop.
October 26, 2020
Orlando, FL


Apply to Become a Course Instructor

The deadline to apply is September 25, 2020.

3.31.20
Around the Country
3.31.20
Around the Country