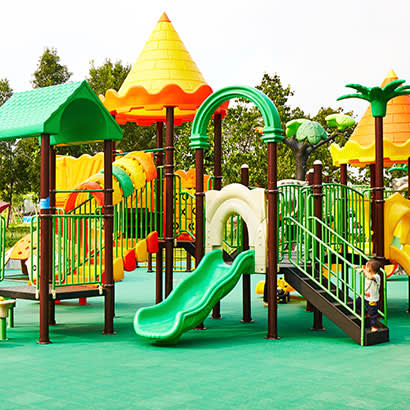 The number of playgrounds found in neighborhoods, parks and school and church yards across the country far exceeds the number of people qualified to inspect and maintain them. It's a daunting task to be sure, but not keeping up with the maintenance of your playground could potentially lead to a child being injured and your agency paying millions of dollars in fines. According to the Centers for Disease Control and Prevention, each year, "emergency departments treat more than 240,000 children ages 14 and younger for playground-related injuries," and "about 75% of injuries related to playground equipment occur on public playgrounds. Most occur at a place of recreation or school."
The American Academy of Orthopedic Surgeons recognizes that despite the great health benefits of playgrounds, they can also be common places where kids get hurt. Falls that result in broken bones or more serious traumatic brain injuries are still the leading cause of injuries on playgrounds. In addition to caretakers providing strong supervision and steering kids to age-appropriate play areas, agencies can ensure equipment is free of potential hazards by having a solid maintenance plan. For example, it's important to ensure the proper height between the equipment and the surfacing below it, and that the surfacing is properly maintained.
Playground Maintenance Certificate
To meet the need to have more eyes on this problem, NRPA recently rolled out its new Playground Maintenance Course. This one-day (6.25 hours) educational course is designed to provide maintenance and recreation staff, university seniors and anyone responsible for a public playground with an understanding of the most prevalent playground hazards and how to apply safe maintenance practices on playground equipment, playground surfacing and other related site items.
Participants will learn about playground owner responsibilities and methods of establishing proper record-keeping practices. They'll also visit a local playground where they'll be able to expand on the information presented in the course via hands-on learning. Individuals must be 18 years or older to attend this training and will receive the Playground Maintenance Course Certificate once they complete the course.
"I believe the Playground Maintenance Course is one of the most important things in our industry right now," says Jeff Barber, president of Playground Specialists. "Even with vast improvements in playground design over the past decade, a lack of maintenance, and, more importantly, the lack of understanding on how to maintain both new and old is still missing.
"I wanted to see a course for those men and women who are around these playgrounds regularly and have the chance to make a real difference in children's safety by inspecting and maintaining them properly," he adds. "This course is general, thought provoking and very visual, covering a broad range of equipment and surfacing. My hope is that this class fills a major gap in playground safety by reaching many more people each year around the country."
The first official Playground Maintenance Course was held during the NRPA Annual Conference in Indianapolis this past September. Currently, there are 15 Playground Maintenance Course instructors available to lead this day-long training, and NRPA is seeking additional qualified individuals to share their playground safety knowledge. Individuals interested in becoming a course instructor must have the following qualifications:
Six years full-time experience in playground maintenance, playground safety, park operations and management or related fields
Experience teaching adult education
A current CPSI Certification and have maintained it for a minimum of 6 years
Current member of NRPA
Those who qualify can visit the Playground Maintenance Course page, scroll to the bottom, click on the button to download the application and return the completed form to Karen Snyder.
For an even deeper dive into playground maintenance, individuals are encouraged to augment their Playground Maintenance Certificate by taking the Certified Playground Safety Inspector (CPSI) course also offered by NRPA. "The CPSI course is great for in-depth knowledge of all the standards and guidelines," Barber says.
By becoming a CPSI, participants learn to identify hazards on public playgrounds and playground equipment, how to rank those hazards according to injury potential and how to apply that knowledge and establish a playground safety program.
To become a CPSI, candidates must be 18 years of age and have a high school diploma or equivalent, as well as successfully pass the CPSI exam.
It is a two-day course and provides the most comprehensive training on playground safety issues, including hazard identification, equipment specifications, surfacing requirements and risk-management methods. Professionals are provided with the current ASTM standards and CPSC guidelines that are applicable to playground safety, and this information is discussed in detail. The two-day course is followed by the CPSI certification examination, and individuals who successfully complete the exam become recognized Certified Playground Safety Inspectors.
If you have any questions about the Playground Maintenance Course or CPSI certification, email Karen Snyder, NRPA's director of certification, or call her at 703.858.2153.
How to Host a Playground Maintenance Course
Browse the list of Playground Maintenance Course instructors available to teach courses for you, secure an instructor and confirm details, including location, date and instructor fees. (A complete Host Handbook is available to assist you with planning. Request a copy, email playgrounds@nrpa.org.)
Once the instructor and course details are confirmed, fill out a course reservation form and send to playgrounds@nrpa.org.
Order course manuals through the NRPA online store. Course manuals may only be purchased by course hosts. A direct web link to purchase the manuals will be provided once your course has been scheduled.
Sonia Myrick is the Executive Editor of Parks & Recreation magazine.