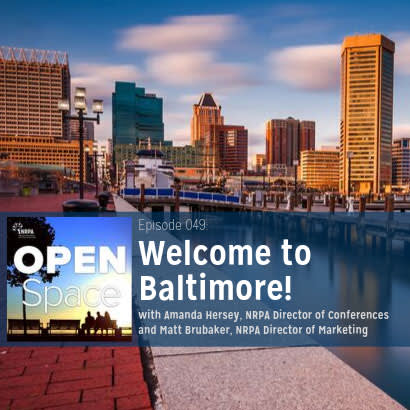 Today's episode is a special edition of Open Space Radio — we're diving behind the scenes of the upcoming 2019 NRPA Annual Conference in Baltimore, Maryland, which is happening September 24-26. We're releasing this episode a little earlier than we typically do, in hopes that those of you who are attending can tune in as you fly, drive or hike your way to Baltimore. For those of you who are unable to attend, we still have some great tips that you can apply to other conferences (and hopefully a future NRPA Annual Conference).
We're joined by Amanda Hersey, NRPA's Director of Conferences aka the mastermind behind the event, and Matt Brubaker, NRPA's Director of Marketing, who is the guru behind promoting the conference and responsible for sharing the many great things the conference has to offer.
Amanda and Matt share some valuable insider tips on making the most of your time at the conference, things that are new to the conference this year and the events that you won't want to miss (like Cal Ripken Jr.'s keynote speech or the NRPA Opening Reception sponsored by GameTime).
We also chat about the things we're all looking forward to this year in Baltimore, but one thing is certain: We can't wait to see thousands of park and recreation professionals together in Charm City to learn, network and be inspired.
Tune in to the episode below to make sure you don't miss out on anything at the 2019 NRPA Annual Conference! And, be sure to stop by the Open Space Radio booth (#1519) in the exhibit hall to say hi, answer some questions on the microphone and get some pretty sweet Open Space Radio swag!
More Information:
NRPA Annual Conference Mobile App
Insider's Tips for Navigating the NRPA Annual Conference
NRPA Conference Facebook Live Streaming Times
Listen to the episode for the full story.