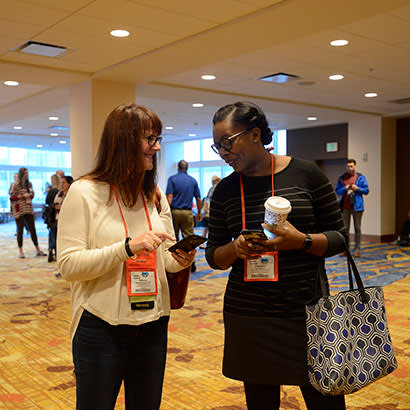 Just because you can't make it to the NRPA Annual Conference next week in Baltimore, Maryland, doesn't mean you have to miss out. NRPA's social media team will be hard at work bringing you the best conference moments making sure you get a front-row seat to the action. Tune in on Facebook as we go live throughout the week!
Make sure to follow along on Twitter and Instagram with the hashtag #NRPAConference and get behind-the-scenes looks at Conference setup, social events and exhibits. Plus, you can follow along as your peers share their Baltimore experience!
And, if you're bummed to miss out on education sessions, we're live streaming 14 of the best sessions through NRPA Live.
Get in on the action at these times on Facebook:
Sunday, September 22:
2:00 p.m. — Parks Build Community: Catherine Street Park Dedication
3:00 p.m. — Tour of the new Catherine Street Park
Tuesday, September 24:
9:00 a.m. — Opening General Session featuring NRPA's President and CEO, Kristine Stratton and the Gold Medal Awards
7:00 p.m. — Opening Reception (sponsored by GameTime) at M&T Bank Stadium
Wednesday, September 25:
8:00 a.m. — Education Session: Top Trends in Parks and Recreation for 2020
11:00 a.m. — Learning Playground Session: 50 Games in 60 Minutes
6:30 p.m. — Best of the Best Ceremony
Thursday, September 26:
4:00 p.m. — Closing General Session featuring A1 Chops
Audrey Fox is NRPA's Communications Specialist.